The Rose Queen and Walt Disney
by Todd James Pierce
In assembling the article on Walt's Final New Year's, I had the opportunity to correspond with Carole Cota-Gelfuso, the 1966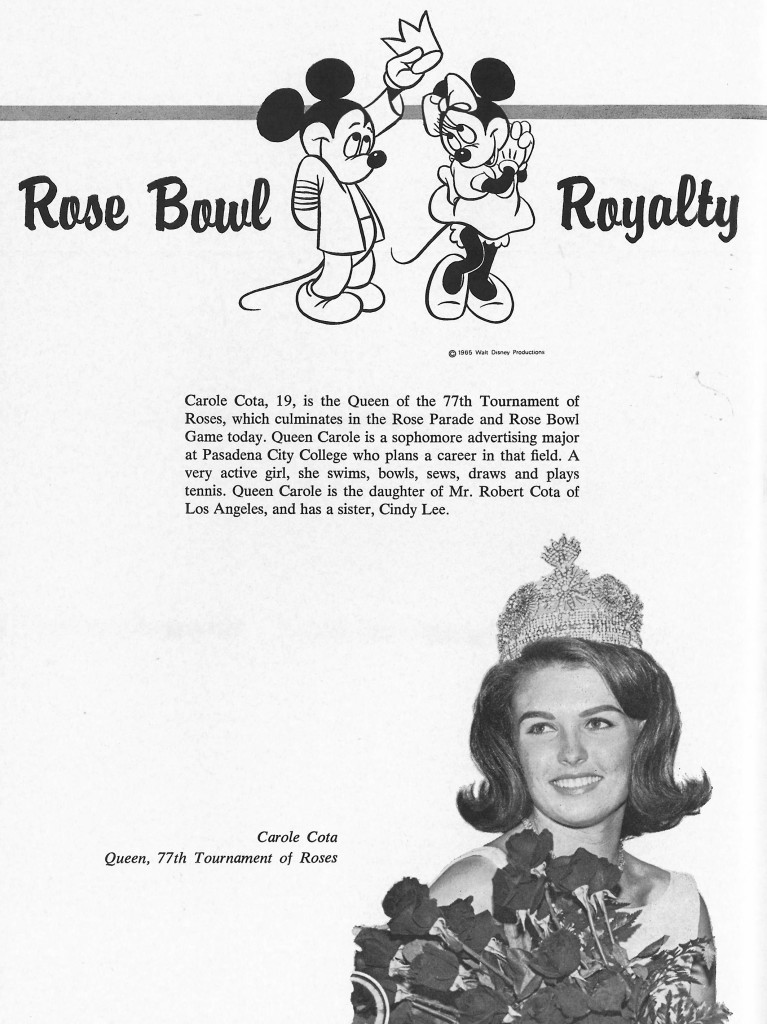 Rose Parade Queen.  Carole was kind enough to share her memories of that day, some of which made their way in to my article and some of which did not.  But before we move too far away from New Year's, I want to post her recollections in full for everyone to enjoy.  
1966 Rose Parade
The morning of January 1st, 1966 was frigid, coupled with the threat of rain.  Rain on the Rose Parade, I think not!  Inside the toasty warm, Tournament of Roses-Wrigley Mansion, my Royal Court of Rose Princesses and I were positioned in the living room, in front of the welcoming fireplace with our Grand Marshall, Walt Disney, set to begin more official photos.  We had all arrived at 3:00am and I was joking with him after we were served just 1 oz. of orange juice to hold us over for the 5-mile, 2-hour Rose Parade.  It was a magical experience for me to step out of the massive door of the mansion, on the arm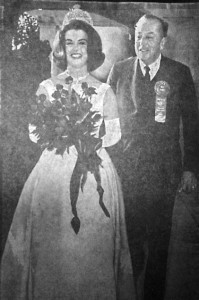 of the most recognizable person around the world at that time, Walt Disney.  As we descended down the winding driveway to our respectful positions in the parade line-up and being met by throngs of reporters and photographers, Mr. Disney shared with me that he only agreed to be Grand Marshall on one condition, that all of his Disney characters could accompany him on the parade route while circling his official, Rose covered, Grand Marshall's car.  It made for a spectacular beginning to our parade with the theme, "It's a Small World!"  He even had Mickey Mouse ride along side him, rather than the tradition of family members.  Spectators young and old were thrilled at the sight.  After the parade as we were dining together before entering the Rose Bowl, he told me that mid-way during the parade, a complete new set of characters were switched.  Mr. Disney sat directly behind me on the 50-yard line, at the Rose Bowl game and was cheering for the UCLA Bruins who had their first Rose Bowl victory that year against Michigan State.  Before January 1st, Mr. Disney invited me, along with the President of the Tournament of Roses Association, J. Randolph "Randy" Richards, to be his guest at his Disney Studios.  We had a private tour and he gave me an autographed photo which I treasure to this day.  We talked in depth about my education as I was majoring in Graphic Design.  Two weeks before the Rose Bowl game, the Michigan State Spartans football team arrived in California, Walt Disney invited the Spartans, the UCLA Bruins football team and our Royal Court to a private afternoon/evening at Disneyland, along with the Tournament of Roses Executive Committee and the judges.  What a thrill!  We kept in contact after the parade but sadly his health was failing.  It was a gift to be part of HIS parade!  
Carole Cota-Gelfuso
1966 Rose Queen