The Original Plans for the "Sailing Ship Columbia"
To design Disneyland, Walt hired art directors from other studios to create themed lands that would, in part, function has permanent movie sets.  The majority of these men–such as Dick Irvine, Sam McKim and Bill Martin–came from 20th Century Fox, as the financially-troubled Fox was then laying off some of its employees.  With these men came a knowledge of other Hollywood backlots which helped them create Disneyland.  The Golden Horseshoe Saloon was based in large part on the western-themed Golden Garter set at Warner Brothers.  The Mark Twain Steamboat was inspired in part by the Cotton Blossom riverboat on the MGM lot, a boat which had been featured in the 1951 MGM remake of the musical Showboat.  This connection to the movie image was so deep that when Disneyland opened in 1955 they hired Irene Dunne, the star of the 1936 version of Showboat, to christen the Mark Twain on TV.  

But the backlot influence of other studios didn't stop when the park was open: it continued for years.
     In 1956, Walt considered adding a new River Town area next to the river (roughly where the Haunted Mansion now stands), a town that was likely inspired by the river town set on the  20th Century Fox backlot.  That same year–in fact during those same months that he was contemplating River Town–he was also considering adding a second large vessel to Rivers of America.  Many people don't know that the Sailing Ship Columbia was not Walt's first choice for a second historic ship to cruise the waters in Frontierland.

 

While talking to a reporter, Walt explained his initial plans to expand the Disneyland armada.

 

"I'm going to add another one," he offered.

 

"I've got to find the right kind of a boat.  But it's going to be a boat that has to do with our early commerce, you see.  It might be Robert Fulton's first steamboat or something like that.  I'll make a miniature of it that will carry people.  The Clermont."
     Built in 1807, the real Clermont was the first commercial steamboat in the world, ferrying passengers from New York City up to Albany.

 

The 150-mile trip along the Hudson River took just over one day, with the ship moving at five miles per hour.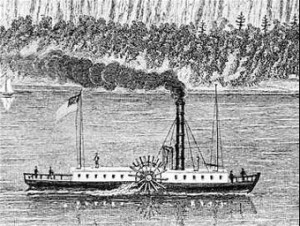 The Clermont on the Hudson
     Now for the interesting question: Why the Clermont?
     I don't have an exact answer, but I have a pretty good theory.  To understand this theory, you have to remember that in 1956, Walt had asked his designers to create a River Town expansion land inside the park, a land that likely was inspired by that set at Fox.  Well, that Fox river town set also had a boat.  And what was that boat?   It was the Clermont.  So it appears that Walt may have been considering porting over both a version of that river town set from Fox and also a version of the boat that was docked there.
     The Fox replica of the Clermont had originally been built for its 1940 film Little Old New York, which told the story of Robert Fulton as he struggled to build a steam-powered paddlewheel ship that could move up and down a river–in essence a ship that wasn't dependent on sail-power, man-power, the tides, or river currents.  Unlike later Mississippi steamboats, with their paddlewheels affixed to a ship's stern section, the Clermont had two paddle wheels mid-ship, one on each side of the boat.  Fulton believed that it would transform river travel between the New York Burroughs and also the northern parts of the state.
     To be honest, I don't know why Walt moved on from his initial plans to commemorate Robert Fulton and the American invention of the steamship, but perhaps it has to do with the paddlewheel.

 

Disneyland already had the Mark Twain, so perhaps Walt and his WED designers felt it best to visually diversify the river with a sailing ship.

 

It was Disneyland's chief of construction, Admiral Joe Fowler who recommended that Walt consider adding the Columbia to his river, the first American ship to sail around the world.

 

It was a slightly earlier ship, having been built in the late 1700s, though just as important to history as the Clermont.
     Though Walt initially intended to add a second American ship in 1957, the Sailing Ship Columbia wasn't christened on the River until the following summer, 1958.
     As an interesting side note, though Robert Fulton's first steamship never made its way into Disneyland, Fulton himself is still commemorated at a Disney park.

 

His name can be found at Walt Disney World.

 

In Port Orleans, Fulton's General Store honors his achievement as a steamboat pioneer.

+++++
This article is included in the DHI Podcast as episode 016, which also contains another "lost tale of Frontierland.  Subscribe here.  It's free.
+++++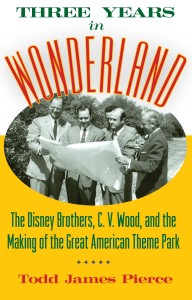 Also, this updated article is part of the DHI reboot: From January through April, I'll be posting up new articles and releasing new podcasts each week.  I'm between projects, and with THREE YEARS IN WONDERLAND coming out in March, I finally have more time to devote to the blog.  Most regular visitors here already know that THREE YEARS IN WONDERLAND is a detailed narrative history of the development of Disneyland (from 1953-1956), a moment by moment account of its creation and opening: the struggles, the challenges, the in-fighting and the success.  And remember, even when things are slow on the blog, the DHI Facebook Group is always jumping. –TJP