December 15th marks the passing of Walt Disney, and many of us our thinking about him today. I hope everyone will take a moment to reflect on the numerous ways that Walt Disney brought joy and wonderment to our lives, and how he made the world a better place. Walt's vision extended well beyond the years he spent on this mortal coil, leaving us to wonder what could have been with just another decade (especially those of us that spend our days researching Walt's EPCOT!).
The months following Walt's death were a scary time for those working for Disney. There were rumors that Roy would step down, and what that would mean. Litton Industries began buying up Disney stock, leading many to believe that the company would be taken over. So unsettling was this, that Roy personally addressed the issue, assuring Disney employees that the Disney family still owned 38% of the stock and they were not going anywhere.
Cast members at Disneyland were particularly nervous, wondering what direction the happiest place on earth would be going in. Recognizing this, and wishing to give his old friend a tribute, Admiral Joseph "Can-Do" Fowler prepared a letter for Disneyland employees, which was published in "Inside Disneyland," at the time a two-page newsletter published on a semi-regular basis for all involved with Disneyland. As you will see it is part remembrance and part pep talk.
We here at the Disney History Institute are proud to share this letter with you (which we believe is the first time it has found its way to the Internet, or any other publication).
Walt Disney's passing is a personal loss not only to each of us, but to people all around the world. Walt's entertainment brought a smile and a laugh into their daily lives. He made their dreams come true.
To all of us at Disneyland, Walt was even more than the "Showman of the World." To us, he was a catalyst, a driving force, and always just plain "Walt." His death leaves an emptiness that can never be replaced.
Now each of us is left with a great responsibility, and an obligation. Disneyland was a very special place to Walt. But Disneyland also is a very special place to all the people who come here. And from all around the world, young and old alike will continue to come to Disneyland expecting the same wonderful show, the same attention to detail, and the same warm and friendly welcome from everyone on stage.
This is the Disneyland tradition, a priceless legacy that has made Walt Disney's Magic Kingdom "the Happiest Place on Earth." As long as we continue to carry out our responsibility and obligation to the public, Disneyland will always be Walt's dream come true: "a source of joy and inspiration to all the world."
As Chairman of the Disneyland Operating Committee, I want to assure each of you that Disneyland will continue to operate in the same way that has made the Park so unique. Walt had every confidence in all of us at Disneyland, whether our responsibilities are on stage, backstage, or supervision and management. And he had great confidence in the creative team he built at WED, where the ideas for Disneyland's future attractions are now being designed and engineered.
It has been my privilege on several recent occasions to hear your president, Roy O. Disney, express management's optimism for the future growth and progress of Walt Disney Productions. As Roy has noted, management's faith in the future is especially apparent here at Disneyland. Our new construction program for 1966 and 1967 alone represents an investment of $45,000,000. And the construction you see every day speaks for itself. Our new Tomorrowland shows not only management's confidence in the future, but also the confidence placed in Disneyland by some of America's largest corporations.
The keynote of Walt Disney Productions has always been its enthusiasm for the future. With the continued help of all Disneylanders, the future will be especially bright right here at the Magic Kingdom.



Vice President–Disneyland
Thank you and all of us here at the Institute wish you a Merry Christmas, Happy Holidays and Wonderful Walt Thoughts!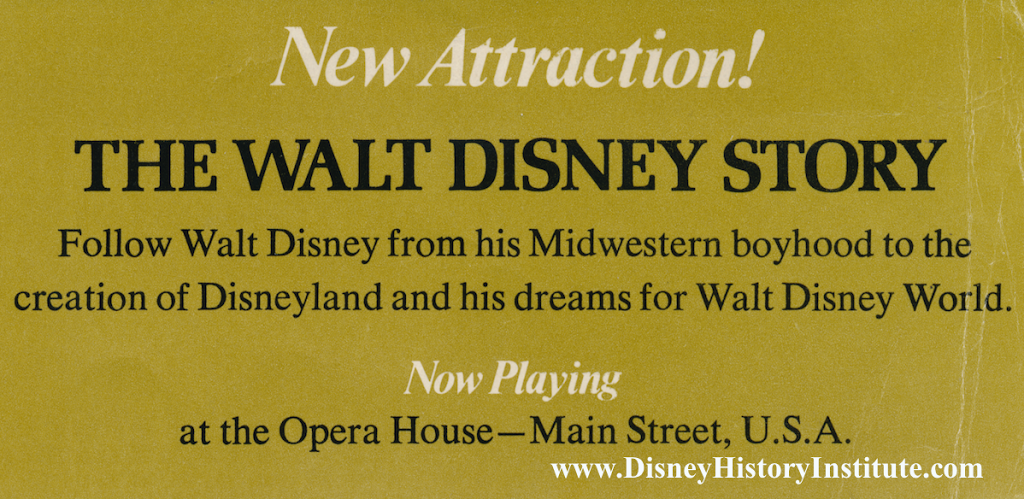 After Walt's passing several ideas were floated around on how (or if) to have a permanent
tribute for the man. One of the results was "The Walt Disney Story."
TO READ MORE
If you are interested in an active and intelligent discussion on Walt Disney and his Creative Legacy, may I recommend you check out our Facebook Group Page. There are daily posts of rare images and art, as well edifying essays, that are totally antithetical to what Facebook has become; the power of Disney history has done it. Check it out at:
DHI on Facebook
.