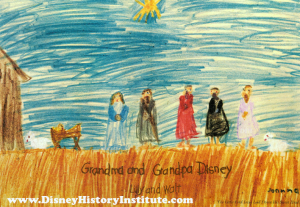 JOURNAL OF A DISNEY HISTORIAN
Merry Christmas and Happy Birthday Walt
A GRANDFATHER'S LOVE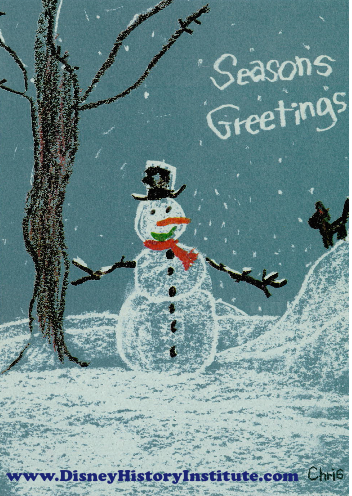 Those of us with children (or grandchildren) have sometime in our lives received a crayon-colored tribute to a special day or beloved holiday. Often these remain the most cherished possessions of our life (they are for me). A child's love expressed simply with paraffin wax and color pigments; Walt was no different.
A few weeks ago when I asked DHI readers in our Facebook group to suggest what they would like to see for Walt's birthday commemoration and several expressed a desire to hear a story related to Walt Disney the family man. I went searching in the hallowed halls of the Institute, and I found something you will like, and perhaps will cherish yourself by bringing the light of the Season and the love of a Grandpa into your thoughts.
This Christmas card to "Grandma and Grandpa Disney" was done by the three Miller grandchildren, Christopher, Joanna and Tammy. It offered Walt and Lillian that special, childhood Christmas cheer that all of us who have received such a gift know all too well. The treasured present celebrated the Christmas season of 1963, and most assuredly would have touched the proud grandfather. And speaking of Walt Disney the grandfather … I have a little yuletide present for you;
an unknown Walt interview that I discovered many years ago.
The interview took place while Walt was relaxing on a South Pacific cruise. Suzanne Baker, a reporter for a New South Wales Television magazine, caught up with Walt who happily spared a few moments with her as he enjoyed the peaceful waters of the ocean. It was a rare opportunity since most Walt Disney interviews do not take place on a boat, in a couple of side-by-side Deck chairs. The interview hails to us from 1962, just a year before the Christmas card was given. One particular section goes along wonderfully with the card.
As the reporter settled in, Walt began to show her a batch of postcards he had collected on his trip. Walt explained:
"These are for my five grandchildren. They are the light of my life. The eldest, who is eight, walked up to me the other day after looking at one of my shows on television and pointed [a] finger in my face. 'I know who YOU are. YOU are Walt Disney.'
"I had been discovered! I was suddenly more than just 'grandpa' and, believe me, that meant something. Most grandchildren the age of mine are always running to someone with skirts on. But I have a kind of hold over Grandma Disney now. My grandchildren began to suspect I was a little different when I took them to Disneyland a while ago. They realized that grandpa could take them anywhere he pleased without being questioned or having to pay."
May I offer you a continuing Happy Birthday Walt Disney DHI celebration as well as a very Merry Christmas and Happy Holidays.
ANOTHER GRANDFATHERLY CHRISTMAS STORY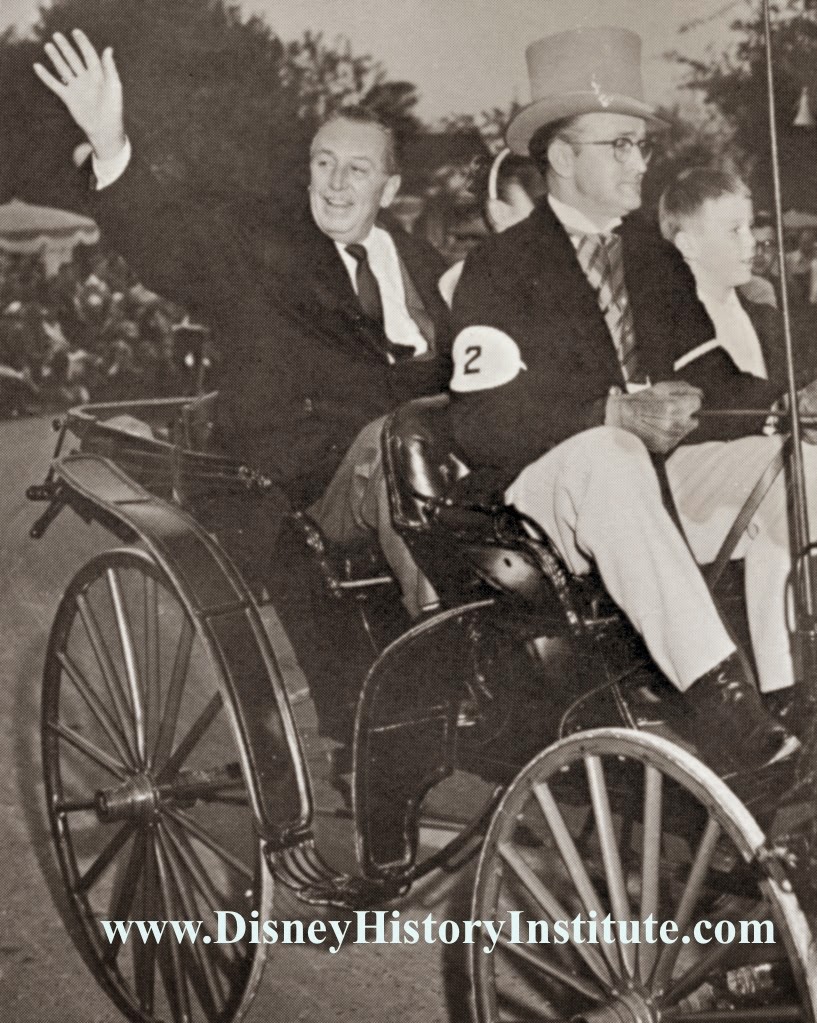 I think we all know the fellow in the back of the carriage; the fellow in the front is Jim Lindsey, who was a Disneyland carriage driver. Lindsey remembered a story about Walt Disney and specifically about the day this photo was taken: "It was around Christmas. Walt's grandchildren were supposed to ride up front with me but they wanted to ride with their granddad. They sure were happy when he told them they could ride in the back seat."
THE GREATEST TOMORROWLAND OF ALL TIME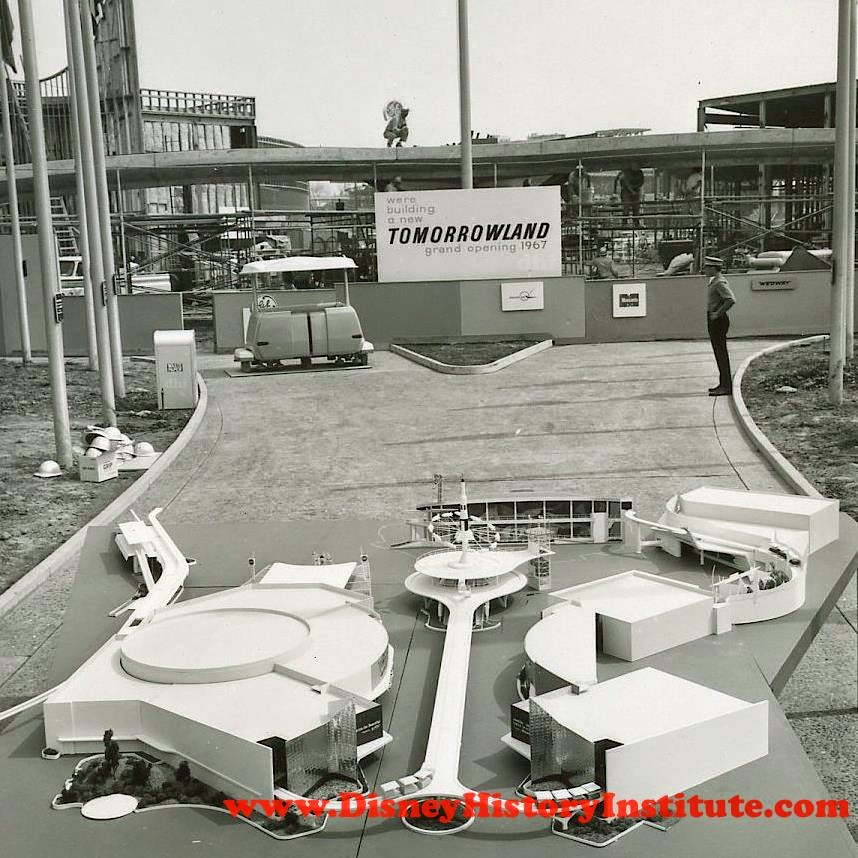 New Tomorrowland model and construction. (Spring 1967)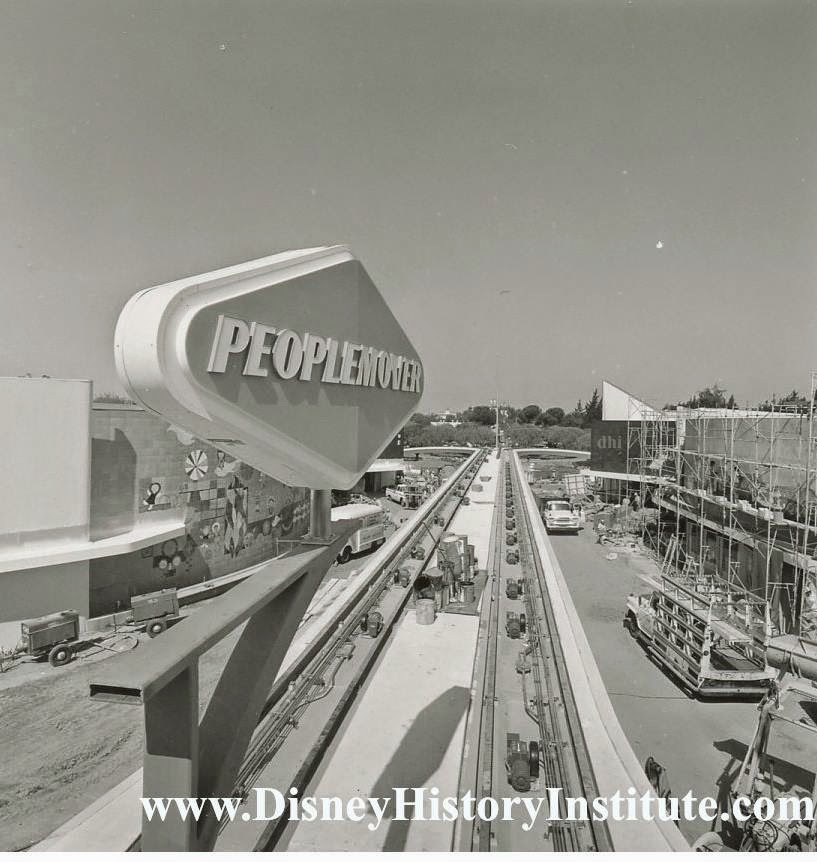 Construction, Spring 1967.
Tomorrowland has remained a bit of a conundrum since, well, day one when Walt uttered the words about the futuristic land being out of date as soon as it was completed. However, to most Disney historians and enthusiasts, Tommorowland 1967 will remain as the greatest Tomorrowland of all time. As far as a collection of attractions, and a unified theme, I would have to say that, in this historian's opinion, New Tomorrowland 1967 was, and always will be, the greatest Tomorrowland to ever grace a Disney theme park! This fantastic image was taken in early spring of 1967, with construction still underway, with a wonderful WED model in the foreground to give members of the press a sneak peak as to what was hiding behind the plywood walls and the berm.
RECENT DISCOVERIES AT THE INSTITUTE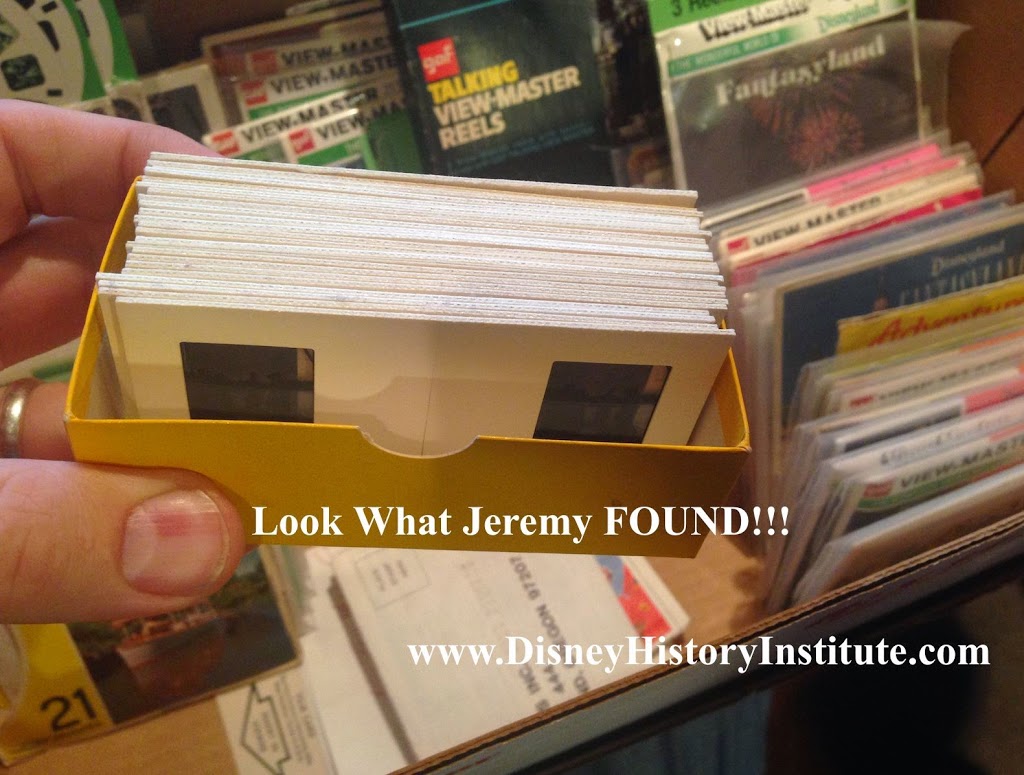 Disneyland opening day stereoscopic slides found at DHI.
Look what was recently found here at the Disney History Institute!! As many of you know, Tin Dog (Jeremy Marx) comes over about once a week to get new stuff to scan for the DHI database. His mission one day, a complete set of Disneyland Viewmasters (with all variations), to scan. After obtaining the said target (which can be seen partially in the background of the photo), he took a look to the right, and there amidst two-years of dust was

this box of stereoscopic slides.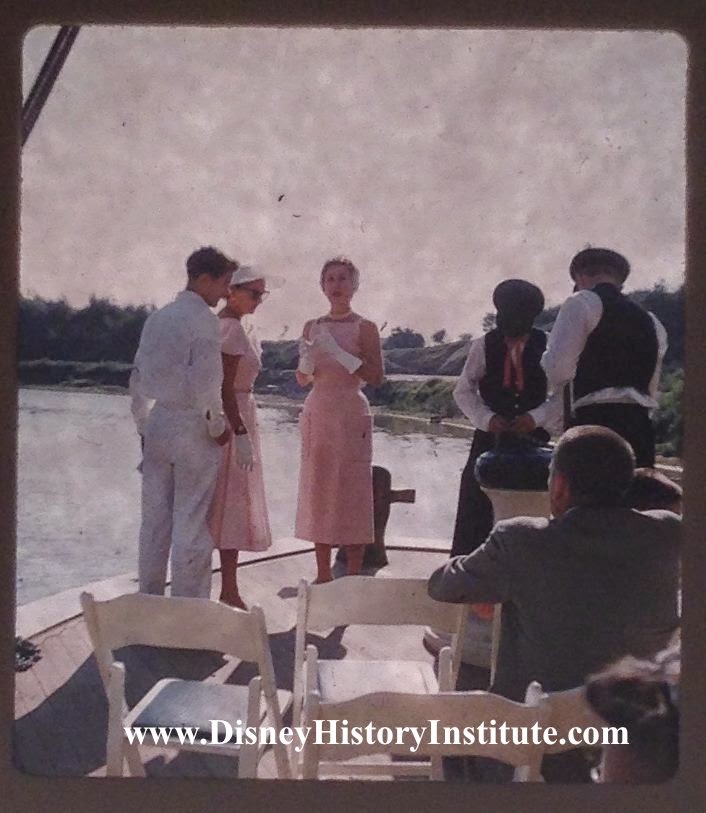 Irene Dunne July 17, 1955.
Upon a quick examination it was determined they were all from July 17, 1955…opening day!
I took a quick photo with my iPhone of one-half of one slide featuring Irene Dunne either right before or right after the christening of the Mark Twain.) Happy to report that there are at least two Walt Disney slides, maybe more. Needless to say the box of slides immediately went in the box of stuff to scan, so some interesting material for the future here at the Institute.
One of these days, we'll actually get everything scanned. Jeremy thinks there is at least ten to twelve years of scanning left to go; I think maybe two years more for the really important stuff, and then who knows. But we are getting there, and all of the priority material is going first. We are approaching 100 gigs of scanned material, so a major project.
THE INSTITUTE SPORTS REPORT
CLOSE GAME: RIVIERAS 8 ROVERS 7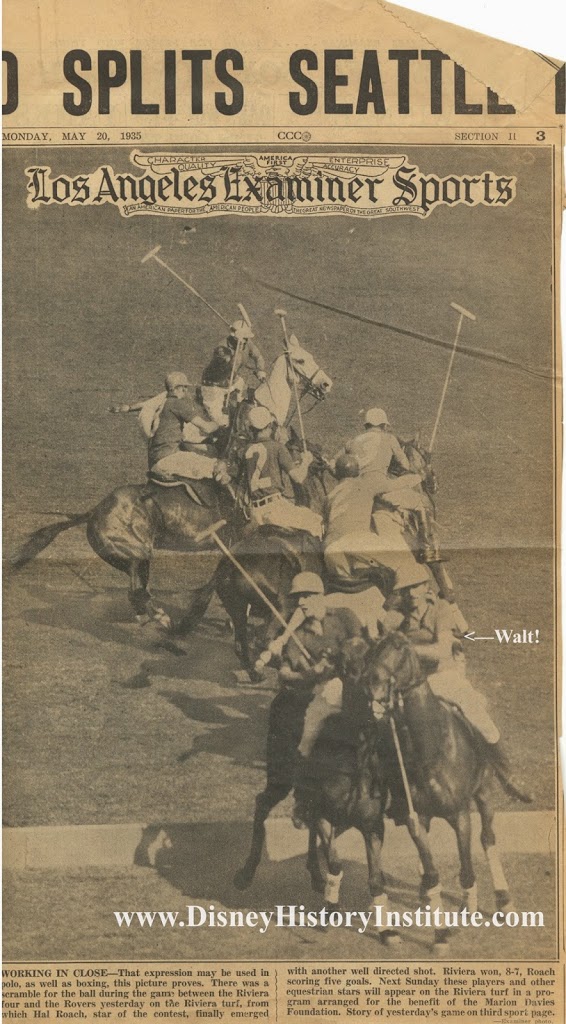 I always thought that the Institute was lacking a sports presence! I mean, all great media empires have a sports section, right?! So in the interest of taking the Institute to the next level, I offer up forthwith, our new Sports Feature!!
Many who know a bit about the Disney History Institute's Archives are aware that we have a large collection on Walt Disney's 1930s polo "hobby." I went looking through one of the clippings files in the Polo collection and found this Los Angeles Examiner clipping from May 20, 1935, which was not tagged as having an image of Walt himself. A few seconds later, with the loop in hand (which actually is the Zoom button on my iMac) I was able to find Walt (thanks to the fact that when this clipping file was scanned, we did so at a very high 1200 dpi!). I've reduced the file size, but you can still zoom in one or two clicks and clearly see Walt Disney!!
In this case, Walt Disney was on the winning team, playing for the Rivieras (namesake of the Riviera Country Club where Walt often attended and played many a Polo game), but he was not the star. Hal Roach (yes, THAT Hal Roach) took home those honors by scoring five goals! Walt Disney did contribute, however, scoring one goal (and hey, without that one goal, it would have been a tie). The game was noted to be a bit of a scruff, or as the Examiner explained the photo could be used as an expression of "boxing." The losing Rovers had no notable movie stars on the team.
Earlier in the day, another Disney team, team "Mickey Mouse" (who Walt often played for, as well as trained with) was headlined by Walt's brother, Roy O. Disney; also included on team Mice was Spencer Tracy. Sadly, it was not to be, as they lost to a very powerful Rangers team, 11 to 2. Headlining the Rangers were close Walt friend Walter Wanger and famed director Michael Curtiz.
Now, back to our regularly scheduled DHI programming.
MINUTE HISTORY~Speaking of Inappropriate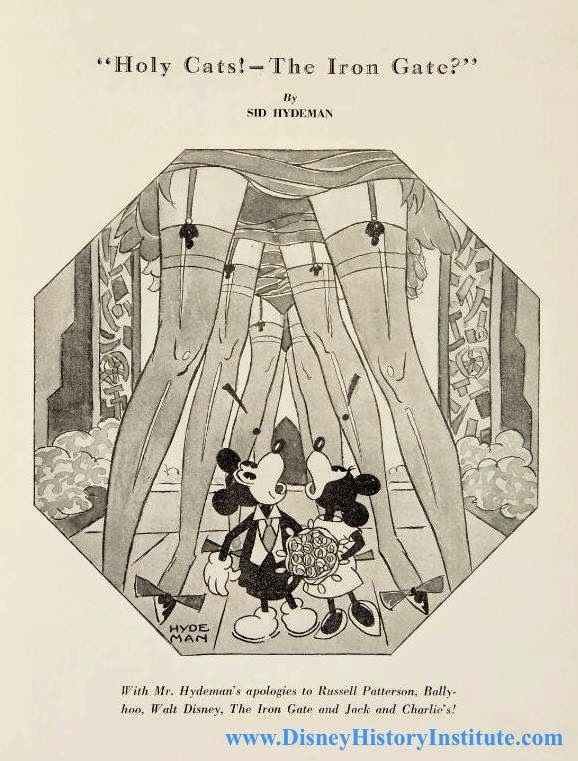 Welcome to Minute History, a new feature here as part of "Journal of a Disney Historian." If you only have a minute and you want a cool, interesting (and edifying!) piece of Disney history, then you got it!
I was going through one of the DHI databases recently to try and find something truly unusual! I think I found it. Amazing what a bad boy Mickey Mouse was in the 1930s, and how much Walt and Roy let slide through ("no publicity is bad publicity" — right?). They were voracious at protecting their copyrights, but stuff like this that fell more under, well, editorial comment, typically was either overlooked, or often, not even noticed; especially since so much of the "inappropriate" material was foreign.
MEMORY OF WALT~The V8 Version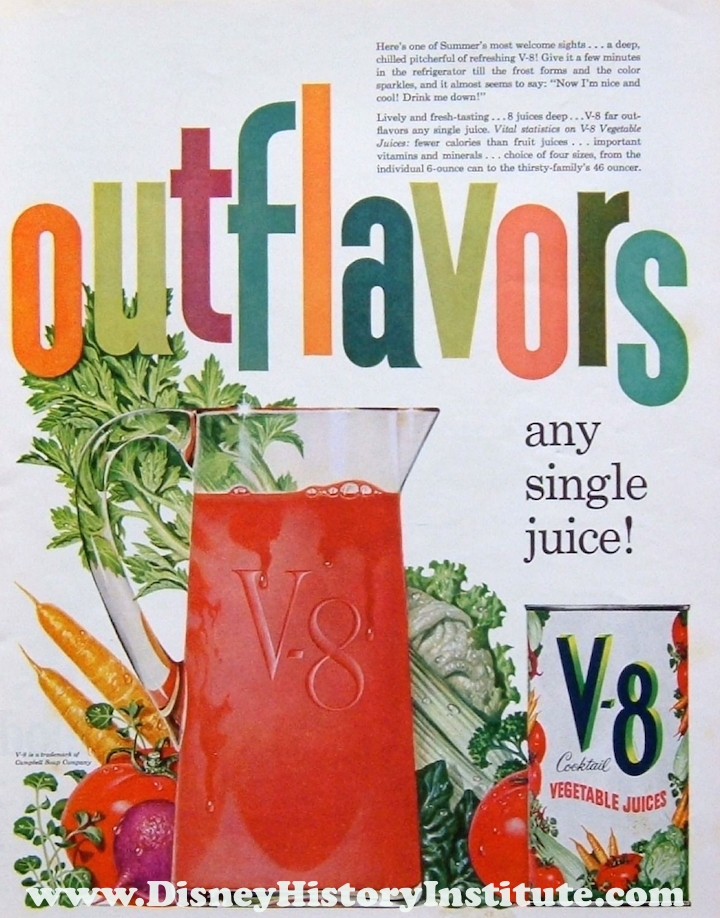 V-8 Vegetable Juices Advertisement, 1960.
We all know about Walt's chili, but what about his obsession with V-8 in his later years? There are little bits and pieces here and there about his love for this drink (such as meetings with Walt in his office, where folks are offered the drink).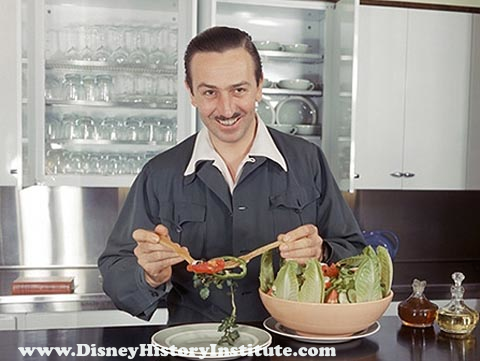 Walt Disney in his Studio Kitchenette. (ca. 1943)
The following anecdote comes from Dolores Voght Scott, Walt's longest-running secretary, serving from 1930 to 1965; and as you might imagine, it is about the cocktail vegetable juice.
"I can't think of anything he disliked, particularly. He sure loved chili and beans. He always had a V-8 before his lunch. I'd serve V-8 to himself and guests. And so often everybody would take a taste of this V-8, and they'd put it down, and that would be all there was to it. Walt would tell them, 'You should drink that. It's really wonderful for you. It has–let me see one of those cans, Dolores–let me see what's in that now.' And he'd read off all those vegetables that were in this wonderful V-8."
So in honor of Walt Disney let us all hoist up a V-8 in remembrance of the man we celebrate here. And if you are really avid (read: me) you can find a chili recipe on Campbell's V-8 website that features the vegetable juice. Yes indeed, a combination of Walt's two favorite foods! I have picked up the ingredients, but have yet to hit the kitchen. I'll let you know how it turns out.
MINUTE HISTORY~Tahitian Terrace First Names … and Dirt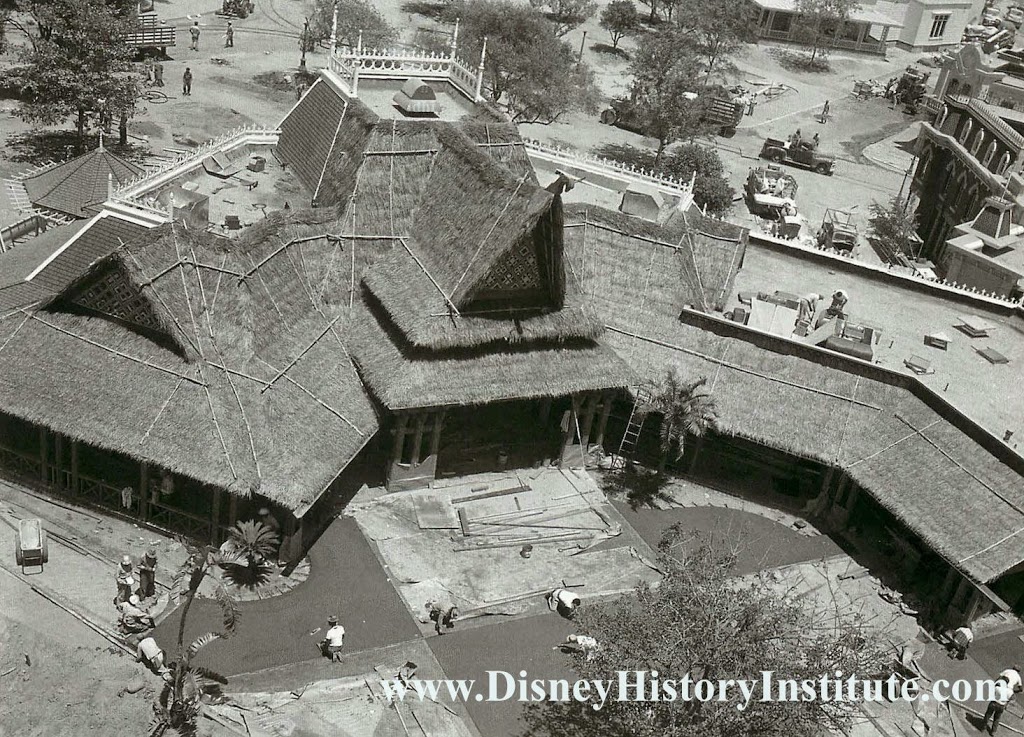 This opening year photo gives a great view of dirt (a popular theme here at the Institute) and the Plaza Pavilion. It showcases the now-famous back-t0-back WED building style, here with the Gay Nineties on one side and a Tropical Paradise on the other side (thatched roofs of the jungle meets the "painted ladies" from the Victorian era).
As the success of Disneyland took off, in the early 1960s Walt turned his eye on a Tiki-style restaurant (and attraction) for this area–Stouffer's were in negotiations for almost a year for this honor, but Walt began to feel that they weren't serious. But what to name this new Adventureland restaurant? Minute History to the rescue!!
From a November 15, 1961 Memo to Bill Cottrell come these suggested word and names for this new Adventureland restaurant. Among my favorite are: "Voyager's Rest," "Beyond the Reef," "Blue Lagoon" (how Plebian), "Singing Winds," "The Green Veranda" and "Flotsam and Jetsam" (think of the marketing potential Eisner would have had with that name).
Post up your comments below or over on our Facebook Group Site. (Even when things are slow on the blog, stuff is always happening over on Facebook).