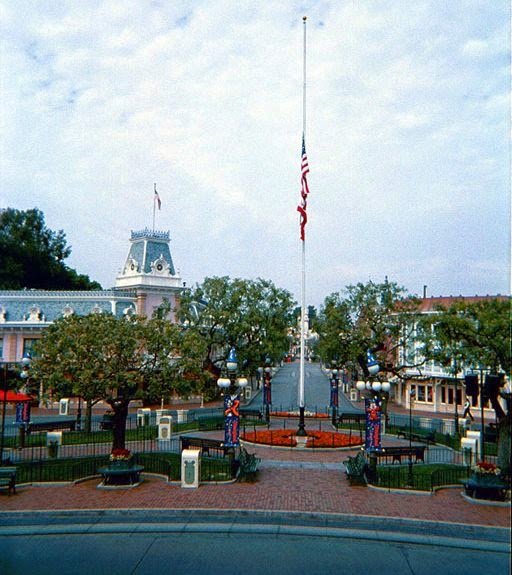 Photo taken on September 11, 2001 by Disneyland Cast Member Dave Marquez.
EDITOR'S NOTE: From time to time here at the Disney History Institute we feature guest editorials and essays; and to me, this is one of the most important that we have done. Over at our DHI Facebook Group we always have an active and lively historical conversation underway regarding Walt Disney and his creative legacy. This is often peppered with unseen images, fantastic pieces of Disney art and spectacularly rare visuals–you can learn more about it at: DHI Facebook Group.
This morning a member posted a story about her family vacation to Disneyland … which just happened to be on 9/11. Within moments of reading just the first few paragraphs I knew that this was something I wanted to share here–something permanent on our DHI site, and not ephemeral as Facebook often is. For the last few days I had been trying to decide what the best way to memorialize 9/11 here at DHI was–going through the usual suspects, such as patriotic American imagery featuring a Disney bent, or whatever–but I was continually troubled by what my options might be. And it was like Walt Disney was watching me and saying: "Kid, don't fret, I have just the right thing! Something that, even to me, represents what I want from my Happiest Place on Earth, and how I want it to be remembered." It was this story. It was just what I wanted, and I was happy that the author, Diane Grimaldi Whiting, was willing to share it.
And if I needed some image to share, Walt made sure that happened too (although I know he did not like photos of his Park without people — but for this occasion, he made an exception). The above image was taken by an old friend of mine who I had not talked to for almost a decade–David Marquez. Dave was working in Guest Relations at Disneyland on that fateful day and shot the above image in the afternoon, complete with our American flag poignantly at half-staff. It was just one of the few times that Disneyland was closed for a national tragedy (other times Disneyland was only partially closed were on the assignation of JFK and on Yippie Day). I'm happy to say that Dave was also very happy to share.
So, with all of this in mind I am happy–and honored–to share this story of how Walt Disney's creative legacy helped one family remember hope. I think all of us that lived through the 9/11 experience can remember how strong the feelings were and probably also recall when hope started returning to us; and I dare say that for many of us here at DHI, Disney was in someway involved in our own journey back to these feelings of hope.
Paul F. Anderson, co-historian and founder of the Disney History Institute
By Diane Grimaldi Whiting
My family was there on 9/11/2001. We were on our way to Disneyland (actually spending the night in Vegas), when the terrorists struck back east. We didn't know what to do. My husband and I decided that we were going to go to California anyway. When we were driving through the desert, we heard over the radio that Disneyland was closed. I finally managed to get hold of someone at Disney Dining reservations, who said to just come, and everything would work out.
We were staying at the Disneyland Hotel (my favorite!), and when we stepped into the lobby, we were surrounded by characters. My kids were 10, 7, and 9 months at the time, and we were trying to shelter them from the awful events of the day. Disney really came through. Buzz and Woody immediately started playing with my son. They were having a "Space Ranger shootout" through the lobby. And Snow White and Cinderella came up to see my dd. She was star struck. They sat and talked with her, and her eyes were as big as saucers. Pluto was playing peek-a-boo with my baby, who loved squishing his nose. The hotel was practically empty, because all flights had been grounded, so no new guests were arriving, and other guests who were scheduled to leave had made other hotel and travel arrangements. It was so odd to see it that way.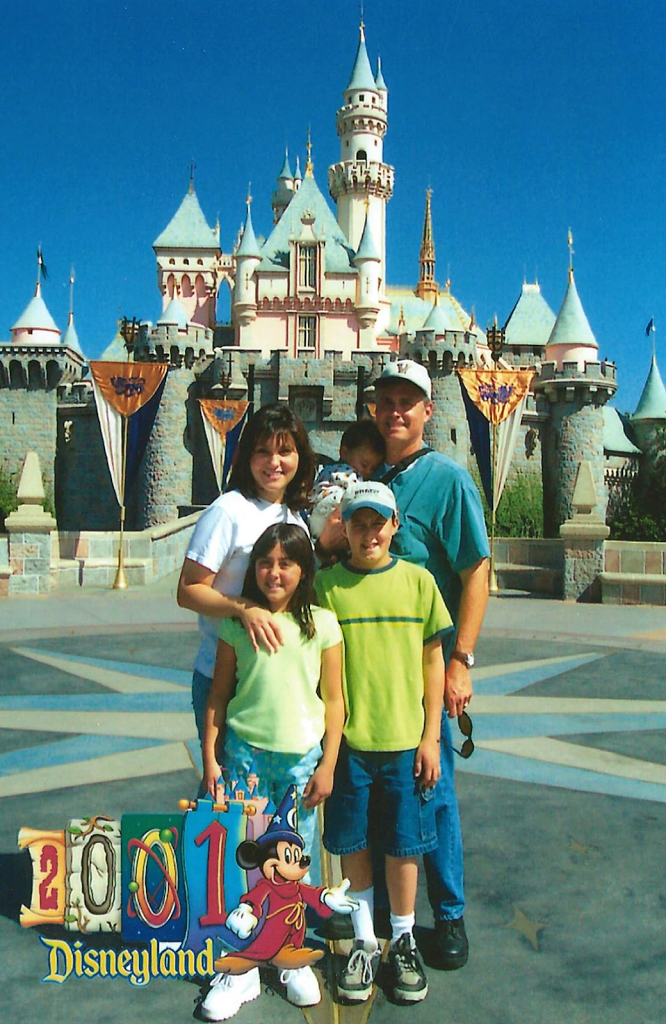 Diane Grimaldi Whiting and Family.
September 12, 2001
Snow White came up and asked if she could take my older kids to the conference room down the hall where they were showing Disney movies and serving cookies and lemonade to the kids. There were other characters there who were watching the movies with the kids. Let me tell you, that was my dd's dream come true! They also had other conference rooms set up for parents with banks of TVs showing the news, and more cookies and lemonade.
After we'd checked in, we headed to our dinner reservations at Goofy's Kitchen. The place was practically empty, and it was like the staff and characters were there just for us. They were amazing.
It was such a hard day, and I felt worn out trying to be happy for my kids while I wanted to break down and cry over what happened in NYC, D.C., and Pennsylvania. Goofy saw me standing by the buffet, and just walked over and hugged me. It was so sweet. A lot of hugs were given that day between characters and adults. And even as a grown-up, when you feel awful, hugging a giant Eeyore does help.
The park was closed for the rest of the day, but the pool was open, and the kids had a great time swimming. All of the games in the arcade were free, and ESPN Zone in Downtown Disney (the only place open…and only for Hotel guests) had free sodas for everyone, and all of their games were free as well.
The next morning Disneyland reopened, and we were part of the handful of people in the Park (no new people were arriving, locals were home…glued to the TV, and people who were stuck there were out of money, so they weren't in the Park). Mickey came up to greet us, took my oldest kids by the hand, and skipped with them down Main Street. It was amazing. We have wonderful photos in front of the castle with literally not another soul around. When we rode the rides, the CMs just let us stay in the vehicles and ride as many times as we wanted.
The next day, or maybe the day after (not really sure, as everything was still a blur), Disney started having a moment of silence during the day, where everyone in the park stopped what they were doing, and we all stood and sang "God Bless America." It was very moving. There were many people visiting Disneyland from overseas, and after the ceremony was over, several of them came up to us and asked if we were American. When we told them we were, they all hugged us and said they just wanted to let an American know how sorry they were for what had happened, and that they support us and were praying for us. We were all crying. And it still brings a tear to my eye just thinking about it.
So it was a very bittersweet and emotional time at Disney for us. We wanted to be happy for our kids, and most importantly, not frighten them, but we also wanted to do nothing but watch the news 24/7. I was so impressed at how kind and sweet every single cast member was during the week we were there. Especially the characters. They were very attentive and engaging, and sought out my children at every opportunity. I think we all wanted to feel better and find some hope in the world during such a bleak time, and nothing helped more than hearing children's laughter. Disney made my children laugh that week…and they gave me hope.
EDITORIAL NOTE: I changed the header photo (flag at half-staff on Main Street) because there was a mistake when I posted the original image. As it turns out Dave Marquez had not taken that particular photo, but one very much like it (he had mistakingly posted on our Facebook page that he had taken the photo). This was brought to my attention by the brilliant, whimsical and always vigilant (when it comes to Disney History!) Douglas E. Marsh (and close friend of DHI). Doug explained that the photographer wishes to remain anonymous, otherwise I would give them credit here. Dave Marquez notified me and found the photo he had taken (which is remarkably similar–almost identical, so easy to see why there was a mistake…I mean how many photos are there of a half-staff flag at Disneyland with NO ONE in the Park?). This photo by Dave is now the one at top. Thank you to everybody for bringing this to my attention.