JOURNAL OF A DISNEY HISTORIAN
It has been a wee bit of time since my last Journal of a Disney Historian; seems as if life had a different course for me over the latter part of 2013. Yet, all is (seemingly) on the mend now (they say I'll be "normal" in six months to a year–which I think is a bonus, as I don't think I've ever been "normal"). As such, I hope to have regular Journal entries here at the Institute for the near future. One thing that sitting in a hospital for a long time does is gives you lots of time to think–especially when you get as close as I did to interviewing Walt … personally. One thing that I realized is that I have spent three decades of avidly collecting historical material on Walt Disney; everything from interviews (lost count after 250) to historical documents, newspapers, magazines, art and so much more. Sadly, I haven't spent as much time sharing what I have collected. And seeing as how that was sort of the genesis for the Institute, I decided I better rectify this situation before I try and head off to interview Walt again (as well as see old friends like Ken, Herbie, Sam, Claude, Robin, and others). So welcome to what will be (hopefully) a much more regular column here at the Institute. And enjoy!
WHAT KIND OF DRESSING DO YOU WANT WITH YOUR NUCLEAR REACTOR, AND WOULD YOU LIKE CROUTONS?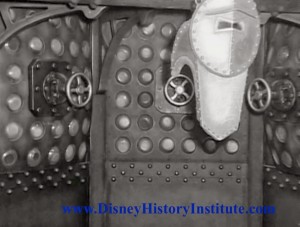 I was privileged to have interviewed John Hench several times; the most notable back in 1994 when I was working on my 1964 New York World's Fair magnum opus. I would always stray off topic, to other favorite subjects, like 20,000 Leagues Under the Sea (as those who follow the Institute here know of my Toad-like mania for this fantastic film). As I recall, as I strayed off topic towards the film, Hench started to tell me, in what seemed like hush-hush terms, a story about the Nautilus set design and its Nuclear reactor. To me, I was thinking, WOW, did Walt's attention to realism go overboard, were they actually splitting atoms to obtain that realism Walt always wanted? Hench made it seem like it was a serious story, with grave implications. Take a moment to revisit the film in your mind; can you recall that wonderful shot, with all the little convex "windows" each with a myriad of spinning multi-colored lights whizzing away behind them? Apparently creating fantastical nuclear power that was driving the Nautilus! It was, for the movie at least, the source of Nemo's power. In Jules Verne's 1870 book the Nautilus was powered by massive sodium/mercury batteries (specifically, Bunsen cell batteries)
to create an all-electric vessel. For the Disney film, however, Hench updated the submarine with nuclear energy. As I began to listen more intently it became clear that John was enjoying my gullibility (historians can be so literal at times).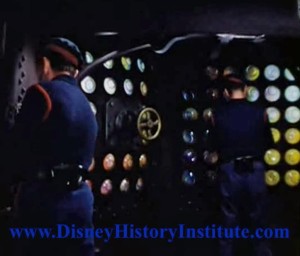 Yes, there was a bit of a punchline waiting for me. He described how the nuclear reactor set was created from a framework of fiber glass, which was a major advancement in Hollywood set design, pioneered–for the most part–in 20,000 Leagues. Within this frame were "little holes" for each window, although why we would need windows to see the atom being split repeatedly is beyond me (it was a beautiful Disney set, that created that Walt Disney wonderment and fascination–that part is not beyond me). John had contemplated what exactly would make the ideal window. His solution? Salad Bowls!!! Plug these into your frame and set spinning light wheels and color spots behind them, and you have a pretty convincing design for Nemo's Atomic-Powered Submarine! Many who worked with John Hench explain how his sense of color was nothing short of brilliant–the best they had ever seen. That "sense" was at work here with this set.
Yes, Hench went to the five and dime (for those of you under the age of "old-geezer" these were the early forerunners of Walmarts … only cooler! The Woolworth's of America) and purchased every plastic salad bowl that he could find. Thereafter they were forever immortalized in Walt Disney's incredible film!
And with all apologies to Paul Harvey (another old-geezer reference), now, you know the rest of the story!
THE UNPUBLISHED "OPTIMISTIC" WALT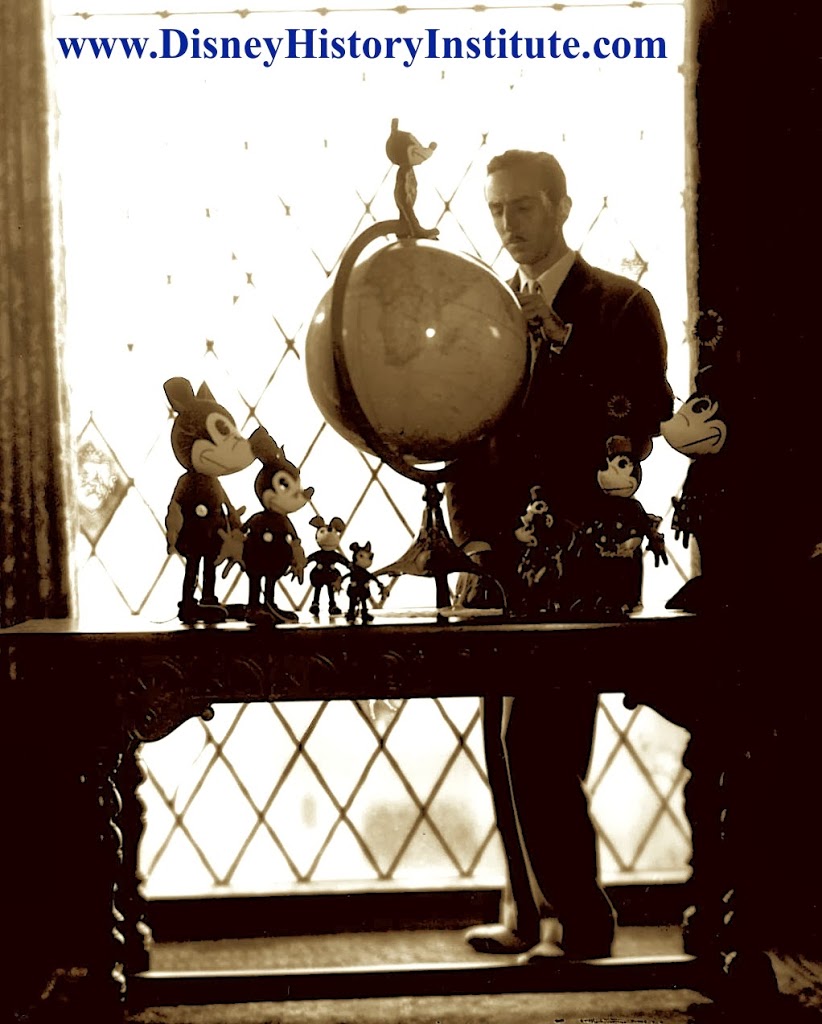 Wonderful image shot at Walt's Woking Way home, complete with an entire range
of Charlotte Clark Mickey Mouse dolls.
Over the last two decades I have scoured the world's libraries and research institutes to try and find unpublished Walt interviews and quotes (which includes letters and other writings). I'm happy to say that, surprisingly, I have found a quite a bit of this special treasure, and I love sharing it at the Institute (so stay tuned, lots more to come). Not surprisingly, it is not always the "Dream Dream" and "Imagine Imagine" quotes that are so often bandied about everywhere (and more often than not these type of "Walt quotes" are a fabrication on some level).
My search is for the real Walt, which ultimately is what we want to know. Right?
This quote comes from an unpublished 1964 interview with an Italian journalist (or so I believe it to be unpublished–if it is in print, it is in Italian–I was lucky enough to have found the questionnaire that was sent to Walt and his responses…fortunately all in English). It is a nice, basic "wrap-up" of Walt's thoughts on life and making films. The journalist asked Walt if it was his intention to create such an "optimistical [sic] vision with your characters." Walt response:
"I always like to look on the optimistic side of life, but I am realistic enough to know that life is a complex matter. With the laughs come the tears, and in developing motion pictures or television shows, you must combine all the facets of life–dreams, pathos, and humor."
-Walt Disney, 1964
The photo is a wonderful image shot at Walt's Woking Way home, complete with an entire range of Charlotte Clark Mickey Mouse dolls (if any Institute members are looking for the perfect "Welcome Back" gift for me, I'd be happy to accept any size of one of these magnificent specimens).
WALT DISNEY & CHARITY … PLUS DISPELLING THE ANTI-SEMITIC MYTH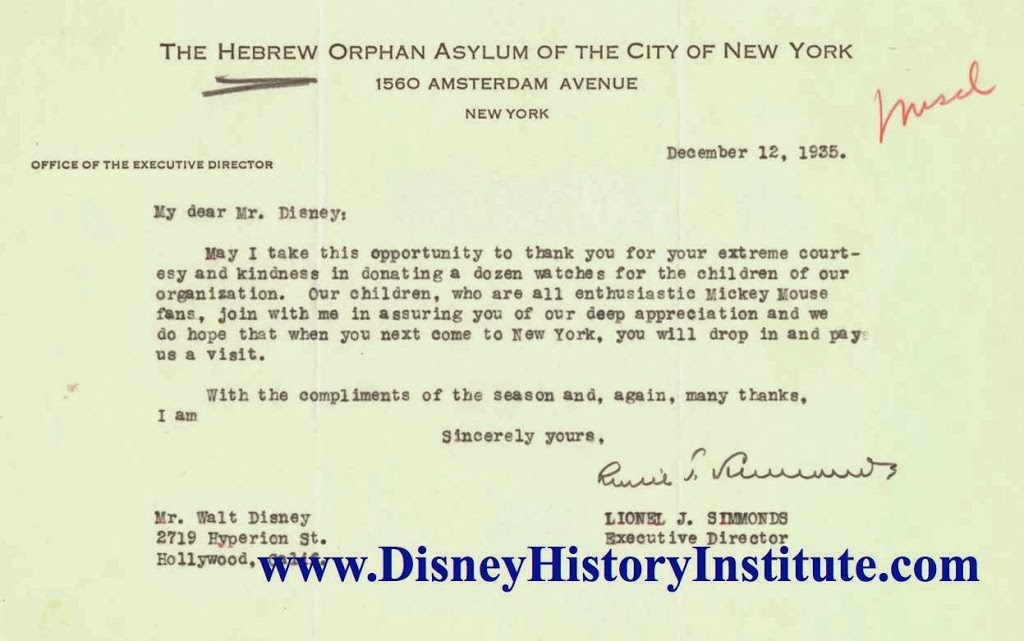 That got your attention, didn't it!? It is one of the most annoying of all Walt Disney myths that still to this day persists! The recent comments by Meryl Streep have proved that it is still prevalent in the Hollywood and Jewish communities. It created quite a stir and I wrote a lot about it over at our Disney History Institute Facebook page (where a daily and very active discussion on Walt Disney and his creative legacy is available–see the link at the end).
This idea has dogged me through my years as a Walt Disney historian. Seemingly, almost every Disney lecture or interview I have ever done (for a non-Walt crowd), I invariably get the Anti-Semitic question (especially on radio interviews). In fact, at one presentations I did at the Walt Disney Family Museum on World War II, a lady who was Jewish asked me about Walt's apparent hatred for the Jews. I spent a lot of time with her talking about this (until Diane finally came running down the side and asked me to move on). She didn't want it to seem like I was overly defending Walt (which I was). This lady wanted all the information so she could take it back to her community; it seems that many of her Jewish friends berated her for belonging to such an organization as the WDFF, because "that Walt was a rabid anti-Semite" and how could she ever be a member of such a horrible museum? Let alone give them her money?).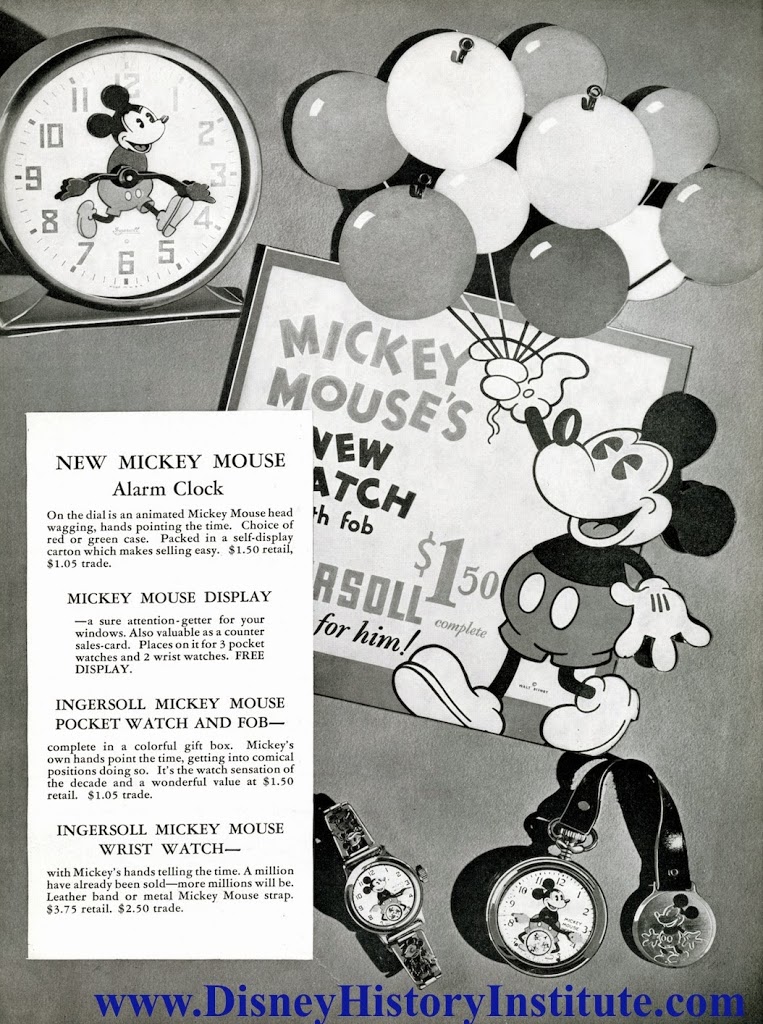 1934 Kay Kamen Merchandise Catalog
For the better part of two decades I have compiled research on this important question (and was the "go-to" guy for Diane and her projects when it came to the Anti-Semitic question). In the future, I have plans to share this research here at the Institute (perhaps a monograph). Until that time, I thought it would be appropriate for this Journal entry (as each version I try to write something about Walt's charitable nature–thus, this will kill two birds with one stone).
A little known fact, that was never touted by Walt or the Disney company (ever!), is that in the 1930s Walt gave liberally to numerous Jewish charities (orphanages and children's hospitals, mostly). Here is a wonderful example from the Hebrew Orphan Asylum of the City of New York, dated December 12, 1935. As it goes, the orphanage had a group of "enthusiastic Mickey Mouse fans" … twelve of whom received a Mickey Mouse Watch (what a wonderful Holiday Season that must have been for them–a very happy haunukkah). To see what those little tykes got, I also present for your edification the page from Kay Kamen's 1934 merchandise catalog featuring the "new" Mickey Mouse watch! Before the naysayers start in with, "Oh yeah, big deal, he gave watches to a bunch of kids…" to which I respond, this is merely the tip of the iceberg (a berg that dwarfs in comparison that slippery piece of ice that sunk the Titanic). There is a wealth of this kind of information, and in the future here at DHI I will be sharing it! DHI, your home for the truth about Walt Disney!! (And also for "unknown" Walt history–make sure you check out the previous series we did on "Walt's First Park"… which is still receiving rave reviews!)
As always, Enjoy! … and in this particular case, after enjoying PLEASE SPREAD AND SHARE … as Diane and I discussed in one of our last lengthy conversations, the only way to truly change this perception is to provide as much truthful information as we can.
DISNEYLAND'S ART CORNER
ANOTHER RARE DISNEYLAND PHOTO (gotta love DHI–there is a lot more over on our Facebook community page, see link below). People love vintage Disneyland; especially me. Any photo or image of something we do not see very often is always a pleasant find. Sadly, some of these photos are impossible to find–especially interiors of shops. I mean, who took these photos? Not many Disney historians around in those days to document this kind of history. And frankly, people did not waste there expensive film and limited shots on what was to them, mundane. Nope, they wanted beautiful shots of the Castle, or the Mark Twain, or … you get the idea.) This image is shortly after the opening of New Tomorrowland, so summer 1967, and many of the decorations from the Art Corner store are still present. It is at this time, however, called the Character Merchandise shop (at least in Disney documentation). Enjoy!
HERE AT THE INSTITUTE WE ARE DONE WITH WINTER!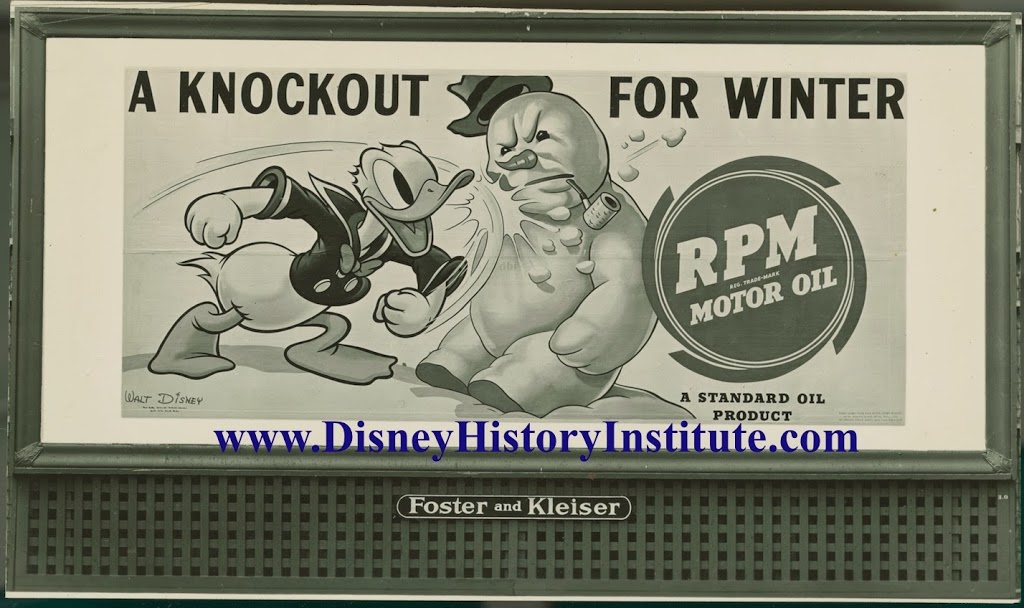 As winter rages away outside my window this blustery night (and across the country these last few months–wicked winter!) I once again harken back to the Institute's Standard Oil collection, with all of the Disney characters celebrating (or fighting as it may be) the current season. I have written about this at the Institute, which you can read about here:
http://www.disneyhistoryinstitute.com/search?q=standard+oil
So here is another Donald Duck finery, for RPM Motor Oil showing us how to "knockout for winter." RPM was a division of Standard Oil–the Disney characters pitched not only the Gas Station, but also oil, tires, credit cards, clean bathrooms, and so much more for the west coast version of this large oil company. This is a full-size billboard as would be seen on the side of the road. The promotional campaign ran 1939 to 1940. Enjoy!
Until next time, leave some comments with any questions or requests.
DISNEY HISTORY INSTITUTE FACEBOOK GROUP:
Also, make sure to join the
DHI Facebook Discussion Page
. Even when the blog is slow, the discussion group is always jumping.