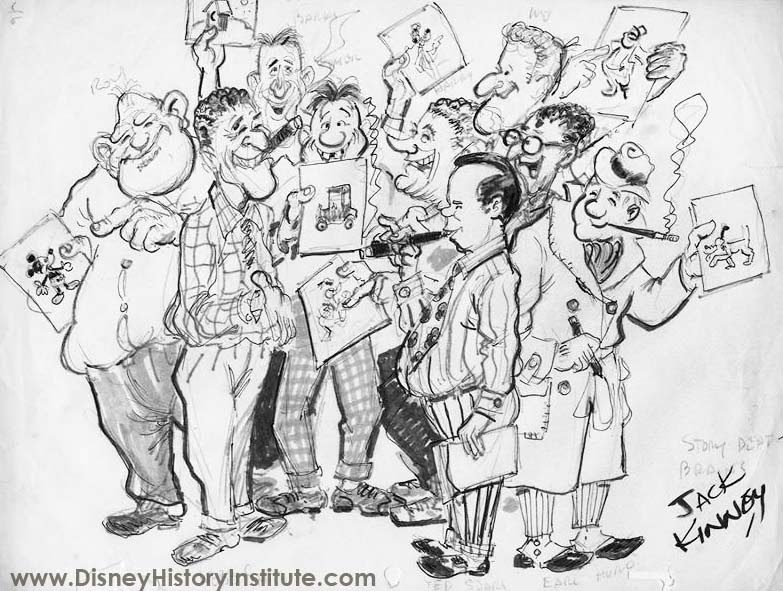 The Story Department, including Roy Williams (with Mickey), Webb Smith (with jalopy), Homer Brightman (with crooked, buck teeth), Harry Reeves (with wavy hair), Ted Sears (with cigar), Otto Englander (with glasses), Jack himself (with Pegleg Pete), and Earl Hurd (with Pluto).  Plus one I can't identify (holding the doghouse).
 Jack Kinney's Lost Drawings – The Story Department
by Todd James Pierce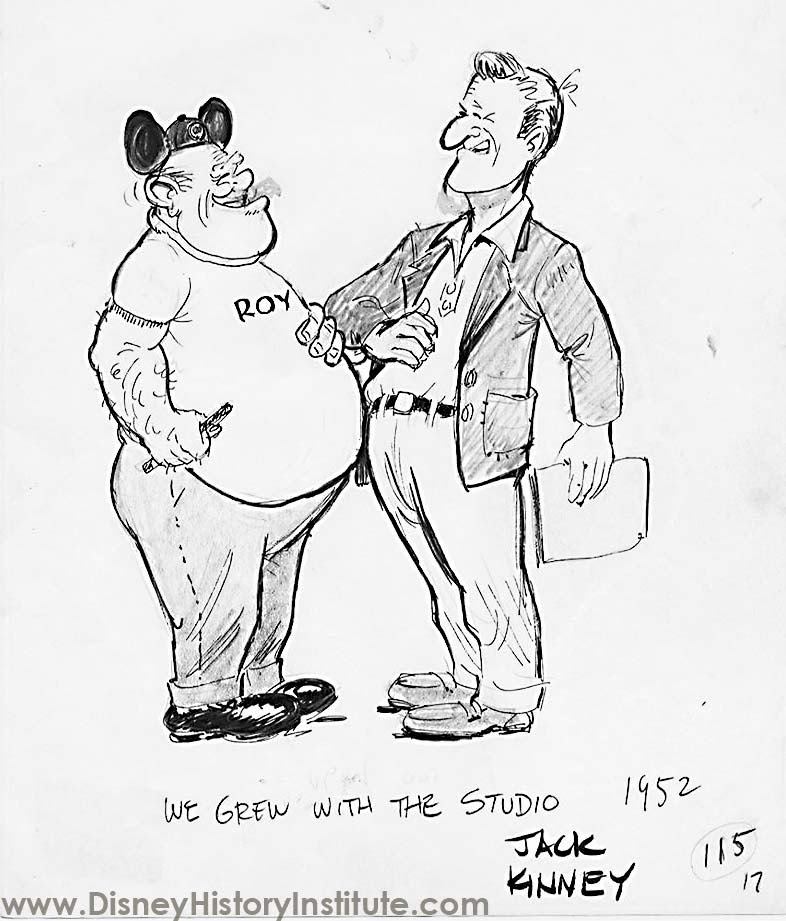 Roy Williams and Jack Kinney
Back in 1930, Jack Kinney and his high school wingman, Roy Williams joined up with the Disney Studio.  Jack worked first as an animator, but later maneuvered into the story department.  Over his 27 year career at Disney, he was a sequence director, a shorts director, also a supervisor overseeing animation production for TV.  At the end of his life, he penned an illustrated memoir, Walt Disney and Assorted Other Characters, which was published in 1989.  The book features comic, ironic–sometimes humorously cynical–stories about his experiences at the Disney Studio.  The book, as published, was a shortened version of the manuscript Kinney had submitted, with a number of stories and drawings edited out.
Earlier today, my friend Didier Ghez posted on his blog a request for information about a rumored sequel: "Jack Kinney's autobiography has always been one of my favorite books about life at the Disney Studio. Over the years I have heard rumors that the initial manuscript was much longer than what ended up in the published book. Would anyone have access to the uncut version of the manuscript?"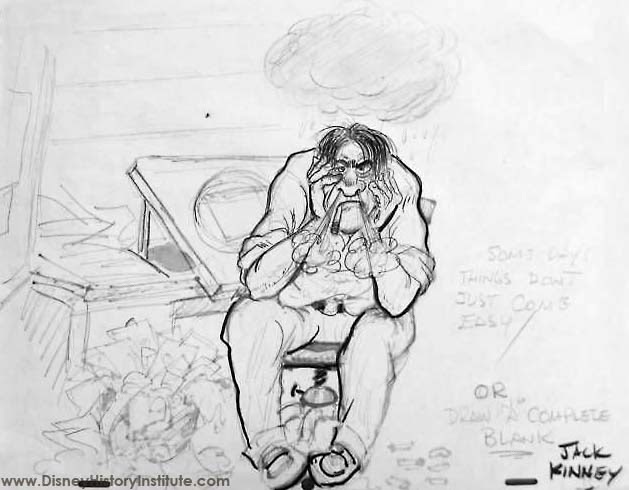 Frustration – Some Days Things Don't Just Come Easy OR Drawin' A Complete Blank
This in turn set off a number of interesting responses on the DHI Facebook Discussion Page,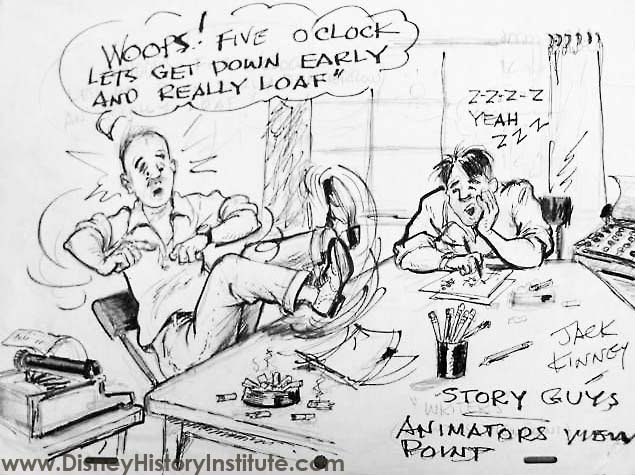 Story Guys – Animators' Viewpoint
including a couple notes by author Bill Cotter: "Didier, my wife had been asked by Jack to help turn the unpublished part of the book into a second book. We went over to his house and picked up the material, which turned out to be a pile of pages with various thoughts typed out and a lot of sketches. We tried to organize it all but there was a good deal of repetition from the first book, or thoughts that stopped mid -stream. We met with Jack and his wife a few times but he was suffering from dementia and some days were worse than others. His wife finally said he wasn't up to it but it was making him feel better. We met a few more times until he got worse, so we gave the material back so the family had it. If there was anything publishable it had been lost by the time we got involved. Too bad, as he was a wonderful source of anecdotes in his good times, and a delightful man."
     Kinney's nephew even found the conversation: "My uncle, Jack Kinney, was a very very funny guy.  His book, drawings and stories all summed up what kind of guy he was."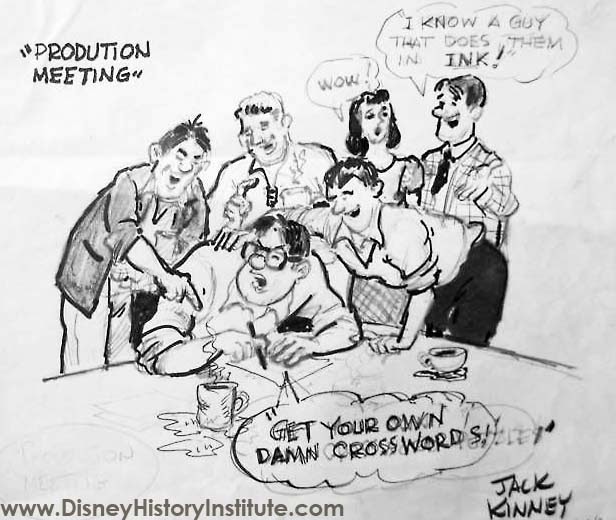 Production Meeting
      Now I have something to add: Over the years, I, too, have taken note of the lost Kinney drawings.  I used one in my article on Walt's Field Day last year.  Kinney's book, more than most autobiographies, humanized the studio.  Through art and anecdote, it capture the rhythms of the early studio.  It made the studio bristle with life.  Up on the blog are some of the "lost" Kinney drawings.  This set mostly focuses on the Story Department, which was one of Kinney's homes at the studio.  None of these appeared in his book.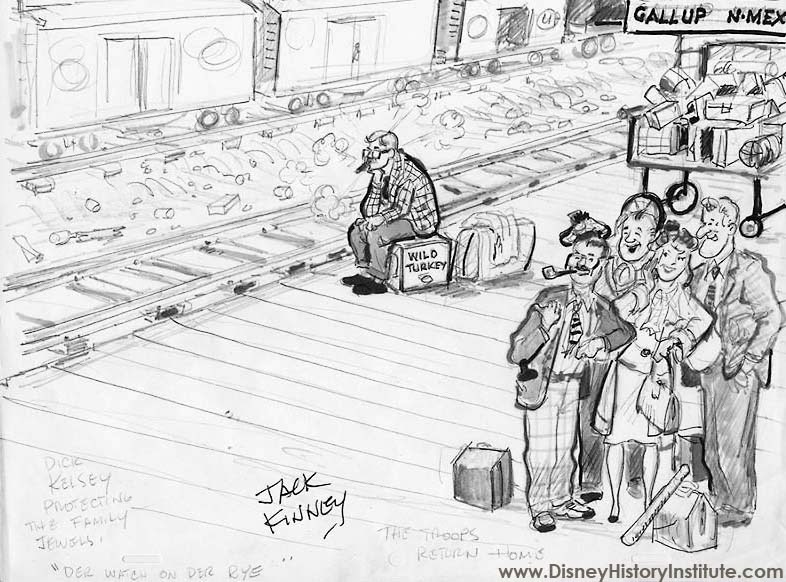 The "Troops" Coming Home from New Mexico
     In these caricatures, you'll find frustration and elation.  You will also find the crumbs of larger stories–tales that I wish Kinney would've preserved in text.  For example, in this drawing, five members of the Disney Story Department are coming home from Gallup, New Mexico.  The girl is Grace Huntington, hired in 1936, one of the early women to work in the Story Department.  Beside her is, of course, Jack Kinney.  Over by the tracks is Dick Kelsey.  "Dick Kelsey," the caption reads, "protecting the family jewels," which is a case of rye whiskey.  My guess: this is a research trip to New Mexico, which was the setting for "Don Donald," released in 1937.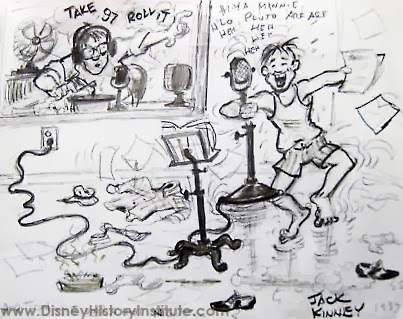 Hot Night with (likely) Pinto Colvig – 1937
And then there is this curious gem: a production recording session in 1937, with the title: "Production: It Was A Hot Night."  The drawing features a man with a mic and a script, dressed down to beat the heat.  With the engineer calling out "Take 97," the man kicks his heels and chortles out his lines: "Hi-Ya Minnie. H'lo Pluto.  Arf Arf.  Heh-heh-heh-heh?" I'm fairly sure this is the voice of Goofy ("Hi-Ya") followed by the voice of Pluto ("Arf Arf"), which would mean that the person depicted is Pinto Colvig, who voiced both Goofy and Pluto in the 1930s.  But, again, this is only my best guess.  I'm sure that behind this drawing–and dozens more–there are wonderful stories, stories that we will likely never unearth.  All that remains is Jack Kinney's excellent book and the dozens of "lost" drawings, some of which are featured on the blog today.
Click on the drawings to enlarge them.  Also, make sure to join the DHI Facebook Discussion Page.  Even when the blog is slow, the discussion group is always jumping.
++++++++++++
Lastly, a quick note: You can contact me through my
personal webpage
.   My most recent book,
THREE YEARS IN WONDERLAND
 is a detailed narrative history of the development of Disneyland (from 1953-1956), a moment by moment account of its creation and opening: the struggles, the challenges, the in-fighting and the success.  You can find it on
Amazon
.  And remember, even when things are a bit slow on the blog, the 
DHI Facebook Group
 is always jumping with new posts relating to the history of Walt Disney and the Walt Disney Company. –TJP