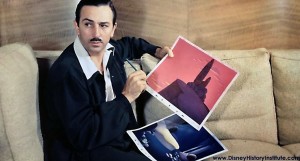 Walt Disney – late 1930s
Walt's First Park
Part 5 – Hope and Frustration
by Todd James Pierce & Paul F. Anderson
By the second week of April, Walt Disney and the planning team understood that the zoning issues were far more serious than they had initially expected and now posed a threat to their project.

On April 12, the planning commission made their recommendation: "
that the unincorporated territory [Gilmore Island]…be zoned partly for general commercial uses and partly for single-family residences."

This recommendation would exclude any large entertainment complex, such as Hollywood Sports Garden, from future construction.

The matter was then turned over to the County Board of Supervisors, whose action was necessary to rezone the Hancock property.

The County Board would, in essence, decide the fate of the Garden—at least the version of it Walt and his team planned for Gilmore Island.
There are no notes or letters that describe Walt's reaction to the news, but suggestions of disappointment and frustration are all over his datebook.

On April 17, Walt was to meet with his planning team—but the meeting was cancelled at the last minute.

On April 19, a second meeting was cancelled.

In the days that followed, Walt and his team explored possible solutions to the zoning problem.

One solution was to request that Gilmore Island be annexed into the city, where the Sports Garden might be seen in a more advantageous light.

The more immediate solution, however, was to somehow persuade county supervisors to disregard the regional planning commission's recommendation—which was a long shot, at best.
On April 24, the County Board entertained discussion about Gilmore Island, a meeting attended by dozens of Gilmore residents and business owners.

An attorney for the group stated: "
We want to keep the high character of this district by making it impossible for the two owners of this property to introduce amusement enterprises such as the contemplated sports center
."

Other residents suggested that the county legally restrain the Sports Garden team through civil abatement, as they felt their actions would damage the Gilmore area much in the same way as gang activity.

The suggestion, of course, was absurd—as the Sports Garden team was filled with honest, upstanding businessmen—but their sentiment was enough to rattle Walt.
The following day, Walt arranged a meeting with his planning team at the Biltmore Hotel—a meeting to temporarily shrink the business.

Walt believed it might still be possible to build the Sports Garden, but it would be impossible to sell stock or new memberships before the Board of Supervisors made their decision.

Their discussion was flavored with somber notes of near-defeat and desperation, with some of the men sensing that more bad news was on its way.
At the meeting, Walt asked the team what concessions in salary they would be willing to take, considering the near impossibility of sales over the coming weeks.

Ed Sears, who oversaw the sales team, refused to take any cut in pay, citing his employment contract with Hollywood Sports Garden, a contract guarantying him full-time employment for six more weeks.

A few members of the team—such as oilmen M.M. McCallen and C.M. Rood—believed the business was now in a death spiral, but that attitude was not shared by all.

At least a few members still hoped that the project would take "
a more conservative turn

" toward success and eventual prosperity.
As Walt left the hotel—his heart most likely filled with despair and frustration—he walked beside Zack Farmer, a man who still believed in the Garden.

Before leaving, he turned to him and said, "Zack, how'd you like to work for me?"
Farmer didn't respond, but it was clear that this offer of friendship and respect touched him.
The following morning Walt received a formal letter of resignation from M.M. McCallen and C.M. Rood in which they jointly requested to be removed entirely from the project.

They also requested that Walt and the remaining board dispose of the original $5,000 investment "to the best interest of the company."

They closed by saying that they felt the full board soon would "come to the same conclusions" that they had, specifically that the Garden project was no longer viable.
He also received word that Ed Sears was reconsidering his earlier refusal to accept a cut in salary.

A letter from Walt's attorney informed him that "after thinking it over last night [Sears] came to me and put the entire matter in my hands for decision.

I decided…he should be willing to take 50% [of his salary]" and to inform his sales staff that they "will be dismissed."
The most important note, however, came from Zack Farmer: "
Walt, I accept [your offer last night] for what it was, just a good friendly remark.

But it gives me an opening to say what I deeply feel.

With his family and a fellow like you to work for—because of what you are and what you stand for—I don't know what more a man could want out of life…Now it's the Gardens.

First, last, and all the time…Because of the straight shootin' and sincere leadership you've given it…Therefore, I felt I had been working for you, Walt, and I'll give you the best that's in me."
The fight to save Hollywood Sports Garden continued on May 17, when hundreds of people packed the County Hall of Records to attend a Supervisors' hearing about Gilmore Island.

Opponents of the project vastly outnumbered supporters, many of whom explained a sports-entertainment complex would bring unwanted crowds and crime.

Furthermore, they added, Gilmore Island had insufficient police and emergency services to manage these issues.

There were, however, supporters, who forcefully argued that "the proposed $1,000,000 Hollywood Sports Garden" was a necessary recreational facility to fulfill the needs of "the county-wide community life."

It would also increase the tax base for the area and—with a lavish private club—improve the moral atmosphere of Gilmore Island.
The following week, Walt's attorney felt so moved by optimism that he told Walt: "We have every reason to believe that we will have a hell of a good chance."
Six days later, however, the County Supervisors decided to zone Gilmore Island in such a way as to exclude any new large amusement project.
Around the studio, the dream of a Sports Garden died slowly.

For a while Walt and Zack Farmer investigated a new site about five miles from Hancock Park, in Crenshaw.

The site was not ideal—as it was far from the Pan Pacific and Gilmore Stadium—but Zack Farmer believed that government officials there would support the construction of a sports-entertainment complex, complete with a private club.

By the summer of 1939, Walt was beginning to lose his enthusiasm for the project. The Hollywood of 1939 was a vastly different place compared with the free-spending, fun-loving Hollywood of the previous year.

Studio executives now sensed that escalating overseas tensions might end distribution of U.S. films to some parts of Europe, thereby lowering studio earnings.

This new Hollywood was far less interested in private clubs and lavish arenas.
For Walt, the loss of Hollywood Sports Garden concluded a chapter of his life: his convivial, competitive youth was now at an end.

It would be years before Walt found a social replacement for the sport of polo.

The failure of the Sports Garden would be followed by the infamous strike at his studio, which would then be followed by America's entry into World War II.

But his involvement with the Garden would remain, like a warm stone he carried in his chest, a crucial experience that slowly prepared him for a later chapter of his life.