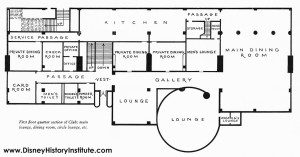 First Floor Layout for Private Club
Walt's First Park
Part 3 – Selling The Dream
by Todd James Pierce & Paul F. Anderson
Sales brochures for Hollywood Sports Garden were mailed early in March, 1939—a glossy publication that featured architectural drawings for the arena and a floor plan for the private club.
The club now included multiple dining rooms and even a card room.
"We anticipated the public interest now being manifested in the Hollywood Sports Garden and the Hollywood Sports Club," the brochure began, "as this enterprise was planned especially to fill a long-felt need in Southern California.
You will be gratified to learn of the steady progress we have made toward establishing a Los Angeles home for national events.
A 34-acre site in Hancock Park has been selected, cleared, and a long-term lease has been obtained.
Architects are completing plans which will provide championship facilities for almost every known sport and civic purpose, together with comfortable spectator accommodations."

Sales Brochure – 1939
The brochure indicated that the structure would hold fewer people than originally announced, but would still be fitted with "18,000 permanent seats" and have a maximum capacity of 28,000 guests.
Likewise, plans to open the Garden by summer's end had been abandoned; instead, the brochure suggested that, with sufficient funding, the Garden might open "for the winter sports season."
As with later Disney projects, significant detail was devoted to landscaping and exterior presentation: the "facade, flanked by majestic pillars, will contribute to the quiet and picturesque dignity of the development.
Curved driveways are planned to enhance the beauty of the entrances…Illuminated fountains, flowers, and shrubs will contribute to the general 'garden' effect.
Our aim is to have an ensemble which will be a credit to our community."
The brochure, elegant as it was, Walt and his team understood, would not be enough to bring in investment dollars.
The hard work of sales required a personal touch.
To that end, Walt and his team increased the sales force to four men plus a secretary.
In their rented office, they partitioned up the open space into cubical areas and ordered the installation of five phone lines.
The bill for these additions would leave the business "$2,000 short of the necessary amount" to operate for the month of March.
It seems that Walt may have, in part, covered this shortfall out of his own pocket.
On March 10, Walt sent out telegrams personally inviting many prominent film executives and celebrities to the dinner presentation at the Ambassador Hotel at the end of the month.
"Will you be our guest for dinner," the message began. "We are inviting several of our mutual friends for discussion of Hollywood Sports Garden, which should be of vital interest to everyone in the picture business.
Please phone your acceptance."
Invitations were sent to roughly 200 people, including such A-list celebrities as Cecil B. DeMille, Frank Lloyd, Bob Hope, Henry Fonda, and George Burns.
Four days later, Walt asked one of his sales staff to personally follow up with a few key individuals, such as Cliff Reid (producer of
Bringing Up Baby
) and Walter Wanger (executive producer of
You Only Live Once
).
Two days after that—on March 16—Walt sent a group of follow-up letters to key individuals at MGM, including studio vice presidents Benny Thau and Joe Mankowitz and character actor Frank Morgan, who had recently played the title role in
The Wizard of Oz
.
Walt reminded each of them that, for this project, he was "anxious to have a representative group of sports loving motion picture people as members and stockholders.
The Hollywood Sports Garden sales office received calls from many people declining to attend, primarily due to conflicts with the production or promotion of films, yet slowly the sales team began to fill tables at the Ambassador hotel for the dinner presentation.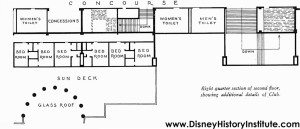 Partial Second Floor Layout for Private Club.
On March 23, some of the hard work started to pay off.
One of the planning team members—the producer Henry Hathaway—invited Louis Lohman out to United Artist to talk to his friends about memberships in the private club and direct investment in company stock.
While there, Lohman signed two people, including Gary Cooper, and distributed four more applications, taking in nearly $18,000 and believing that overall sales from the meeting might top $75,000.
In response, Walt sent a personal note of thanks to Hathaway: "I want you to know how gratified I am of your swell cooperation," he wrote.
"It's just this type of enthusiasm that will put the Garden over in a hurry.
I feel that much more can be accomplished in small meetings, such as today, than trying to assemble together a large number of people, which is almost impossible in Hollywood anyway because of shooting schedules, etc."
The letter closed with Walt repeating his "thanks" and reminding Hathaway to try "to get over to the dinner we are having next Wednesday…and if possible bring along anyone who might be interested."
As the month moved toward a close, Walt worked through his address book to make sure the room was filled for the big dinner presentation.
With money now coming in through the sales staff, he believed that "a few weeks of concentrated effort…will put this thing over with a bang."
But even as Walt's confidence grew in the Garden, over in Gilmore Island, with signs advertising the development of a massive sports and entertainment center, local residents and business owners grew nervous.
Though the sales brochure promised that the Sports Garden would be soundproof and that "events staged in the Arena will never disturb the surrounding community,"
little work had been done to convince residents of Gilmore Island that the Garden would, in fact, improve their community.
Residents, instead, imagined large crowds departing from basketball games and other beer-soaked events, with knots of traffic struggling through their streets late at night.
They imagined an increased rate of crime, which almost always accompanied large entertainment venues.
They imagined their land values going south.
They approached county officials and finally arranged a special hearing on the matter with the Regional Planning Commission.
As Walt was working on the speech he would give at the Ambassador Hotel, residents of Gilmore Island were organizing to protest the development at the next meeting of the local planning board.
These two events—the planning commission's hearing about the Sports Garden and Walt's sales dinner at the Ambassador Hotel—would, ironically, take place on the very same day.
---
Click back to DHI this Thursday for Part Four…
in which trouble descends upon Hollywood Sports Garden. See you then. Post up your comments below. –

TJP
PS We are running this series simultaneously on our podcast–click here to subscribe.