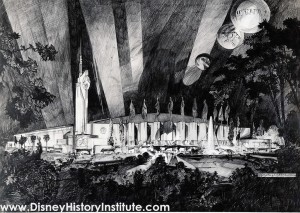 Walt's First Park
Part 1 – After Polo
by Todd James Pierce & Paul F. Anderson
Let's start with a question.
What event in 1938 most changed Walt Disney?
For Walt the Filmmaker, the answer is obvious.
The most important event of 1938 was the worldwide release of
Snow White,
his first full-length feature.
The film was a global sensation, with receipts large enough to build a new studio and fund subsequent films.
For Walt the Celebrity, the most important event of 1938 was his departure from the Riviera Polo Club.
From 1932 to 1938, Walt, an active man, focused his social and athletic interests on Polo, a game that was popular with Hollywood celebrities and studio executives.
After an accident on the field, Walt left the game, a departure that also carved a hole in his social life.
Walt Disney Playing Polo – 1930s
But for Walt the Dreamer, the most important event of 1938 was—Paul and I would argue—a little-known business venture he entered with Bing Crosby, a business whose sole mission was to build the largest sports and entertainment complex west of New York City.
For years now, I've been collecting information on this Disney/Crosby project—a project called Hollywood Sports Garden, one that Walt himself claimed to be "vitally interested in."
The complex would hold a bowling alley, an ice rink, gym facilities, a stadium large enough for college and professional basketball games, as well as equipment and ramps to produce indoor skiing.
Newspapers referred to it as an "amusement center."
Local residents referred to it as a "public nuisance."
For me, the most interesting part of the story is this: Hollywood Sports Garden establishes that Walt's activity in these "amusement centers" predates Disneyland by nearly two decades—before
Dumbo
, before
Pinocchio
, before the eyes of Mickey Mouse were graced with pupils.
Hollywood Sports Garden was, simply, the first large stone that created a path from celluloid castles to those that Walt built up from the ground.
In the fall of 1938—late October or early November—Walt and his friend, Bing Crosby took a meeting with the most famous sports promoter in Los Angeles, a minor legend named Zack Farmer.
Farmer had built the LA Coliseum.
He had also, with a million dollar bond, staged the 1932 Olympics, an event that, despite the Great Depression, proved highly profitable for the city.
For the previous eight or nine months, Farmer had been looking for partners to create a massive sports and entertainment center in Hollywood, something he promoted as "the Madison Square Garden of the West."
It would have a public area, as well as a private club for wealthy or celebrity members.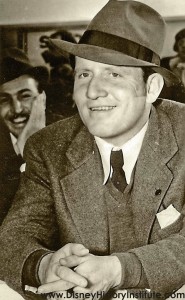 Spencer Tracy and Walt Disney – 1930s
Walt's interest was quick.
The project engaged him on multiple levels.
Snow White
had brought him wealth, money he wanted to spend or invest.
He was also interested in exploring how the Sports Garden might be used for other types of popular entertainment, such as circuses.
Lastly—and perhaps most importantly—he believed the private club at the Garden complex might, with a little guidance, prove a good replacement for the Riviera Polo Club.
For years, Walt's social life had migrated toward celebrities, men such as Spencer Tracy and Will Rogers.
He enjoyed their friendship, as well as the competitive energy that radiated out from the polo field.
Walt loved polo; he would have continued with the game, except in a practice match during the previous year, a ball curved off the green and squared him between the shoulders, leaving him with a tremendously painful injury.
Four cervical vertebrae were damaged.
Walt likely believed that this Sports Garden—specifically its private club—would allow him to recapture the social life he had lost when he left polo.
Walt worked with Farmer and Crosby, as well as Disney Lawyer, Gunther "Gunnie" Lessing.
Within a month—even before business relationships had been solidified with a contract—the men established a plan to create Hollywood Sports Garden.
They would create a new company, with Walt as president and Crosby as chairman.
They would raise money by pre-selling private memberships to the inner "Gold" club, memberships offered primarily to men at various Hollywood studios.
In Walt's own words, he wanted the club to be filled with "sports-loving motion picture people," more or less matching the social framework of the Riviera Polo Club.
In late November or early December, Walt, Crosby and Farmer met with Cpt. Allan Hancock, a wealthy oilman and landowner, to inquire about a lease on 34 acres at the edge of Hancock Park.
The land, they felt, was ideal: it was a few blocks from the Pan Pacific Auditorium, a dimly-lit indoor venue capable of seating an audience of 6,000; it was also a few blocks from Gilmore Stadium, an outdoor football stadium that could seat 18,000.
Farmer knew that this area—often referred to as the Gilmore Island section of Los Angeles—might soon have a new baseball stadium as well.
Hollywood Sports Garden, assuming they built it, would be the crown jewel of Gilmore Island, what could soon be the city's premiere sports and entertainment district.
Farmer explained to Hancock that they wished to build the largest sports and entertainment center in the country.
He likely pointed out something that he'd previously discussed with Walt and Crosby, that this new sports-entertainment district might be an ideal location to hold a second Los Angeles Olympics in the not-too-distant future.
Starting on December 5, with only a vague plan, a handshake deal with Hancock, and a few pieces of concept art, Bing Crosby's brother, Everett (now acting as a project manager) held at least two press meetings—perhaps more—to build support.
He announced that Walt Disney and Bing Crosby would build a $1.5 million sports complex in the center of Los Angeles—an undertaking so large it would make "Madison Square Garden look like a two-reel picture made in Poverty Row."
Hollywood Sports Garden would host "virtually every type of sport—from ice hockey to jai lai," as well as present "rodeos, circuses, expositions, [and]
conventions."
With Walt and Crosby at his side, Everett explained that the planning team for the Garden would include prominent Hollywood executives, notably the producer Henry Hathaway and the director William LeBaron.
Together they would also create a private club within the Garden, a special society that, reporters sensed, was particularly important to Walt.
One reporter went so far as to say: "What has [Walt] fascinated, though, is the very exclusive Gold Circle, which will occupy two floors.
Advance drawings of the dream look like a mammoth nightclub, M-G-M style, for a super-colossal picture.
Besides dining and dancing, [members of the private club will have access to] sun decks, steam baths, and private living quarters."
Another reporter added that the club would also include a "completely equipped" gymnasium for the exercise needs of its members.

Original HSG Logo
Papers across the country ran the story, often in their sports section.
The
Ogden Standard-Examiner
called the complex a "dream arena" with maximum seating of 41,000 (though actual plans showed that maximum seating would be only
30,000).
The Sandusky Star-Journal
announced that the Garden would open with "a champion boxing match already promised by Mike Jacobs, New York promoter."
The
LA Times
proclaimed it the "world's largest roofed stadium…which surpasses by many thousands the [seating] accommodations at Madison Square Garden and Chicago Stadium."
At the end of one conference, Everett made an announcement that revealed, despite Zack Farmer's business experience, a substantial naïveté at the center of this group: even though no lease had been signed, no contracts drawn to formally establish this new organization, Everett told the press that "construction on the project will begin within 90 days and it is expected that the edifice will be completed by late next summer."
Swing back on Thursday for Part Two…in which Walt and his team begin their efforts to build this "amusement center." See you then. Post up your comments below. –TJP
PS We are running this series simultaneously on our podcast–click here to subscribe.