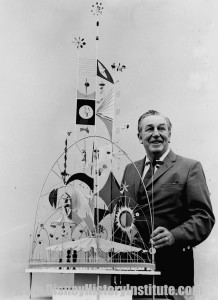 THE TOWER OF THE FOUR WINDS
Walt wanted a compelling visual marquee for Small World, primarily because the building was so plain and lifeless. He knew than an exterior marquee would be essential in attracting audiences, especially when it came to Small World, which would be competing with the Fair's architectural wonders.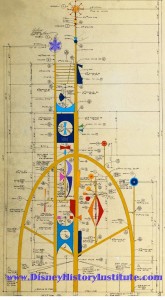 Rare Tower of the Four Winds Engineering Schematic
done for Walt Disney.
Walt remembered an exhibition of distinctive mobiles presented at the Studio library, the work of Imagineer Rolly Crump. The display of kinetic sculpture, the creation of one man, featured "mobiles literally built inside bottles and snifters from such unusual materials as toothpicks, ornate match boxes, bright tissue paper, small driftwood, and other bits and pieces." (From the 1964 Small World Guide Book).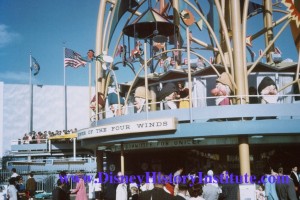 The Tower also provided protection for the Disney
Costumed characters. It seems that the New York youth
were found of stabbing the dwarfs in the posterior, and so
the costumed characters routinely took refuge one level
up on the Tower of the Four Winds.
"Walt came to me and said, 'Rolly, I want to do this big tower out in front of the assignment because he had remembered my interest in kinetic sculpture. I built a small model, probably not more than 12 inches high, that fit into the promotional model that we were using. Then I did a half-inch scale model, and on that one every propeller turned."
The models did the trick and Walt approved Rolly's creation. Once it was finished it was subcontracted to an engineering firm called Taggart and Cass," remarked Crump. "Because they were concerned about the wind loads in New York, they over-engineered it. Pipes that were six inches in diameter became nine inches in diameter. The center column that was nine inches in diameter, became two feet in diameter. And what happened was that the whole thing lost the delicay that I had in the original design. The problem was we had a real short time frame to engineer it, build it, and ship it to New York. If I had had more time I could have added more structural pieces to tie it together, like cobweb, and we could have kept it delicate.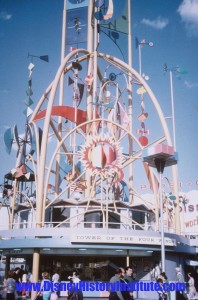 Rolly's piece of "crap" that cost
Walt $200,000.
Time was of a premium on Small World, so construction went ahead with the 200,000 pound, 120-foot high tower of mobiles. When the tower was finished, Walt found Crump and said, "Roland, the Tower of the Four Winds is ready for a buy off, and you and I have to go down and see it." Crump remember the experience, "I hated it. I was really unhappy with it. It was something that was really special to me, as far as being kinetic sculpture. I drove Walt down to show it to him and he took one look at it and said, "Well Roland, what do you think?" I said "I think it's a piece of crap.' He said, 'It can't be a piece of crap, it cost me $200,000! Besides I like it.'
"We took it to the World's Fair, and I must admit, it did its job–it was very successful at the Fair and a lot of people remembered it. I did learn one thing. Nobody was looking at it through the eyes of the designer. The public sees things a lot differently than we do, and as critical as we are on our own work, fifty percent of what we are critical about, the public never sees.
All the public saw was the incredible twelve-story exclamation point at Small World's entrance. A 1964 Disney press release paints the picture: "Attached to three primary columns and four slender buttresses will be more than 100 spinning, swiveling, oscillating elements of as many colors and shapes. Propellers of every description and size, a miniature, purely decorative carousel with animals from several countries (a giraffe, camel, reindeer, llama, horse, elephant and donkey), a stylized representation of the sun; figures of birds, flying fish, winged dragon, butterflies, bees and other creatures–all will be in perpetual motion."
The Tower became a Fair landmark and introduced the phrase "Meet Me Under the Tower of the Four Winds."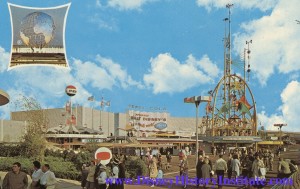 New York World's Fair Postcard. It's A Small World with its exclamation point~The Tower of the Four Winds.
CITATION: Rolly Crump quotes are from two interviews I conducted with him at WDI, one in 1994 and the other in 1995.