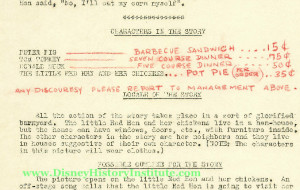 Featured here for your consideration is small part of a two-page document entitled the "Outline for a Silly Symphony 'The Little Red Hen'" by Wilfred Jackson, from circa November 1933. We offer it since it illustrates Donald Duck's true, undistinguished origins (on his Birthday no less). Found within this document is proof positive that Donald was merely a throw-away character; yes, don't tell Donald, but the cantankerous duck was just a one and done as perceived by Disney. In fact, Donald's role was so minor, at least as far as this document illustrates, that he was secondary to not only Peter Pig, but another

unheralded

never-made-it-to-the-big-screen Disney character … Tom Turkey (aka seven course dinner–yes even on the dinner plate, Donald is two courses shy!).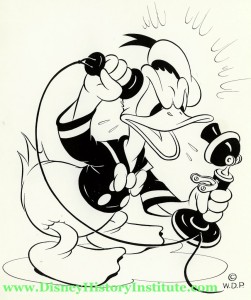 Donald on the phone with our DHI Editorial
Department earlier today to express his opinion.
Source, a 1940s Walt Disney Productions
Promotional Photograph.
Truth be told, a majority of the character discussion from this historical record actually centers on Peter Pig, as there seems to be some hope that Mr. Pig is fully capable of carrying the storyline for the "dancing and playing" members of the barnyard. Even Tom Turkey, who was ultimately cut from the film (and perhaps didn't make it since this outline was presented right before Thanksgiving), gets more play in this document than Donald (aka "five course dinner"). Ultimately, however, it would be an adoring public that would see to it that Donald would become Disney's number one star. Truly, such humble beginnings. And we wish Donald no slight from showcasing his humble origins, nor do we wish to start a scandal of any sorts, but as the well-respected Disney History Institute we just want the historical record to be accurate (regardless of Donald's phone call to our editorial department, we do not engage in yellow journalism!).
So with no malice or affront to Mr. Donald Fauntleroy Duck we wish him the happiest of birthdays!!
To continue discussion on Donald's Birthday, you can join our (free!)
Facebook group
, which features unique photos, historic artwork and an ongoing and engaging discussion of Walt Disney and his creative legacy.