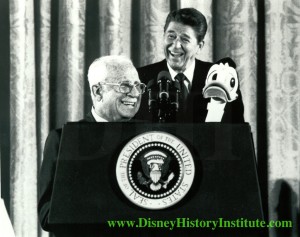 In our weekly DHI editorial meeting about DHI's Donald Duck Birthday Bash celebration, the question was asked on "How far up the chain of command has Donald gone as far as previous celebrations of his birthday?" With little surprise amongst us, we learned that it was as we expected, the Commander in Chief, none other than the President of the United States himself. It was for the prestigious 50th Birthday where at a White House Ceremony for senior citizen volunteers, Ducky and Donald did what they do best, they entertained and they made people laugh, especially the Gipper. Following their appearance, the pair were presented with a plaque by President Reagan that celebrated Ducky's unique place in American family entertainment.
It was not Ducky's first encounter with Ronald Reagan, as just two years prior while Ducky and Donald were on stage in Lake Tahoe, they were surprised with a congratulatory letter from President Reagan. From all personal accounts Nash was profoundly moved, so much so that he later admitted that the only thing that he wished to be different was if "Walt could have been there."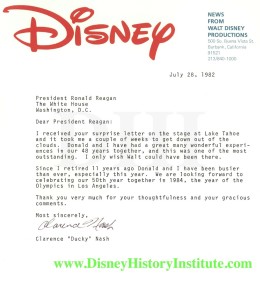 YOU CAN CONTINUE DONALD DUCK'S BIRTHDAY CELEBRATION OVER ON OUR FACEBOOK PAGE AT
DHI Facebook group
,
where you can also find unique photos, Facebook exclusives, historic artwork, and an ongoing and engaging discussion of Walt Disney and his creative legacy.