As I was growing up, anytime a Disney movie was released our family would jump in the car for the Saturday matinee. (We only had one failure, but that's a story for another time!) It was also the same for my parents as they were growing up. This tradition started with my Grandparents, as when they were children this is how they saw the original animated shorts and then the features starting with Snow White and the Seven Dwarfs. Whether it was the shorts from the 1920's and 1930's, to the animated features, cartoon shorts and live action movies in our current time, we hold memories of them close to our hearts.
Mention a Walt Disney movie, and you will get smiles, along with a gleam in the persons eye as they start remembering the shows they saw growing up. You may end up in a long conversation about a favorite movie from their childhood.
I love asking this question when the conversation turns to Disney. While not everyone is a Disney Parks fan, or they have never had the chance to visit one, the Walt Disney movies and shorts can be found all over the world. And while I will always continue asking folks about their favorites, one that keeps coming up is Toby Tyler.
Now it's time to turn back the clock and see just how this movie was promoted when it was just about to be released to the public.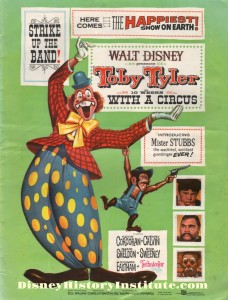 With a campaign manual containing over thirty articles, along with dozens of promotional images and posters, this could turn into a busy month. We'll be sharing them in this blog, some will be shared on our
Facebook page
, and others will go out on our
Twitter
account,
@disneyhistory
.
As we continue the series, here's what you need to know–you are about to view some rare and fabulous old press materials and images that haven't emerged from the vault in decades. So picture if you will an earlier time–a world of newspapers and radio ads–and imagine what it was like to see these ads for the first time, little glimpses to the wonders that would soon flicker up on the neighborhood movie screen. Let me know which ads are the most effective, which tease out your interest and which make you want to pull down a DVD and watch the movie all over again.*
*I love this last paragraph so much I have to keep adding it to new series!