The Disney Studios knew the power of animals. The power to draw a crowd!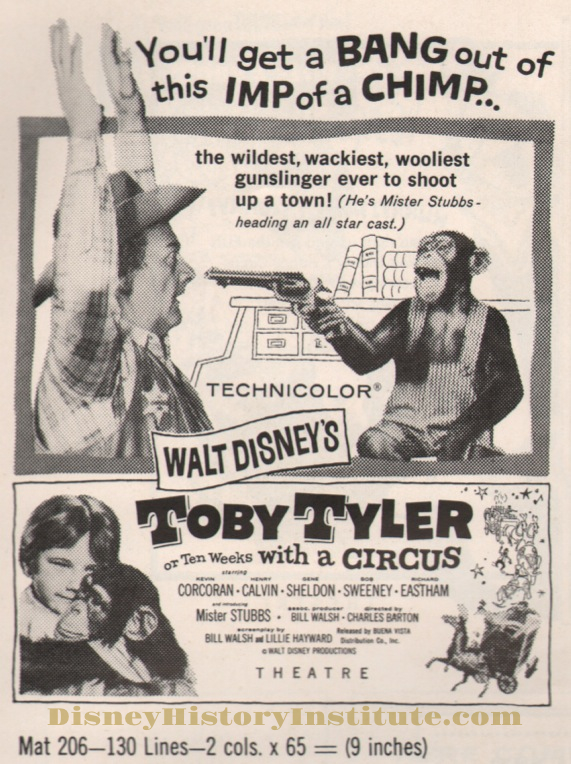 ©Disney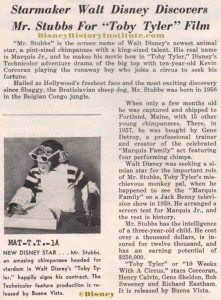 Starmaker Walt Disney Discovers Mr. Stubbs For "Toby Tyler" Film
"Mr. Stubbs" is the screen name of Walt Disney's newest animal star, a pint-sized chimpanzee with a king-sized talent. His real name is Marquis Jr., and he makes his movie bow in "Toby Tyler," Disney's Technicolor adventure drama of the big top with ten-year-old Kevin Corcoran playing the runaway boy who joins a circus to seek his fortune.
Hailed as Hollywood's freshest face and the most exciting discovery since Shaggy, the Bratislavian sheep dog, Mr. Stubbs was born in 1956 in the Belgian Congo jungle.
When only a few months old he was captured and shipped to Portland, Maine, with 15 other young chimpanzees. There, in 1957, he was bought by Gene Detroy, a professional trainer and creator of the celebrated "Marquis Family" act featuring four performing chimps.
Walt Disney was seeking a simian star for the important role of Mr. Stubbs, Toby Tyler's mischievous monkey pal, when he happened to see the "Marquis Family" on a Jack Benny television show in 1959. He arranged a screen test for Marquis Jr., and the rest is history.
Mr. Stubbs has the intelligence of a three-year-old child. He cost over a thousand dollars, is insured for twelve thousand, and has an earning potential of $250,000.
"Toby Tyler" or "10 Weeks With A Circus," stars Corcoran, Henry Calvin, Gene Sheldon, Bob Sweeney and Richard Eastham. It is released by Buena Vista.