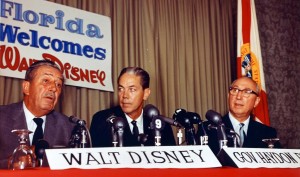 Press Conference for the Florida Project – Nov. 15, 1965
Walt Disney and Riverfront Square
By Todd James Pierce
–>
During Walt's life, there was a saying around studio hallways: no Disney project truly dies; it simply re-emerges in a new form.
That is to say, though Riverfront Square was never built, design elements later appeared in other Disney projects.
Over the course of two years, as Riverfront Square was designed, two attractions slowly merged into one: a true-life adventure attraction in which guests journeyed through a Louisiana Bayou to glimpse alligators joined with a pirate grotto attraction in which guests witnessed the adventures of Jean Lafitte and other nineteenth-century pirates.
The end result, Pirates of the Caribbean became one of the most famous attractions ever designed by Disney.
Without Riverfront Square, Pirates of the Caribbean (as we know it at Disneyland) may have never existed as a Louisiana boat excursion.
It may have simply remained a pirate adventure—as originally planned—without the Louisiana swamp to provide the initial atmosphere.
Likewise, New Orleans Square (at Disneyland) most likely shared many design conceits with the New Orleans sections of Riverfront Square.
The Audio-Animatronic history of St. Louis would never be built, but elements of that attraction would influence later Disney shows.
The rotating side stages, initially conceived for Riverfront Square, later became a central design component of Country Bear Jamboree.
Likewise the Disney plans to build Audio-Animatronic figures of Mark Twain and Will Rogers to tell the story of American history reemerged fifteen years later as part of the American Adventure, an Audio-Animatronic presentation at EPCOT Center.
August Busch appeared so impressed with the Disney plans that a few years after seeing them, he opened his own small amusement park in Los Angeles, on brewery land his family had owned for decades.
The park featured a monorail and a boat ride, as well as elaborate gardens and bird aviaries.
Guests were given a tour of the Busch brewery and offered complimentary beer.
Though Busch wasn't able to hire Disney's team to design the park, he was at least able to hire Bill Evans to create the gardens, the same man who oversaw much of the landscape design at Disneyland and Walt Disney World.
On October 25, 1965, St. Louis completed the Gateway Arch, with the final 10-ton segment hoisted into place 630-feet above ground. The following year, less than a mile away, Busch Stadium opened, an enormous structure capable of seating 60,000 fans.
But the city and the CCRC struggled to find a replacement project for the super-block of Riverfront Square.
In retrospect, perhaps the best plan would've been for the CCRC to revive their initial designs for an outdoor mall filled with local shops, restaurants, theaters and bars.
But here, too, the influence of Disney must have taken hold.
Instead of creating a sensible community mall, capable of serving the food and shopping needs of tourists and residents alike, the city and the CCRC were now intent on building a spectacle to rival the Disney park once designed for their city.
Disney had once promised to bring their attractions from the New York Fair to St. Louis, so a relatively new Mayor, Alfonso Juan Cervantes looked to the Fair for inspiration.
The plan he developed was truly odd.
Under Cervantes' guidance, the city formed a nonprofit foundation to purchase the Spanish Pavilion from the New York World's Fair once the Fair finished its run.
The foundation also purchased a replica of Christopher Columbus' flagship, the Santa Maria, from the Fair, with the idea of docking it on the Mississippi, not far from the Spanish Pavilion's new home.
It took four years to build the structure to house the Pavilion, as well as reassemble the Pavilion in St. Louis.
The city projected the exhibit would receive two million visitors a year—that is, roughly the same number that Disney hoped to find inside its indoor theme park.
Cervantes advertised that the Pavilion would honor the city's history—specifically, a brief period (32 years) during the late 1700s when the city was under the authority of Spain.
The Pavilion opened with a large parade and initially saw crowds surge through its doors.
One month after opening, during a thunderstorm, the Santa Maria sank (and was later raised from the river floor).
One year later crowds dipped to such low levels that the foundation overseeing the Pavilion was forced to file for bankruptcy.
After leaving the St. Louis project, Walt Disney quickly focused his attention on Florida.
He wanted to build not only a resort, but also an experimental city he called EPCOT, a project he hoped would become his legacy.
The Disney team had expended thousands of dollars—probably hundreds of thousands—in the design of Riverfront Square, but there was a human cost associated with the project's closure as well.
Though Walt Disney did not understand that he was sick—cancer was already building in his lungs—eighteen months after he issued his final statement about Riverfront Square, he would pass on.
By the time Walt left Riverfront Square, he had given up on his plan to build a series of Circlevision theaters in key cities across North America and overseas.
More importantly, Riverfront Square represented Walt's best chance to reconnect with the geography of his boyhood.
Over the previous five years, Walt had repeatedly looked for ways to step back into Missouri—with projects in St. Louis, Kansas City, even Marceline, where he spent his young boyhood.
For Florida, Walt and his team would design new riverboats, just like those that once muscled up the Mississippi.
They would even create a muddy stretch of water, just like the river that curved past St. Louis.
But never again would Walt have another opportunity to connect in a significant way to the land that haunted his dreams, that stretch of Midwestern childhood in the center of America.
He would let that dream fall away as he entered the final year of his life, not realizing he was trading away his personal ambitions for Missouri in order to create a new resort that, one day, would be known around the world.
(((((((((((((((((((( )))))))))))))))))))))
With this, I wrap up the series on Riverfront Square, offering (what I believe is) the most complete image so far published of this unusual park that Walt Disney designed yet never built. I hope you enjoyed reading it as much as I enjoyed pulling it all together.
So now I have one question for you, loyal DHI readers: if the CCRC and St. Louis had found the money to fund construction, do you believe this indoor amusement park would've proved a success? Three things to consider: (a) The Baby Boomers which supported Disneyland's early financial success would've been teenagers and young adults by the time Riverfront Square opened. (b) The Disney project in Florida would've likely opened as a resort destination, even if the CCRC funded plans for Riverfront Square, possibly dividing the American audience for a Midwest and/or East Coast Disneyland. (c) The concept of an indoor amusement park would've been new and therefore risky.
Post up your comments. Anyone can post, even without a Google account: just select "name" or "anonymous" from the pull-down list. See you in a few weeks. –TJP