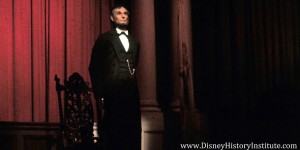 Lincoln at New York World's Fair – 1964
Walt Disney and Riverfront Square
Part

7

– Countdown to Riverfront Square
By Todd James Pierce
–>
At the start of 1964, Walt lavished the lion's share of his attention on the World's Fair, which was set to open in April.
Yet, during these same weeks, he carved out time to develop ride concepts for Riverfront Square—attractions so impressive they would insure a large investment from the City of St. Louis and the CCRC.
Beyond this, he searched for a solution that would solve the "beer" problem that now plagued his proposed park.
In January, Walt asked his design team to develop additional concepts for Riverfront Square.
They submitted loose ideas, each tied to either a St. Louis or a New Orleans theme.
One idea: a Matterhorn-style thrill ride through a network of Mississippi river caves.
Another idea: a Native American canoe ride down an indoor river, the canoes passing depictions of the Mississippi headwaters on their way to St. Louis.
Walt liked both ideas.
A larger question, however, concerned the dark rides.
On a plot plan, designers had penciled in attractions similar to Peter Pan Flight and Snow White's Adventures.
Walt wanted to tie these dark rides to the history of St. Louis and the river, but as of January, none of these rides yet had a new theme.
The design team proposed a dark ride based on the great fire of 1849 when fifteen blocks of St. Louis blazed into the night.
Walt didn't think this ride appropriate for Riverfront Square.
Likewise, he didn't think a ride based on Frank and Jesse James—famous for their bank robberies in Missouri—right for the Square either.
Walt's team looked into the St. Louis pageant of the Veiled Prophet—a 100-year-old annual celebration, similar to Mardi Gras, with a parade, a fair and a contest among debutantes to become queen.
But this, too, failed to produce a workable theme for a dark ride.
Elsewhere in the Square, Walt's interest was largely drawn to a new history-inspired stage show.
Even though the studio had yet to create a single working version of Lincoln for the upcoming World's Fair, Walt was already imagining ways to expand this new technology: he now wanted to create an attraction that featured multiple realistic audio-animatronic figures to recreate important moments in the history of St. Louis.
For this, Walt's team researched regional history and eventually developed a list of possible people and events to include in the show: Thomas Jefferson and Napoleon discussing the Louisiana Purchase; Will Rogers (who rode and roped in St. Louis); John Phillips Sousa (who opened the St. Louis World's Fair in 1904 with the downbeat of his baton); Charles Lindbergh and his plane, the Spirit of St. Louis; President Teddy Roosevelt (the first president to fly in an airplane, an event that took place in St. Louis); and local sports heroes from the early part of the century—though in the planning notes the designers did not (or perhaps could not) list a single sports figure by name.
The animatronic figures would be arranged in a theater with a subfloor and at least one—if not multiple—revolving stages, so as to rotate figures and sets toward the audience, just like the revolving stage Walt had observed in St. Louis the previous spring.
These ideas were loose, fluid, changing from week to week, but by this point, the Disney team had arrived at a stable structure for the Riverfront project, even if individual attraction ideas were not yet pinned down with specifics.
Walt also had arrived at an underlying design philosophy: the St. Louis park would adapt some ride technology currently used at Disneyland, but more importantly, the park would serve as an opportunity for Walt and his team to develop new animatronic technology toward levels far outside their current abilities.
It was a high goal, this animatronic theater—a centerpiece attraction with multiple human animatronics, synchronized together, arranged onto rotating stages, each propped with multiple backgrounds.
For years now, with Disneyland, such creative determination had defined Walt's management style: he expressed engaging and technologically complicated goals and blindly trusted his hand-selected team of artists and engineers to somehow, with his guidance and collaboration, see deeply into the project and make it a reality.
With design concepts moving toward a full park, Walt now looked to another looming concern: cost.
On January 8, Walt asked Joe Fowler, who managed construction at Disneyland, to estimate the cost of these new attractions.
Fowler promised to sketch out some rough figures in a couple of days, but the cost, Walt already knew, would be significant.
On Feb 17, Walt called up his friend, Jacob "J.S." Hamel—one of the three principals who had not only engineered Disneyland in 1955 but also worked as a lead engineer for the 1939 World's Fair.
Walt asked Hamel about a system that would heat and cool a building as large as the one proposed for Riverfront Square.
Hamel provided the Disney people with information on the central air plant his firm had designed for a 1958 expansion at the Los Angeles airport.
By February, 1964, Walt looked at Riverfront Square as a new type of Disney venture, a sophisticated provincial park that—like other parks built in the late 1950s and early 1960s (most notably Pleasure Island in Boston and Six Flags in Arlington)—drew inspiration from local culture and regional history.
Even here—before a full proposal was finished—Walt was tentatively considering other cities where he might produce small and unique Disney parks or exhibits.
One possible location was Kansas City, where Joyce Hall, a longtime friend of Walt and president of the Hallmark Company, was planning to build an elaborate park, mall, and zoo.
Another possible location was Central Illinois, where the state government wished to build a permanent theater for the Lincoln animatronic, once the World's Fair finished its run, not far from the president's house in Springfield.
But these other parks and projects, Walt knew, were in an undefined future, something that existed only as an idea, without funding or a defined plan, like the chain of Circlevision theaters he someday wanted to build.
At the start of March, with two weeks until the formal presentation in St. Louis, Walt and his team were still muscling through design concepts, picking up new ideas and setting old ones aside, and sifting through financial data to reasonably estimate the cost to turn two riverside blocks into a world-class amusement park.
From a contemporary standpoint, it seems inconceivable that some of these attraction concepts, even at this point, would be swapped out with new ones before the Disney team committed their drawings to presentation slides, recorded a pitch tape and took a flight to deliver their proposal to the CCRC and the Mayor in St. Louis.
In sharp contrast to top-heavy amusement companies today, Walt and his team worked in quick collaboration as a large unified group.
Bob Gurr once described Walt's core design team as "a very small gang all moving really, really fast," meaning that you had to pay attention to keep up with Walt.
I can think of no other place where this aspect of Walt's design strategy is more clearly demonstrated than in the weeks leading up to the final presentation for Riverfront Square.
As Walt was struggling to complete complex animatronics for the World's Fair, he was also synthesizing concepts from Disneyland into a whole new type of amusement venture, a themed, multi-level indoor center, a park that fused popular history with dimensional entertainment.
By the second week of March, the plans for Riverfront Square were neither finished nor had they been approved by the people in St. Louis.
But there was one bright spot: Walt had settled on a compromise that, in theory, should bridge the division between the brewery culture of St. Louis and the family atmosphere of this new "Midwestern Disneyland."
This compromise would be one of the key features of the big Disney presentation in St. Louis on Monday, March 16.
(((((((((((((((((((( )))))))))))))))))))))