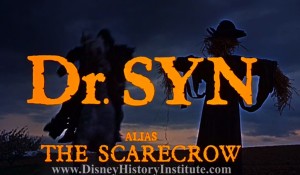 THE SCARECROW OF ROMNEY MARSH
"The Story of the Mask"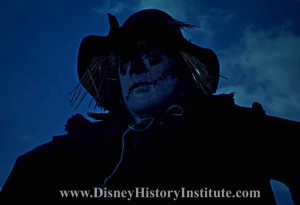 I think most of us who grew up watching the Disney Sunday Television show can fondly remember "The Scarecrow of Romney Marsh," originally broadcast in three parts in 1963, and then subsequently rerun over the next few decades (I first saw it as a child in the 1970s). There was something truly weird, disturbing, and ghostly about the Scarecrow's mask, wasn't there? It was a facet of the show that stayed with us for a loonnng time; only to nostalgically come back to us as we moved through adulthood. Seemingly anytime I brought this up in casual conversation (more often than I should probably admit to), the common response was: "Oh yeah, I remember him. That Scarecrow guy scared the Hell out of me!"
It really was one of the most memorable shows from the baby boomer period, and also from the era after the boomers (whatever they currently call it–this is my generation, the nondescript epoch!?!). Yes, this fantastic Walt Disney production spanned two eras of childhood, living on in not only repeated television reruns, but also as an edited down feature-length film, Dr. Syn, Alias the Scarecrow. The film alone had several national and international theatrical releases in the 1960s and 1970s.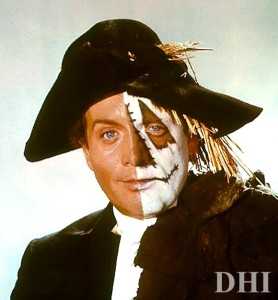 For this publicity photograph, in order to create the half and half look, makeup had to be used.
Originally English makeup artist Harry Frampton considered cosmetics to create "The Scarecrow"
but it didn't give the ethereal and haunting effect that was desired.
The star of the story was Patrick McGoohan, who had yet to come into his cult status as The Prisoner. McGoohan performed brilliantly as the title character Dr. Syn, the Vicar of Dymchurch by day, and the Scarecrow of Romney Marsh by night (not exclusively of course). The iconic mask worn by McGoohan was, according to a 1963 Disney press release, a "trademark for the daring and defiant night sorties of a British smuggling gang as they seek justice from an overbearing king." While generally considered to be the most memorable mask of the production, it was not the only mask, there were two others: a skull mask for Mr. Dimity Mipps, Dr. Syn's sexton (portrayed by George Cole) as Hellspite (terrific character for a Church of England sexton!); and a bird mask, for young John Banks, the local Squire's son (portrayed by Sean Scully), as Curlew.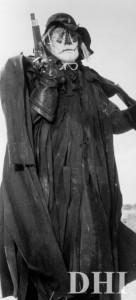 I have written a good bit about this program in the past, but my intention for this essay is to cover simply the Scarecrow's mask (in support of Jeremy's posting of various aspects of the campaign manual). For it is the mask that is most vividly remembered, and true to its distinctive impression that it left upon us it has an equally distinctive creation.
Director James Neilson called upon veteran English makeup expert Harry Frampton to create an unusual costume for the popular British actor Patrick McGoohan. Frampton started by researching the character as thoroughly as possible, going back to the original Russell Thorndike novels. He decided that whatever material he used to make The Scarecrow's mask, it had to be loosely stitched to resemble a scarecrow, light in weight and color, and of such a texture that McGoohan could breathe and talk through it without having to cut an opening for his mouth. While many different ideas were considered, including the use of make up, nothing quite seemed to give that ethereal look that was desired. It was then that Frampton discovered something that would work … and it was something that was ubiquitous in every British household…an ordinary kitchen dishcloth!
"I struck upon using a dishcloth because it was readily accessible," recalled Frampton. "After some stitching and painting, it took on an eerie quality. Then I gave McGoohan a shapeless slouch hat, with straw sticking out from under it.
"But after putting it together, the real straw looked too fine. It didn't photograph right. We replaced it with thicker, manufactured champagne straws, imported from France."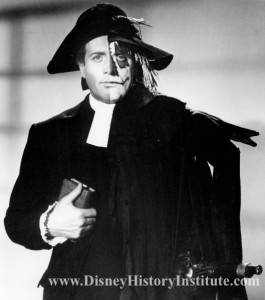 To complete the macabre and ghostly feeling of the costume, Frampton secured a three-foot board across McGoohan's shoulders and draped it with a dusky and tattered coat. The coat had an added benefit in that it would trail in the wind as the ghoulish smuggler rode across the marshes in the moonlight. But to this day, it is the mask that most of us remember; an ordinary dish towel.
And now (with all apologies to Paul Harvey), you know the rest of the story.