JOURNAL OF A DISNEY HISTORIAN
The Arthritic Alligator Edition
CINDERELLA ON THE BANDWAGON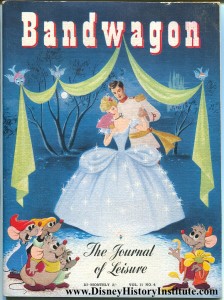 Covering Disney, a regular DHI feature, is where we explore the history of Walt Disney's use of the magazine for promotion and exploitation (the preferred method before the Internet came along). You can read my original historical essay on this topic
here
. To see all of the essays and magazine covers, go to:
Covering Disney
.
Bandwagon: The Journal of Leisure is an exquisite English journal focusing on the finer things in life, with a bent towards theatre and the cinema. An American equivalent might be The New Yorker, only Bandwagon was higher in its quality of appearance and is not near as snarky as The New Yorker (saying something for an English publication). Published bi-monthly this is the December 1950 issue, coinciding with the British release of Cinderella.
This is simply a fantastic cover. Printed on a high-quality linen stock, with that wonderful golden-age-of-print-era bright and beautiful inks–in person this cover just pops! The art as well is quite unique, featuring pretty much on-model mice and bluebirds, and a highly-stylized Cinderella and Prince Charming. My guess is that this was not done in-house at the Disney Studio (as most American magazine covers were), but rather was arranged through Walt Disney Ltd. which operated all of the United Kingdom's Disney businesses. As such, my educated historian's guess is that the stylized Prince and Princess were done on purpose, as complete model sheets and stills would have been supplied. I am not as steeped in British culture as I would like to be (and I am quite the Anglophile), but the portrayal may have something to do with the British Monarchy (not wanting to cartoon it up?) or more than likely (especially since this publication is decidedly left leaning) is they probably did not want something too cartoony, and where the animals kept that aspect (enough to make it Disney), the more sophisticated couple that graces the cover has an air of elegance to it. Still, these are just guesses (maybe we can get a British Institute member to weigh in on this … Mr. Sibley?).
Contained within is a three-page accounting of the film by the singularly named Stanislaus (and thus further establishing the pretentious nature of this publication). His central thesis is based on Cinderella as fairy tale and political message. His essay is filled with wonderfully thought-provoking intellectual pedantic psycho-babble characterized in numerous polysyllabic words, all offering us the view of politics, fairy tales, Disney, and mice. He explains: "Fairy tales were products of bourgeois reaction, inspired by a false capitalist philosophy. And so the poor left-wing kiddy-widdies were meant to renounce their story-books and enjoy Marx and Engels in place of the Brothers Grimm and Hans Anderson." (Ladies and gentleman, this is not your Uncle Walt's fairy tale!) Still, I quite like the fellow … and he quite likes Uncle Walt.
It is an entertaining read, and the word "genius" is used to describe Walt (which I am sure is high marks for this magazine). There are a few exceptions to this, if they are indeed that, but are seemingly done in jest. Stanislaus explains that Disney's Cinderella is "based" upon the French version by Charles Perrault. However, Perrault's slipper was made of fur–pantouffle en vair–but the translator, making a howler that has become world famous (really!?) Englished it as though it were en verre, "thus creating by mistake the glass slipper that we find so essential to the story." Stanislaus feels that this was a sub-conscious act of genius, the ego asserting itself over the id–or the id over the ego–either way, it is no fault of Walt's.
He does take exception to the American public (would you expect less), pointing out that the "Disney publicity boys decided that the great American Public needed a spot of gingering up, a concentrated dose of memory-jogging" … all this in reference to the fact that we Americans are denied the very dubious pleasures of pantomime.
To those of the "conservative element" (from a fairy tale and literary standpoint) he explains that Disney has not left the tale exactly untampered. In this, he is referring the "little matter of the close-harmony blackbirds and the heroine who is described as 'American in spirit and carriage'–whatever that may mean." And still, once again he credits Walt's genius due to the "revels and blossoms in the animal world of his own devising." In this it is obvious that he has become a big fan of Gus-Gus–"a perfect goon of a mouse"–and fervently believes that this leader of the mouse troupe "unequivocally steals the picture." (Something about Disney and mice, I guess.)
In the end he does like the film and recommends it, but with the caution of it "may not be our ideal version of the story but at least it's still a fairy tale and not a political or moral tract."
WALT DISNEY AND CHARITY
JUVENILE ARTHRITIS
I am coming up on my fourth decade of being a "Disney Historian" (I think only my good frien
d Jim Korkis has me beat on this one), and there is one thing that has, for my entire career, perplexed me: That is the lack of credit that Walt Disney gets for his charitable work. Oh sure, we've all heard the common stories that are rolled out from time to time. Typically the reason these are so well known is that they are too often a result of either seasonal timing (i.e., Toys For Tots) or a relationship with another famous person (e.g., Mary Blair and St. Joseph's Hospital and Annette Funicello and the National Prevention of Blindness).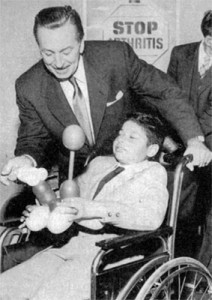 Walt Disney in 1956, at a Juvenile Arthritis Telethon. To me, that balloon
has the look and feel of a Wally Boag ballon animal (the dog). Could it be?
Sadly, little has been written on Walt's extensive philanthropic legacy, but I hope to change that. We or course hear all the negative things that are not true, why not the good things that are true. I mean how many hundred times have we heard that Walt was a raging Anti-Semite? But how many of you know that in the 1930s Walt gave extensively to a Jewish orphanage, the Hebrew Orphan Asylum of the City of New York? Why is this? Why have we not heard about this? (More on this story soon). My intention is to have a regular feature here in my Journal showcasing some of Walt's unknown charitable work; for I believe part of the reason that this area of historical knowledge is so lacking, is because the rest of Walt's life is so colorful, artistic, and creative. Thus, the charitable work just gets overshadowed. Ultimately to better understand the man, we need to know the whole man.
I have been through quite a bit of Walt's correspondence–extensively–and one thing that is clearly evident to me, is that this man had a good heart … a very good heart. He rarely turned down a good cause … rarely! (More like never!) He did not accept a great deal of speaking engagements, mostly due to his very busy schedule, but even at that he would find another way to contribute, either by check, art, or some other method. I slowly came to the realization that if he could help, he would help. That is the true nature of the man.
I want to talk about his work for various Arthritic organizations. As we know, Walt had a touch of Arthritis due to an old Polo injury. It became painful enough that in 1951 he sought out the help of his friend Floyd Odlum, who recommended a specialist, Dr. Boland.
Walt was happy with Dr. Boland and on December 15, 1951 (his eventual date of passing), he wrote glowingly to Odlum, thanking him for the referral, and explaining: "He diagnosed my case as a form of arthritis, but not the usual variety. It seems I have a calcium deposit that continues building up in my neck which is probably caused from a polo injury I received some years ago when I took a spill from my horse." Walt was positive, stating that the good doctor thought he could help relieve the condition "somewhat," but also told Walt he would have to live with Arthritis for the rest of his life. Another odd aspect of this story, is this is the same famous letter (that is, it is oft
quoted in Walt biographies) where Walt was informed he would have a long life: "He [Dr. Boland] has also convinced me that I will probably have to live with it [Arthritis] the rest of my life. My heart and other vital organs, along with the history of my ancestry, all indicate that I am going to live a long live, so I am going to have to learn to live with this condition and make the best of it." If only Dr. Boland had been right on this one.
Walt's has two awards in his office from Arthritis related organizations.
Award no. 442, certificate from the Arthritis & Rheumatism Foundation for outstanding service, 1956.
Award no. 895, Certificate from the Canadian Arthritis and Rheumatism Society for generous assistance, 1965
The 1956 award from the Arthritis & Rheumatism Foundation (now "The Arthritis Foundation") was for his appearance on a KTTV Arthritis Fund Telethon held on February 18, 1956. The
Los Angeles Times
reported on the 17th about the program: "Southland industrial leaders will join entertainment stars in a 17-hour telethon for the benefit of the Arthritis and Rheumatism Foundation." Walt was not one of the industrial leaders that "manned the telephones" but rather was in the roster of "entertainment stars," which also included close Disney friends Jack Benny, Art Linkletter, Edgar Bergen, George Murphy, and Robert Cummings (all five were also very philanthropic). Also in attendance were Charlton Heston, Betty White, and Rosalind Russell. It is not surprising that more than half of the charity's all-star lineup were people that Walt considered close friends, thereby proving "birds of a feather."
In honor of Walt Disney's support of these organizations, and with a special note to his concern on Juvenile Arthritis, we at the Disney History Institute suggest checking out their website and when next it comes time for you to give a contribution to a worthy cause, consider this one that Walt Disney supported (and hey, make a donation in Walt's name! Make Walt Proud!). Their website is: Juvenile Arthritis Foundation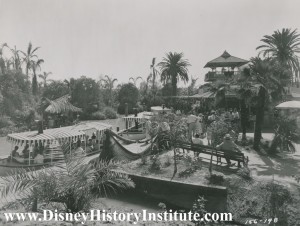 January 1956 publicity still from the Disneyland TV show "A Trip Thru Adventureland/Water Birds"
ALLIGATORS IN DISNEY HISTORY or
"Was Paul Really A Former Jungle Boat Skipper?"
I can't tell you how many times after a presentation that I've done (D23, WDFF, etc.) that dozens of people end up asking, "Were you a Jungle Cruise Skipper?" I am guessing it's because I put some oddball humor into my historical presentations, because hey, Disney history does not need to be stilted, lifeless, or boring. During all my years of schooling and degrees in history, I made up my mind that to me, at least, history would never be just a statement of facts. Nope, I was going to go with the Walt Disney edu-tainment method! While I readily admit that my brand of presenting history is not for everyone, I am truly honored when I am asked about my apparent past of piloting the Congo Queen. (For the record, I never did, but I wanted to.)
I bring this up because I received a question from a DHI reader that had enjoyed one of my presentations and asked if I was true what she had heard, that I was indeed a former skipper. She also inquired if I had ever received any pushback from any jokes I had used on the Jungle Cruise. I can't answer the latter question, seeing as how I never had that honor. But it did get me wondering about this concept (as I have had one or two negative reviews myself, primarily, I am guessing, from those that like their history genetically pure and who probably also hate riding the Jungle Cruise).
So like I always do, I went in search of the historical question, trying to learn about skipper's jokes and the pushback they have received (for the last decade or two, it is my impression that not a lot of liberality is given to each skipper to "ad lib" or write their own material–I may be wrong). More than just that, I really wanted to look into the Walt-era (our expertise here at DHI) and try to find the first Jungle Boat joke, uttered by a skipper, that had received a complaint.
Off to the hallowed halls of the Institute I went, and I believe I found it! From August 3, 1955, just seventeen days after the Park opened, it is buried in a Disneyland Inter-Office Communication to the Admiral (Joe Fowler) from George Whitney. And I quote: "It is recommended that a definite line of chatter for the ride operators be established as in their attempts to be funny they are making many statements not in keeping with the overall policy of the park. An example of these remarks is quoted, (overheard when the boat passed the alligator located on the bank) 'They tell me that Walt is going to make a garbage disposal out of this guy.' " Now frankly, I think this is funny, and I am guessing Walt would too (not being of the aforementioned unimaginative Cruise hater). For the record, there is no record of Walt having the offending joke (or pilot) removed, as ultimately what mattered most to him, was that his guests were entertained and had an enjoyable time (which is exactly why my presentations are what they are–I'm a Walt guy!).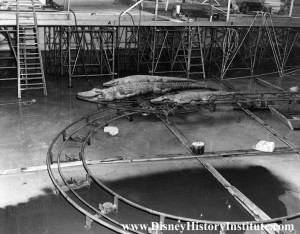 Exceptionally rare photograph from March of 1955 showing the Jungle Cruise mechanical alligators being tested
at the Disney Studios in Burbank. Todd and I discussed this and we both believe that this is the water tank
on Stage 3. The gators were designed to float about three feet off the bottom rail and the testing was done here.
And speaking of alligators (and really, shouldn't they be crocodiles!), I challenged myself to see if I could find a Walt joke about alligators (historians do weird things). Took some time, but I found one. It comes from Van France, whom I was lucky enough to interview a handful of times. He remembered a time when the Jungle Cruise alligators were not working, no movement, nothing (pretty much like real alligators–unless they are eating!). Apparently someone was trying to buffalo the boss (that's Walt) about the stationary alligators, to which Walt responded: "I know damn well these work. I've seen it on television." My guess is that they were repaired pretty "damn" quickly.
I've got more Disney alligator history humor, but I'm out of time, so watch for it next week (I know you can hardly wait). In the meantime, until the next Journal of a Disney Historian, enjoy Todd's incredible work on the St. Louis Project, part four tomorrow. Don't miss it.