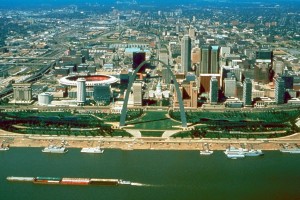 City of St. Louis – Riverfront Square "Superblock," Originally Located

b

etween Arch

a

nd Stadium
Walt Disney and Riverfront Square
Author's Note
First of all, I should probably answer the question: so where have I been for the past three months? Well, I've been at my computer, composing 10 articles. I simply haven't been posting them. You see, back around Christmas, I decided to finally tackle Riverfront Square—that "Midwestern Disneyland" that Walt designed but never built. For years, I've been collecting information on this indoor amusement park once slotted for St. Louis. Unlike other mid-century Disney projects, Riverfront Square was a collaboration between Disney and a local redevelopment corporation, so the City of St. Louis and local archives retained a great deal of the paperwork on the design and development of Riverfront Square—including full ERA reports. Over the years, I've been able to assemble a thick research folder on Riverfront Square. Last Christmas, I thought it was finally time to assemble it into a chronological narrative that explored the development of this fabled park. As I was already familiar with the research, I figured it would take four or five weeks to arrange the material into an essay. But, in the end, it took nearly three months.
The entire essay is just over 60 pages—that is, 15k words. I've broken the essay into 10 articles or "parts." Three parts will post this week (Monday, Wednesday, Friday); after that, one part will post each Monday until the series is finished. Much of the information in the essay has never before made its way into print, including a detailed description of various attractions once considered for Riverfront Square.
In the past seven years, I've been able to visit St. Louis multiple times, opportunities that I used for research. Beyond this, I owe a great debt to Special Collections at Washington University, the Missouri History Museum, the Office of the Mayor, and the archives for both the Globe-Democrat and the Post-Dispatch. The archivists and librarians at these collections have, in large part, preserved the history of Riverfront Square.
I would also like to express my gratitude to Paul, Didier, and Ed. Beyond this, I owe a debt of gratitude to many people who have allowed me to interview them over the years.
See you all on Monday morning, when we shove off for Riverfront Square.