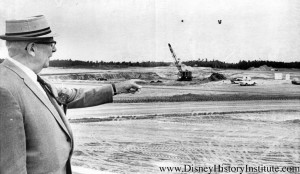 Admiral Joe Fowler (at the age of 75) on the Disney World Construction Site, 1969
–>
Walt and Walt Disney World
by Todd James Pierce
Today's post goes with a large note of gratitude to Didier Ghez—one of the most important people preserving the history of Walt Disney.
For those of you who don't know, Didier is the editor of
Walt's People
, an essential multi-volume collection of interviews on the individuals who knew and worked for Walt and the Walt Disney Company.
There are presently twelve volumes–with more to come. Without Didier, many of these interviews would never see the light of day.
He hosts the
Disney History Blog
, which is more-or-less the online nexus for all Disney history.
He is also a good friend.
Anyway, a couple years back, Didier located an unpublished interview with Admiral Joe Fowler—an interview that was recorded years earlier by Harry Wessel.
(I played a small role–helping to acquire and transcribe it.) The entire interview will appear in an upcoming volume of
Walt's People
.
But there are a couple paragraphs I wanted to share here.
Walt Disney died in 1966—long before work began in earnest on Walt Disney World—the project that became his namesake.
Though Walt himself spent years planning the development—including the industrial and residential areas of EPCOT—he never saw any of it built.
But in the final months of his life—probably when he had some intuitive sense of his illness—Admiral Joe Fowler helped Walt imagine the property as it would some day appear from the top of the Contemporary Resort Hotel.
Now Joe Fowler—who managed construction at Disneyland and Walt Disney World—had arranged similar "previews" for Walt in the past.
At Disneyland, he rigged up the Matterhorn, long before the track was finished with air brakes and speed-scrubbing splash pools, so Walt could sled down the manufactured hills, over the rails, in a special toboggan—one outfitted with a handbrake.
He also walked the cement monorail beam with Walt early one morning, thirty-feet above an empty submarine lagoon, so Walt could picture his park from the vantage point of the monorail—long before the first monorail was ready to cruise the "Highway in the Sky."
He did something similar for Walt at Walt Disney World.
In Joe Fowler's own words:
"[Walt Disney] didn't live long enough for us to break ground in Disney World.

But he used to travel for years, all over the county with me in our jeep. And oh, he loved it.

He wanted to see the appearance, how it would be, the sight of [the Magic Kingdom] from the top of the Contemporary Hotel.

So we got him the biggest crane in Florida, and the two of us got in a bucket and they hoisted us straight up to simulate the place of a lounge….

I was up in the air hanging on, hoping to get down, and he was an enthusiastic old fool."
When asked if Walt could visualize the park—if he "could really see it"—Fowler responded:
"He could visualize, yes.

And I could see it too…

He was a remarkable man.

You know, the day before he died, I was operating Disneyland as well as WED.

And he said, "Joe can you come up to the studio, Walt wants to see you."

Walt was in the hospital, right off the studio and he was in a reclining bed, and he had [cancer], he had for two hours reviewing all that we had planned, even Epcot.

And to this day, it was almost built exactly the same as he planned.

And he died the next day at 11.

He was planning right up to the very end, all hours till he passed away.

What a man, what a man."
If you're interested in exploring other first-person memories of Walt and the Company, you can find hundreds of amazing interviews in the
Walt's People
series—available in traditional paper volumes and Kindle editions.
If you're looking to sample one as a new reader,
the Kindle edition of the newest volume (Vol. 12)
is presently available for just $3.99.
That's it for this week,
As you might have noticed, I've been away from the site for a few weeks, primarily to complete a large project—an essay that will be posted up on DHI over eight or nine weeks, with information on multiple 1960s amusement projects never before published.
I "should" begin posting the series during the first week of March.