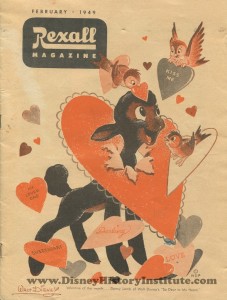 Welcome to this regular feature here at the Institute, "Covering Disney." It is here that we explore the history of Walt Disney's use of the magazine for promotion and exploitation (the preferred method before the Internet came along). You can read my original essay on this here. To see all of the essays and magazine covers, go to: Covering Disney.
I've used a cover from the Rexall Magazine once before, for the "Twelve Days of Christmas" celebration back in 2009. Oddly, the Disney character to be featured on that issue's cover is also Danny the Lamb (apparently a popular character amongst the drugstore set). You can see Danny, Donald, and Mickey celebrating Christmas in Rexall style at: Donald & Mickey's Present.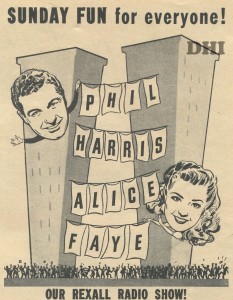 Rexall Magazine was the house publication for the Rexall Drug Stores that used to dot the American landscape in virtually every small town during the 1930s through the 1960s. The publication was a free giveaway for good customers of Rexall ("Good Health To All, From Rexall!"), and featured a homespun feel, with recipes, gift suggestions, cartoons for the kids, short fiction, advertisements, and quite often a Disney cover. Each month there were over one million issues in circulation, but few survive today due to the ephemeral nature of the publication (that and it was printed on very cheap paper–100% pulp). Following the War Rexall and Disney entered into an agreement and the Disney covers began to appear with great regularity, often promoting the various holidays. There are 21 issues in the Institute's collection spanning the 1940s through the early 1950s. I believe the actual number is probably around twice this (especially since Hank Porter, Disney's one-man art department, along with several additional Disney artists, were actively turning out this material following World War II). Of special note is that the Rexall Radio Show starred Phil Harris and Alice Faye–Harris would, of course, go on to have a distinguished career doing memorable voice work for Disney.
The issue is dated February 1949 and features the "Valentine of the month" … none other than "Danny Lamb" from Walt Disney's feature So Dear to My Heart. The film premiered in Walt's hometown of Chicago on November 29, 1948, with the nationwide release following on January 19, 1949, which is approximately the same time this publication appeared on the news stands. Enjoy!