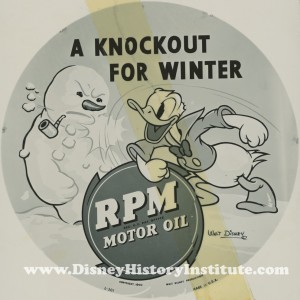 As a historian, I was taught from Day One not to let emotion enter into my writing. So right off the bat I am going to break that rule. I'm sick of winter! It has easily chilled down 10 to 20 degrees below what I am used to. With these sentiments in mind I was reminded of this Donald Duck artwork with the lovely thought of knocking out winter. Here's the nice part: it segues perfectly into something I have been researching for over a decade–corporate promotions, specifically those dealing with oil companies. (Sorry, there was something about Mickey and Donald peddling gasoline that amused me). The Standard Oil promotion was easily one of the most elaborate marketing campaigns during Walt's lifetime, encompassing the years 1938 to 1940. When I got my first view of some of the artwork done for this promotion (a back page advertisement for a regional travel magazine) I was mesmerized (there, that emotion thing again!). Obviously the Studio put in some of its best people (read: Hank Porter, et al.) to make this work; it was after all during the waning years of the Depression and increased revenue was vital to the Disney enterprise (the windfall from Snow White had not rolled in yet).
So in kicking of my knockout winter program, I am also kicking off a series of posts that will explore Walt Disney's corporate promotions with oil (Promoting Oil with Oil … think about it). The above art (and art it is, look at the line work, this stuff is brilliant, as you will soon see) was done in 1940 and had two purposes. The first was to grace the top of a wood oil barrel. You see service stations used to receive their motor oil in large (55-gallon drum) wood barrels, and if you were lucky enough to work for Standard Oil (with an RPM Motor Oil promotional tie in) the top of your barrel would be painted with Disney characters. The second use was as spare tire covers. Since most of you young whipper snappers are pondering how the spare tire that is probably strapped underneath your car would be of value for the purposes of advertising, I offer the second photo below. This great (and quite rare) photo features a taxi cab (constant advertising) just down the street from the old Brown Derby (circa 1939). So future Disney Oil fans, watch the pages here at the Institute for more about this little-known aspect of Disney history.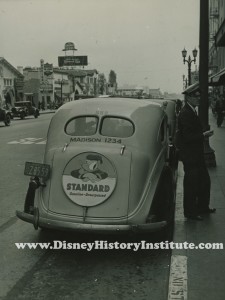 NOTE: As always I am always on the hunt for additional information, should you find yourself in the possession of anything regarding the various 1930s and 1940s promotional campaigns for oil companies. I have amassed quite a collection of material, including well over 200 photographs like the above two, but I am always interested in hearing what you might have (with suitable credit given here at the Institute if we use your material). This could include photos, which I am especially looking for rural service stations featuring Disney signage. The art work appeared on numerous artifacts, like magazines, maps, and so forth, so this is of interest as well.