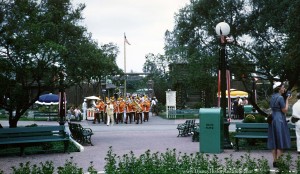 Frontierland Entrance with Trees – 1955
The Book of Ruth
Part 1
by Todd James Pierce
When Disneyland was developed in 1954 and 1955, Walt employed dozens of art directors, architects and designers, many of whom came from other studios—Twentieth Century Fox in particular.
In the early 1950s, Fox was having financial difficulties, which gave Walt a unique opportunity to hire high-quality talent for his outdoor amusement park.
Some of the men—such as Dick Irvine and Herbie Ryman—had previously worked for Disney but since moved on to higher paying work at other studios.
And other men—such as Stan Jolley, Sam McKim, Bill Martin and Gabe Scognomillo—were new to Disney.
In the 1950s, studio talent mostly worked on a project-by-project (or film-by-film) basis.
These artists didn't expect to find lifelong work with Disneyland, but a few did.
Long ago, while sitting in art director Bill Martin's kitchen, I first noticed that there was a fundamental difference between the people that Walt retained and those he didn't.
Bill Martin's wife explained that her husband was rarely attune to workplace gossip and tended not to pay much attention to conflicts at the studio, instead choosing to minimize individual ambitions for the sake of group unity.
It was then that I realized that I'd seen this quality before—in many of the designers who'd built Disneyland, the ones that Walt retained.
In today's article, I'm going to
begin
the story of Ruth Shellhorn, a woman whose ambitions illustrate this division.
Born in 1909, Shellhorn grew up in Los Angeles.
She attended Oregon State University's School of Landscape Architecture then continued onto Cornell.
In the early 1950s she was the landscape architect for a string of Bullock's shopping plazas, where she combined elements of park planning with the suburban mall.
The original landscape architects for Disneyland were Jack and Bill Evans who were chosen primarily because Bill Evans had landscaped Walt's house on Carolwood Drive.
Quickly it became clear that the Evans brothers didn't have the experience to design the landscapes for a massive commercial facility, like Disneyland.
(Their skills were focused in horticulture and plant procurement.)
When Walt asked his friend, the architect Welton Becket to recommend a landscape architect to create more useable plans, Becket recommended Ruth Shellhorn.
Shellhorn's problems at Disneyland, no doubt, were related in part to gender.
When Walt toured the park each Saturday, Shellhorn was the only woman who walked with the big man.
The other designers in the group were all men.
But Shellhorn's problems likely exceeded those associated with gender: she was, essentially, taking over the role previously occupied by the Evans brothers.
She was also used to working on projects by herself and was accustomed to a management hierarchy, with defined positions, with Shellhorn being at the top of the landscape design team.
On March 9, Shellhorn first visited the studio, where Dick Irvine showed her the plans for Disneyland.
Irvine explained that they were "satisfied enough" with the work done by the Evans brothers, but the Evans brothers "couldn't spend enough time with the studio"—which was a polite way of saying that the Evans brothers were good at the job site but not so good at the studio, where plans were being drawn up and developed for Disneyland.
Shellhorn was being asked to fill a delicate position: she would need to create landscape designs without unduly upsetting the Evans brothers who still managed planting at the construction site.
Initially Shellhorn was given the task of designing the entrance, Main Street, the hub, the castle and the entryway to Tomorrowland.
(Bill Evans would still create the jungle in Adventureland—which wasn't formally designed so much as it was pieced together from trees that Evans bought, bartered or swiped.)
During the second week of March, Shellhorn met with the five lead art directors for the five lands of Disney, spending a great deal of time with Wade Rubuttom, the man overseeing the final development of the entrance, Main Street and the Hub.
In those early weeks Shellhorn worked at the studio and at her house, where she began the process of drawing up landscape designs for her areas of the park.
On March 23, she drove down to Anaheim to view the construction site—which was still sixty acres of dirt, a trench cut for a river, and a few skeletal buildings.
The visit was specifically arranged so she could see the property before completing her designs.
With a driver, she toured the acreage in a company jeep, grinding over the future Frontierland desert and muscling down a gritty Main Street.
Dick Irvine gave her area plans for the different sections of the park and let her walk the property by herself.
At dusk, she went home.
In theory, the arrangement should've worked well—or at least fairly well—with Shellhorn occupied primarily at the studio and the Evans brothers forty miles away, at the construction site in Anaheim—but even on that first visit Shellhorn was starting to believe that she would need to be onsite to supervise her designs into existence.
As opposed to previous projects on which Shellhorn had worked, Disneyland was being "art directed" into being, with onsite collaboration, an extremely quick pace of construction, and multiple design changes made at the last minute.
Already plants were being eyeballed into place—as opposed to being properly staked out from approved designs.
Surveyors—who Walt now believed too costly to fully employ—were sometimes replaced with Disney artists who estimated the grades of various landscape areas by judging how "things looked."
On March 27, Shellhorn wrote in her diary: "I'm really scared about Disneyland…So much I don't know and trying to design and not being sure I'm on the right track.
And the rush of time."
A few days later she added, "The pressure is terrific and I see no let up.
It's so hard for me to make quick decisions and be sure I'm right."
For the remainder of March, she remained at her house and the studio, developing and revising designs.
She communicated with Bill Evans by phone—mainly to talk about nursery stock.
Her initial comments are a mixture of overconfidence—"doing a beautiful job"—and frustration—"Feel lower than a worm.
This AM am discouraged over the Disneyland project—so big, so much to figure out."
In her diary, she repeatedly wrote about her exhaustion, suggesting that even then the project was overwhelming her.
But then, on April 12, she decided that to correctly oversee this project she would need to spend more time in Anaheim, onsite, alongside the men whom she'd displaced.
The initial trips—on Apr 12 and 13—went fairly well.
But by the following week, Shellhorn was second-guessing the work already completed by the Evans brothers: "I can't tell whether they have the trees anywhere near where they should be."
And on April 21, she wanted to inspect the trees herself before they were planted.
She also wanted to stake off the location of the trees directly—which no doubt irked the Evans brothers.
Two months earlier the Evans brothers had, more or less, relinquished their duties as landscape designers to Shellhorn, a woman; they retreated to the construction site where they would oversee planting and also create the elaborate jungle in Adventureland.
They retained the title "landscape architect," but it was a title in name only, as Shellhorn was doing most of the designs.
She, too, was called a "landscape architect," but she was confused as to the value and meaning of this title.
By the end of April, Shellhorn was making regular—even daily—trips to Anaheim where she insisted that she supervise the onsite work as plants were put into the ground.
Even a casual bystander could see conflict in the making.
The men on the site would soon call her "Mother Shellhorn;" and in her diaries, she would refer to Jack Evans, with derision, as the "Patrón," a man who did little but demanded respect.
But the details of that developing conflict I'll save for next week.