Castle with Oak Tree – 1955
Construction Tales at Disneyland – 1955
by Todd James Pierce
For most of these columns, I rely on research I completed years ago—interviews, documents, etc.—but this week I'm delving into a diary that I recently transcribed.
I spent a good portion of the past week typing out sections of Ruth Shellhorn's 1955 diary.
One would think that this transcription would go quickly, but Shellhorn's cramped and personal handwriting was so small and idiomatic that I needed a magnifying loupe to read most every page.
It took me about five days of solid effort.
You see, Shellhorn was writing a personal diary—with her own abbreviations—that she initially kept for personal reasons, not for publication.
But eventually I pulled out about 20k words, which is more or less a novella that documents the construction of Disneyland from March 1955 through its July 17
th
opening.
So who was Ruth Shellhorn and why was she important?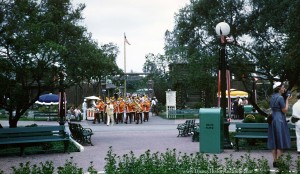 Frontierland Entrance with Trees – 1955
When developing Disneyland, Walt hired the Evans brothers, Bill and Jack to procure plants and develop the landscape design, largely because Bill had recently landscaped Walt's Carolwood house in Holmby Hills.
But soon it became obvious that Jack and Bill were more horticulturists and exotic plant specialists than landscape architects.
Understanding that Bill and Jack could not design Disneyland's landscape by themselves, Walt asked his neighbor, the architect Welton Becket to recommend a landscape designer who had experience with large commercial projects.
Enter Ruth Shellhorn, a woman in her mid-forties who had experience with Bullock's shopping plazas.
Now before you roll your eyes and think, oh great a landscape architect, let me point out the obvious: aside from Walt's calendar this is the only day-by-day diary that exists from one of the central creative team associated with Disneyland.
(If you know of another, drop me an email.)
In this journal are some fascinating details—details that until now I've not been able to pinpoint.
You see, when I used to go out an interview the old guys, I'd get rough estimates on when projects were completed during the construction of Disneyland.
Bill Martin told me the Fantasyland rides were moved from the studio to the park site around June.
Or at least, that's how he remembered it.
But in this diary, the dates are exact.
This week, I want to point out some of the highlights from the two months leading up to the opening of the park.
Specifically I want to focus on how late some key design elements were developed.
·
As some of you know, when Disneyland opened there was an elaborate wooden bandstand next to the castle, occupying the property roughly where Carnation Gardens would later take up residence.
But the initial location for the bandstand wasn't beside the castle.
It was in Town Square.
(There's
a great construction photo
of it over on the Daveland site.)
As late as May 23, the design team was still working out what to do with the bandstand in Town Square, where it never quite looked right.
"Irvine wanted to tell me they are moving the bandstand to Frontierland for the gazebo," Shellhorn wrote, "and putting a flagpole in the center of Town Square."
But the bandstand didn't end up in Frontierland either.
It was too large for the scale of that western town.
So
it was hauled to the bare dirt next to the castle.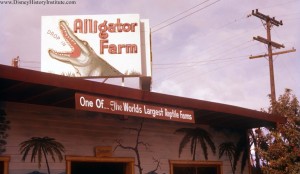 Alligator Farm in Buena Park – 1957
·
One of the oddest stories that surrounds Adventureland was the plan to pen up some live alligators just outside of the Jungle River ride (AKA the Jungle Cruise).
And here it is, attributed directly to Walt, during a May 28 discussion:
"Disney had a wild idea about an alligator in a pen…. Disney wants a pond and less paving [near the front of Adventureland]."
Now this idea is not nearly as crazy as it sounds.
Back then, the newest tourist attraction near Anaheim was the Buena Park Alligator Farm (opened in 1953), with gators shipped in from Florida.
Walt thought that he could have a similar—yet smaller—exhibit in Adventureland that would, no doubt, lend an atmosphere of realism to the mechanical animals guests saw out on the ride.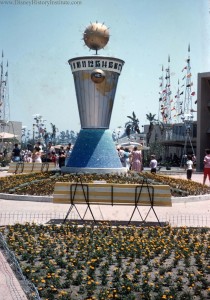 Tomorrowland Clock with Plantings – July 1955
·
As late as June 1, Tomorrowland art director, Gabe Scognomillo was planning to install a mechanical moving walkway to whisk guests from the hub into Tomorrowland.
That type of moving walkway, now in most every major airport, was new technology back in 1955.
But for Scognomillo to discuss its installation six weeks before the park opened shows how loose the Tomorrowland plans were in those final days.
·
On June 25, the Mark Twain Riverboat was finished.
In traditional Disney lore, the first passengers on the riverboat were personal guests of Walt Disney.
On July 13, for his 30
th
wedding anniversary, Walt invited scores of friends out to the unopened park—what Shellhorn calls a "crowd of dressed-up people." These "dressed-up people" rode the train and the riverboat before finally meeting up with Walt in the Golden Horseshoe Saloon.
As the story goes, on the afternoon of July 13—a few hours before the party—Walt's wife, Lillian swept off the deck to get the boat ready for the very first load of passengers.
But for 10 or 12 days before this, a member of the Disneyland management team, Jack Riley had been giving rides to the workers.
This is from Shellhorn's July 1 entry:
"Went on the riverboat ride at Jack Riley's invitation and it was very nice – quite impressive."
·
But what I found most surprising was this—that sections of the park lacked full plans as late as July.
This photo (right) shows Walt Disney and Ruth Shellhorn in an unfinished Frontierland, discussing landscape plans for the Western Railroad Station—plans that would include both pavement and plants.
I've seen this photo many times, and until this week, I would've guessed that it had been taken in late May, maybe June.
But no, the picture was taken on July 2, which means that landscape and hardscape plans for this section of the park had not even been explored until two weeks before its opening.
This is how Shellhorn put it in her July 2 entry: "Then Walt asked if I was getting out a plan around Western RR station soon?
Said I'd like to get his thoughts so he was over there with [Shellhorn's husband] and me.
Went all over things for quite a while – Got his picture with me."
Shockingly, the railroad station is not the last section of Frontierland to have its landscape designed.
Six days later, on July 8, Shellhorn was asked to start designs for the backside of Frontierland, the old New Orleans Street.
"Before I knew it," she wrote, "I was saddled with another job – to design paving and planting for New Orleans by Swifts."
Then, of course, there was the last minute nesting box Walt wanted for the castle swans (also July 8).
And the big fight (July 9) over how to scroll out an image of Mickey Mouse on the slope leading up to Main Street Station, an image that Shellhorn always thought was "out of scale."
Lastly her realization that the park, during final construction, was quickly becoming "a hopeless mess."
In places, her diary fully describes the blow-by-blow struggles of building the park—the anxiety and disagreements—while other sections demonstrate how the entire project eventually unnerved and unsettled her.
Most every entry begins with a description of Shellhorn's own exhaustion.
Like I said, this week I'm rolling out a few construction highlights.
Next week I'll plunge down into the good stuff, the messy landscape conflicts that bubbled up around the only woman on the central design team as Disneyland struggled to open.
——-
Note: Quotes from Ruth Shellhorn come from her personal diaries which are housed in Special Collections at the UCLA Charles E. Young Research Library.
——-