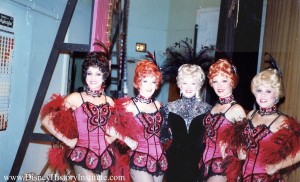 Golden Horseshoe – Backstage
Backstage at the Golden Horseshoe
Up on the blog today are a trio of backstage photos from the final days of the Golden Horseshoe Revue. All of these pics, I think, were snapped in the 1980s and feature the elegant Betty Taylor, who feathered her way through more than 45,000 performances of the Revue. The Revue, as you probably know, was a favorite with Walt. He would bring VIP guests to the Golden Horseshoe Saloon and watch the show from his special box which was situated right next to the stage. The show was so popular with tourists that it produced imitations at other early theme parks. And these knockoff productions were really, really close to the original. There was the Golden Donkey Saloon at Magic Mountain in Colorado. Then there was the Diamond 'Lil show (sponsored by Pepsi, who also sponsored the Golden Horseshoe) at Pleasure Island in Massachusetts. If you remember the old stage set up for the original Golden Horseshoe, just click here to see an amazingly close replica (at Pleasure Island in Massachusetts) which was designed by ex-Disney artists. There's a great story there, but that, of course, is for another day. (Thanks to Bob McLaughlin for posting the photos.)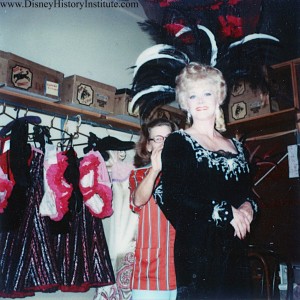 Betty Taylor – Golden Horseshoe
I had the chance to talk with Wally Boag, co-star of the Revue, shortly before his passing. In that conversation, I was struck with the strong sense of family that existed among the performers, which stands to reason as they worked together for three decades. But also, in Wally's stories, there was one detail that stood out: The lead performers all had their own dressing rooms and studios which, at least for Wally, doubled as his apartment. In the early days, he would commute down to Anaheim for his five-day workweek stint in the Revue and actually lived above the Horseshoe, in a small efficiency that looked toward (I believe) Adventureland. Now for a confession: though I've cajoled my way into many backstage areas at the park, I've never actually been backstage at the Golden Horseshoe. So these photos–and others like them–are my only touchstones for the world that once existed behind the curtain.
Most of my posts explore the 1940s, 1950s and 1960s. Or to put that another way: I write mostly about things that happened long before I was born. But for this post, I clearly remember the 1980s. I can easily call up images of Betty Taylor, sequinned up in black, holding an oversized hand-mirror on the stage. When I was a kid, my family's first stop inside the park always was at the Golden Horseshoe reservation booth to collect the free tickets for one of the day's performances. So for today, oddly, events that I remember in my own life now become "history."

The final photo (below) is unique for two reasons. It features Betty Taylor on her 67th birthday, with decorations strewn around the dressing room. (Actually, if the date-stamp is correct, it is the day after her birthday.) It is also two days before the Golden Horseshoe Revue dropped its final curtain–to be replaced by the Golden Horseshoe Jamboree.
That's it for this week. You can find a couple previous DHI articles on the Golden Horseshoe here and here. See you all next Monday. TJP.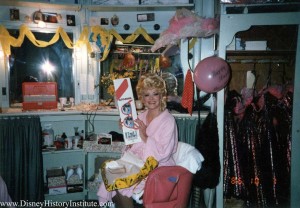 Betty Taylor – Golden Horseshoe – 1986