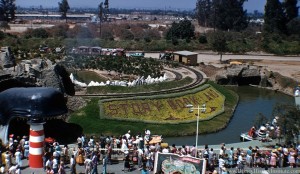 Storybook Land – Summer 1956
Something I've Never Noticed Before
by Todd James Pierce
For the last day or so, I've been pulling together images for a short essay on Internationalism at Early Disneyland when I stumbled across something I've never noticed before: the original map for Storybook Land features individual countries.
Now, of course, I've seen this 1956 map many times, but I've never really focused on that aspect.
To explain why this map feature is interesting I need to take you back to the previous year—1955, when Disneyland first opened.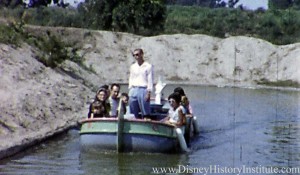 Canal Boats of the World – August 1955
In 1955, the canal boat ride had no villages.
In fact, this little charmer literally floated guests past piles of dirt.
You know, dirt left over from construction and excavation.
Aside from the recently tilled earth, there was no show for this attraction at all—not even landscaping.
The attraction was originally called Canal Boats of the World.
It featured Dutch barges with the idea that Walt would soon ornament the banks with miniature villages—little towns from around the world.
In the 1955 ride spiel, boat operators often asked guests to imagine the tiny European cities that would soon populate the banks.
You see, as far back as 1954, Walt had been looking for ways to showcase international culture at Disneyland.
His initial idea was that American guests, while visiting Disneyland, would both gain a deeper appreciation for American history (i.e. Main Street and Frontierland) and also an appreciation for the cultures of their ancestors (i.e. mainly European cultures).
Some early plans (circa 1954) featured an International Street, with French, English and Italian architecture—a street filled with foreign shops and restaurants.
Slightly later plans (circa 1955) featured a full International Land—to be built roughly where the Matterhorn stands today.
Neither, of course, materialized.
But the international impulse remained at Disneyland.
It showed up in a variety of ways during the park's early years: international parades, a central American cultural fair in the middle of Main Street, the proposed (though never built) Chinese restaurant, the Tahitian Terrace, renewed plans for International Street, etc., etc.
But until recently I've never noticed how that impulse was expressed in the early concepts for Storybook Land.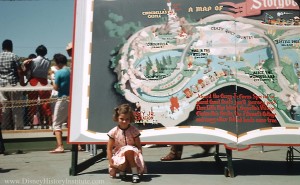 Storybook Land – Summer 1956
The 1956 preview map for Storybook Land not only lays out the different film villages—it also ties them to individual countries: Snow White (Germany), Cinderella (France), Wind in the Willows (England), The Old Mill (Denmark), Casey Jr. (USA), and so on.
So it appears that the initial impulse to create an international tour at some point merged with the concept to create miniature villages from the animated films.
In essence, the original Storybook Land concept was a tour of international villages as featured in Disney films—that is, so long as your idea of an international tour was limited to Europe and the US.
(Other regions would be added later.)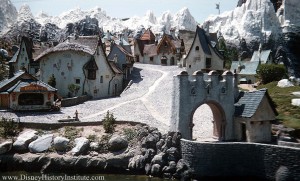 Storybook Land – Summer 1956
As long as I'm on my soapbox, I'd like to suggest that if you ever have the opportunity to juice a DeLorean back to the 1950s, you kindly suggest to early tourists that they stop snapping so many photos of their kids.
Sure, kids are cute and all.
But kids have the bad habit of standing in front of truly important things—such as temporary park signage or girders that have just gone vertical in a ride construction area.
And in case you didn't catch it, in our banner photo today—right behind the Casey Jr.—you can spot one of the Phantom Boats.
Yes, this little annex just outside Fantasyland was one of the places that the maintenance crew used for boat repair when the Phantom Boats locked up.
The Phantom Boats were the shortest-lived attraction in the park—sputtering only through two summers before taking up an early plot in Yesterdayland.
But the demise of the Phantom Boats is a story for another day. (As always, you can click on any photo to view a larger version with greater detail.)