Back-to-School Special – 1955
by Todd James Pierce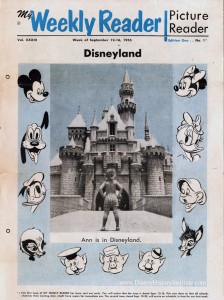 Now, I'm not sure schools have these newspaper readers any more. But when I was a kid (back in the 1970s), I remember them clearly. I'm pretty sure this "Picture Reader" was given out for the kindergarten and first-grade set–hence, the lack of words. But it's interesting to see how the park marketed itself during the first two months of its existence. By this point, the Disneyland economics team had a fairly good idea that customers at the park were roughly 75% adults and 25% children–though kids were seen as the way to lure adults into the park.
The cover photo here shows that "Ann is in Disneyland." And yes, Ann does in fact appear to be in Disneyland–albeit while the park is closed–but she's the only one of these kids inside the park. The kids in the stagecoach (1954, I'm guessing) are actually over at the studio in Burbank. Notice the louvered shades of the Animation Building in the background. And the two kids on the train (July 11, 1955) are out in the maintenance area behind Tomorrowland. Their trip to the park is part of a pre-opening photo-shoot. These two tots will end up on the mules, the Jungle River, and the streetcar–but aside from that they will have a great opportunity to see some buildings being painted, cement being poured, and the ABC technical crew placing their cameras on top of buildings so as to best capture the opening day ceremonies.
But still, this reader takes me back to an era when kids simply couldn't click through the Internet to see photos of Disneyland. They had to wait for pictures to arrive on TV, or at the movies, or in the Weekly Picture Reader that was distributed to hundreds of schools–at least in California.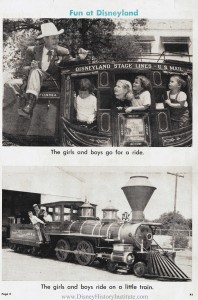 Add caption