EDGAR BERGEN & FAMILY SURVIVE TRIP TO MOON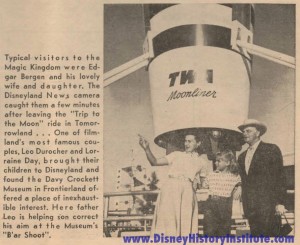 In keeping with all the love DHI has given the Moonliner for this Summer of Old Tomorrowland, we continue with this piece from the March 10, 1956 Disneyland News. Here, Edgar Bergen, Wife, and daughter enjoy their harrowing ride to the Moon at Walt's Happiest Place on Earth.
You may remember Edgar Bergen from his radio show … or, if you are looking for a Disney connection, the film Fun and Fancy Free (1947). And if you are looking for more Edgar Bergen/Walt Disney connections (along with a few "never-before-seen" or "-known" bits that we try to deliver on a regular basis here at the Institute … then as they say, "Tune in Tomorrow!"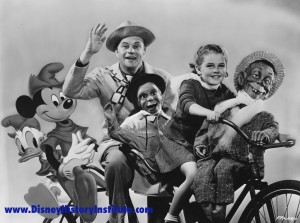 Fantastic (and rarely seen) publicity shot from Walt Disney's package film Fun and Fancy Free (1947)
Enjoy!