THE SUNDAY FUNNIES
Floyd Gottfredson Goes to Disneyland
Floyd Gottfredson had a long and storied career with Walt Disney, primarily in some facet with the Comic Strip Department. His early Mickey Mouse dailies are legendary, which after a short period in the early 1930s Gottfredson set an entirely different tone for the character of Mickey as compared to the short cartoons (in all honesty, almost an entirely different Mouse!). Within the Mouse's comic strip universe, he was noted for the creation of numerous characters–foils and friends–such as the Phantom Blot, Morty and Ferdie, Eega Beeva, Slyvester Shyster, and many more.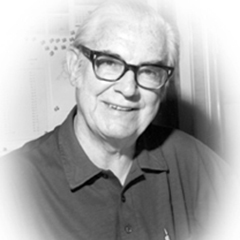 Of note for today's "Sunday Funnies" feature is a Gottfredson cartoon done for Walt's happiest place on earth. When the Park opened, it featured it's own monthly newspaper, The Disneyland News. To foster a sense of community (after all, in Walt's mind, Main Street was indeed just that, a small-town in Middle America), Walt wanted the trappings of everyday life (dining, newspaper, transportation, shops, regular folks that you would expect to meet, and so much more). Walt's little paper was just one small element of this concept of total emersion and loss of all outside reality; meant to replicate a turn-of-the-century small town paper. As such, it featured articles, advertisements, gossip, dining advice, and … cartoons! Today, with the acceptance of "material archeology" we can see how absolutely brilliant this small nuance is, to the overall concept of Main Street and ultimately Disneyland; but more on this later.
Contained within the 1950s issues were many one-shot cartoons with a rather distinctive, perhaps familiar, style … all signed by Walt Disney (as was the policy of the Walt Disney Comic Strip Department). A sizable handful appear to be Gottfredson's, featuring his witty style and humor. This particular cartoon had a second life in 1962, with the advent of a special edition of The Disneyland News for the newly formed Magic Kingdom Club; yet in this case, Gottfredson was allowed to sign his name.
Also of note, as my apt and able fellow Fellow pointed out (that be my homey, Todd), is that the signage shows Adventureland in one of the pre-opening configurations, that is on the "wrong" side of the Park.