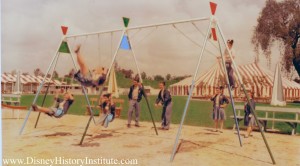 Holidayland: The Least Photographed Land in the Park
by Todd James Pierce
So, back in the 1950s, what was the least photographed "land" in the park?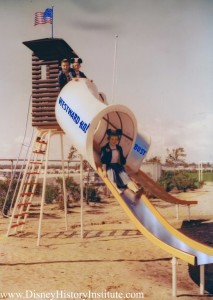 Coming in at SECOND PLACE would be Tomorrowland. I have boxes of old Disneyland photographs. Literally, boxes. I can recreate, moment-by-moment, a trip down the Jungle River. I can rebuild the castle, one photographic stone at a time. Sure, people snapped endless photos of Autopia, but the pavilion plaza in Tomorrowland? Forget about it. I have very few photos of, say, the Dairy Bar or the Kaiser Hall of Aluminum Fame. But Tomorrowland is
not
the least photographed "land." That honor goes to a little known, rarely used, mostly forgotten parcel of grass, sand and playground equipment called Holidayland.
So what was Holidayland?
Here's the short version. Holidayland, existing from 1957 to 1961, was situated just beyond the old Indian Village (think present day Haunted Mansion), nine acres that could be rented out for special groups and events. I'll give you the long version—with a few surprising details—in a moment.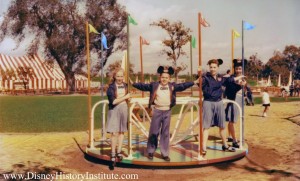 Up on the blog today are a series of photos taken at Holidayland (probably from winter of 1957/1958) that feature a few Mouseketeers decked out in their cold-weather jackets. I'm pretty sure that these pics are not press photos to promote Holidayland itself, or even to promote Disneyland. These, I believe, are advertising stills, originally snapped to showcase the type of playground equipment included in Holidayland. (Notice that in each photo the playground equipment is prominently featured.) Here's something else unusual: most of these images include areas that have been hand-painted and hand–tinted. There are even two versions of the same merry-go-round pic in which the color pattern has been altered and the flag shapes (obviously hand-painted) are not only changed but facing in different directions.
The Holidayland that people know—if they know any version at all—is the one pictured here: nine-acres of open space, where one could drink beer (yes, beer), play softball and throw horseshoes. But the Holidayland concept at Disneyland has at least five distinct incarnations.
Take One (1953): The original concept for Holidayland was a turn of the century town park, complete with picnic areas, horseshoe pits, a baseball diamond, and maybe even an open field where a circus could perform. The park would be located roughly where the Matterhorn stands today. In a 1953 proposal, the WED design team described Holidayland as a beautiful park that guests would enter by way of a covered bridge. "Here, pony-drawn surreys and buggies may be rented to trot along a winding country road. Holidayland is a restoration of bygone Rural America, with its farm houses, barns, fields, gardens, pastures, and livestock."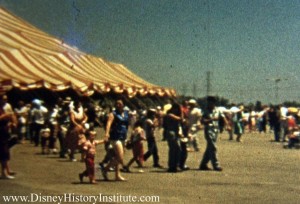 Holidayland – July 4, 1959
Take Two (1954):As the WED team designed Disneyland to meet the available space in Anaheim, the "town park" concept quickly fell away. But a few elements lingered in the 1954 design plans for Disneyland. In this later version, Holidayland was presented as a picnic and reception area where guests could celebrate children's birthdays and other holidays. This smaller version of Holidayland—which, at times, was also called Recreationland—would have two purposes: (a) there would be, essentially, catering spaces that groups could rent out for special events—maybe even for gatherings as small as a family reunion or a special birthday; and (b) the area would also have seasonal decorations, such as a village for Santa and picnic grounds for a traditional Fourth of July picnic.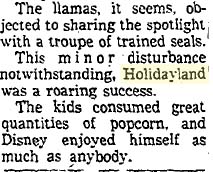 LA Times, Nov. 25, 1955
Take Three (1955):Four months after Disneyland opened its gates, the name Holidayland was applied to the circus grounds at Disneyland. I suspect that most people reading this blog know that Walt Disney hosted the Mickey Mouse Club Circus at Disneyland, an event that lasted from late November (1955) until early January (1956). Now here's something you may not know: the circus was specifically themed to the celebration of Christmas. The show included such unusual Yuletide acts as a horse who played "The Bells of St. Mary's" on a set of chimes, a choir that sang carols, and the appearance of Santa Claus. The big top itself was even decked out with seasonal ornamentation including a Christmas tree that was nearly as high as the center pole.
In the press materials, the circus area (which included the big top and the traveling wagons) was called "Holidayland." But, don't just take my word for it. Check out this clipping from the LA Times (Nov. 25, 1955), in which the reporter writes: "Holidayland was a roaring success."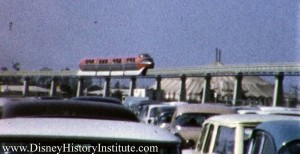 Holidayland Picnic Tent
Take Four (1957):In June of 1957, Disneyland opened the nine-acre version of Holidayland—the one you see pictured here. It was located, in part, where the large show buildings for Pirates and the Mansion are located today. One of the park's restaurant lessees (the Red Wagon Inn) served food out in the big candy-striped tent, often arranged into a lunch package that included a bottomless mug of beer. Adults had the option of playing baseball, volleyball, joining in on a tug-of-war game, or even throwing horseshoes. Children could enjoy a large playground area—with equipment that was fashioned to resemble icons of Disneyland. The covered slides looked just like the Conestoga wagons in Frontierland. The climbing structure—with its wooden drawbridge and spires topped with flags—resembled Sleeping Beauty's Castle.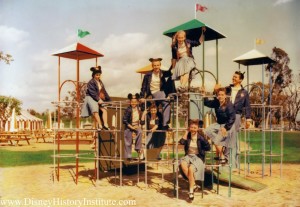 From the start, Holidayland had problems. Lots of them. There weren't enough bathrooms to accommodate those guests with bottomless mugs of beer. Drunk guests entered the main areas of Disneyland and spoiled the atmosphere for families on vacation. As Holidayland was designed primarily for adults, the area sat empty during the workweek and was only booked for weekend events. There was also the expense: though organizations and companies in the late 1950s could easily round up 5,000 (or even 10,000) people for a Holidayland picnic, the economic recession of 1959 and 1960 proved disastrous for the least photographed land at Disneyland.
Holidayland 1960s, with construction in background
In 1961, Holidayland served its final picnic lunch. In the years that followed, the area remained empty, the grounds largely untended. In the photo to the left, you can see a neglected Holidayland structure, with its faded exterior and torn posters at the back of the building. It wasn't until the construction of New Orleans Square (in the mid-1960s) that the structures in Holidayland disappeared. Part of the area was needed for the Pirates show building, another part would soon be needed to house the creepy creeps of the Haunted Mansion.
Take Five (1980s): Even with the massive show structures for Pirates and Mansion occupying part of the old Holidayland real estate, there was still a good chunk of unused land in the old picnic grounds. In the early 1980s, as EPCOT Center and World Showcase were being constructed in Florida, the Imagineers floated an idea that would resurrect one of the earliest concepts attached to Holidayland. They proposed to develop an international village—similar in presentation to the World Showcase at EPCOT Center—where festive holiday cultures would be celebrated year round. The area would be called World Holiday Land.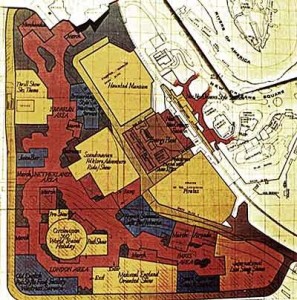 World Holiday Land Concept (copyright Walt Disney Company)
The revamped "land" would include small squares themed to the architecture of London and Paris, as well as Norway and Germany. The London area would feature a medieval show, the German area would have an Oktoberfest-style beer gardens. I could tell you more about World Holiday Land, but there's already
an excellent article
about it online written by Jim Hill. He even brings out a planning map (with many detail shots) that shows how these unique international areas would fit into the existing footprint of Disneyland.
OK, that's all I got for today. I hope you enjoyed the old photos of Holidayland. Post up some comments below. I'll be back next Monday with another article.
(Update — April 10 — There's a second part to this article on Holidayland which is now live — Click HERE.)
COMPLIMENTARY MATERIAL: To see more material on this topic, go to our Comp Material page at: Least Photographed Land