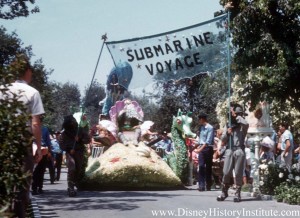 Submarine Voyage – Disneyland '59 Parade
Disneyland '59
by Todd James Pierce
Lost, that was the word on the street.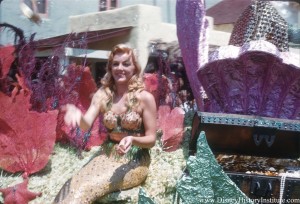 Mermaids – Disneyland '59 Parade
For years, the Walt Disney Company believed that they had lost the full video recording of "Kodak presents Disneyland '59"— the TV show that celebrated the grand opening of the Matterhorn, Monorail and Submarine Voyage. Some segments were preserved in the short film Gala Day at Disneyland. But the finished TV show was missing, as was the original color footage. In all likelihood it was stored with thousands of other unmarked reels in an offsite film vault owned by the Walt Disney Company.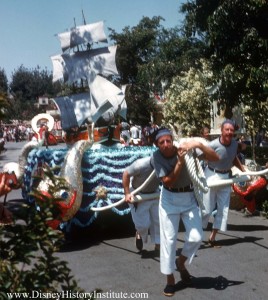 Sailing Ship Columbia – Disneyland '59 Parade
Then, for the 2006 DVD set, Your Host, Walt Disney, the company found and released a black-and white kinescope recording of the 1959 TV show. A kinescope, basically, is a low-quality image made from a camera mounted in front of a TV monitor. When I finally saw the kinescope footage, I felt the show perfectly conveyed the exuberance and confidence of the park's first major expansion. Many scenes bristled with energy, but again, the show was preserved in the grainy tones of black-and-white. Now, I'm sure that somewhere there are other color slides and photographs of the Disneyland '59 parade taken by guests. Maybe even there's some online. But up on the blog today are the only guest images of the 1959 parade that I've ever seen.
So why are these images so scarce? The parade was specifically designed to be performed just once—on June 14, 1959—while a team of cameras occupied the park and VIP guests sat in temporary bleachers (yes, bleachers!) along Main Street. There may have been one rehearsal to check camera positions and sight lines and also the parade route (from Main Street back to Rivers of America), but if so, I haven't been able to confirm a date. As best I understand, this parade was designed as a unique performance, with floats wheeling a single trip down the pavement, to commemorate the park's largest expansion to date.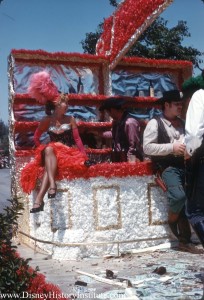 Golden Horseshoe Float – Disneyland '59 Parade
The parade also demonstrates a fundamental shift in how the park presented itself. The massive 1959 expansion is, more or less, the moment that the park shifted from a regional attraction (with the vast majority of its visitors living in Southern California) to a larger national destination (with a higher percentage of its guests coming from other states). This was particularly important in 1959, as the country slipped into a minor recession and attendance levels began to fall. Years ago, when I interviewed Bill "Sully" Sullivan about his decades with the Disney Company, he touched on the importance of the Disneyland '59 festivities: "It was a spectacular opening. It got the word out. So people started coming again."
You can easily see the shift in the culture of Disneyland when you compare this parade to the one Walt Disney arranged for the park's grand opening four years earlier.
In 1955, Walt Disney relied heavily on the park's connection with film and TV properties to shape the original opening day parade. Featured in that earlier spectacle were Mickey Mouse, Donald Duck, Pluto, Chip and Dale, Dumbo, the Mouseketeers, Fess Parker as Davy Crockett, a float for Snow White and a pumpkin coach for Cinderella. To a lesser extent, the 1955 parade also presented short units for themed lands—for example, the Autopia cars from Tomorrowland, a stagecoach from Frontierland—but the focus was largely on film characters. The 1959 parade (pictured here) demonstrates a decreased reliance on film and TV properties and an increased presentation of Disneyland icons. Sure, the parade included cartoon characters and celebrities. Mickey Mouse and Donald Duck made an appearance, as did
Guy Williams as Zorro
, Fred MacMurray, and the cast of
Leave It to Beaver
, among others, but the focus had shifted, with images of Disneyland taking center stage. In other words, Disneyland was coming into its own, with a unique identity that was distinct from that of the studio.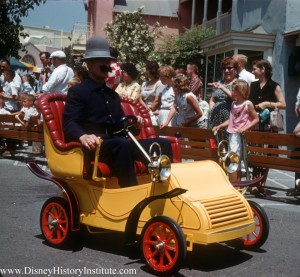 Modified Toad Car – Disneyland '59 Parade
For the most part, animated characters and celebrities were limited to the lead unit and the Fantasyland section. But even in the Fantasyland section, the parade featured images from the park as much as it did animated characters. Alongside Mickey Mouse were horses from King Arthur's Carousel and a vehicle from the Mr. Toad ride modified to operate without its buzz bar. This tricked out Toad car was used so infrequently that when I asked vehicle wizard, Bob Gurr if he remembered anything about its history, he simply replied: "Wow…never saw that Toad car before."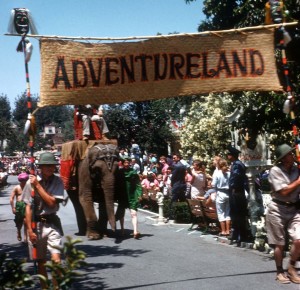 Adventureland and Elephant – Disneyland '59 Parade
The Main Street section featured turn-of-the-century vehicles, including a streetcar. The Frontierland section featured a massive float celebrating the Golden Horseshoe Review, as well as a float depicting the Sailing Ship Columbia. For Adventureland, a Jungle Cruise boat ventured down the pavement, accompanied by an actual elephant. On the elephant was Disneyland celebrity,
Wally Boag
(star of the Golden Horseshoe Review). In the photo included on our blog, you can't see his face, but—rest assured—those are his legs.
The remaining floats celebrated the massive expansion in Tomorrowland. There's King Neptune and his court of bead-throwing mermaids. A futuristic town encircled by a monorail. Also a sledding team out in front of the Matterhorn. As a curious side note, the scale model Matterhorn featured on that float was one of three large-scale Matterhorn models built by Harriet Burns to guide engineering, architectural, and construction teams as they designed and built the actual structure.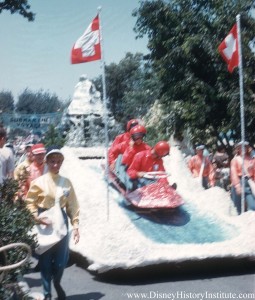 Matterhorn Float with Construction Model – Disneyland '59
In the photos on the blog today, you can witness the changing identity of Disneyland. By 1959, Walt Disney and park executives had a sense that Disneyland's early financial troubles were largely in the past and that the park would soon occupy a unique place in American culture. In coming years, Disneyland would be treated as a national treasure as it hosted foreign dignitaries and heads-of-state. The images here preserve the moment that Disneyland passed from its early identity into that of its later years, a park with greater sophistication in its ride systems and more elaborate (and costly) showmanship.
OK, that's all I've got for today. I do have a couple dozen more images from this parade—including a very nice set from the parade's lovely International section. So in a few weeks, I'll likely circle back to Disneyland '59 to explore Walt's interest in international culture or maybe even discuss the rehearsals and preparations necessary to produce the Disneyland '59 TV show.
Come back next Monday when I post up a new article. Exactly what it'll be, I don't yet know.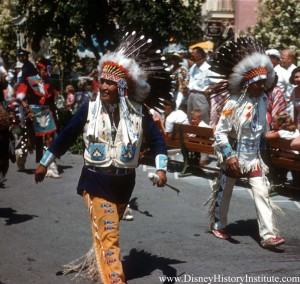 Native Americans – Disneyland '59 Parade
COMPLIMENTARY MATERIAL: To see more material on this topic, go to our Comp Material page at: Matterhorn Model
COMPLIMENTARY MATERIAL: To see more material on this topic, go to our Comp Material page at: A Hallelujah to Hucksterism