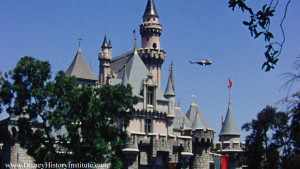 Disneyland Helicopter 1957
The Greatest Disneyland Tragedy
by
Todd James Pierce
More than one viewer has asked about that curious shot in "Disneyland Canon," the shot of the helicopter hovering behind the castle. And this, of course, reminds me of one of the saddest stories in the history of the park.
Even before Disneyland opened, park executives announced that visitors would have the option of arriving by highway or skyway. One year before the park opened—in July, 1954—Walt himself took the initial test flight, from the studio green in Burbank out to the construction site in Anaheim, finding the air commute was significantly shorter than the land commute. A mere 20 minutes by helicopter. From there, Walt signed off on plans to open a helicopter terminal on undeveloped land just outside the park.
Plans for the helicopter terminal progressed with the park. By May, 1955, TWA advertised that a person could soon buy a ticket from New York City direct to Disneyland, with the last leg of the flight completed by helicopter. Those Disneyland flights were managed by Los Angeles Airways, a company that offered helicopter service to nearly a dozen southland locations, including Los Angeles International Airport and Long Beach. It was one of two airlines in the United States that specialized in helicopter shuttle service, with the other, of course, being in New York.
In 1955, a helicopter flight to Disneyland cost roughly $4 per person, each way (depending on city of departure).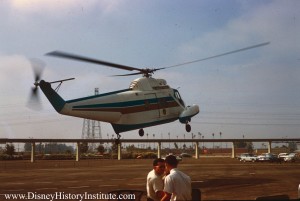 Disneyland Helipad 1961
The helicopter pad, itself, was located just outside Tomorrowland, on a little strip of asphalt not far from the skyway station. Throughout the 1950s, well-to-do guests arrived at Disneyland by helicopter, thousands of them each year, most arriving in the Los Angeles Airways shuttles, but some arrived by private or military copters. These distinguished helicopter guests included future U.S. President John F. Kennedy; Prime Minister of Afghanistan, Mohammad Daud; Prime Minister of India, Jawaharlal Nehru; and King Baudouin of Belgium.
The problems for the helipad first began in 1962, when the Anaheim city council informed Los Angeles Airways that they would need to construct a full air terminal—complete with an indoor waiting area and public restrooms—to continue its service to Disneyland. Six years later a group of Anaheim motel owners banded together to formally protest the low-flying aircraft, calling the helicopters "dangerous" and explaining that their noise disturbed "motel guests." But the tragedy occurred on Wednesday, May 22, 1968 when a helicopter flying from Anaheim to LAX crashed into a Paramount dairy farm, killing all 20 passengers and three crewmen. The passengers had all spent the day at Disneyland.

One witness saw the helicopter listing from side to side, only 1,500 feet from the ground. Then he saw something strange: a crewmember or perhaps a passenger throwing excess baggage from the bird—bags that later were discovered to be sacks of US mail—most likely in a failed attempt to lighten the load. Then one of the helicopter's rotors lurched free.
"It was over Alondra Boulevard, coming down like a rock," another person reported. "It was making a big noise…Parts were flying everywhere."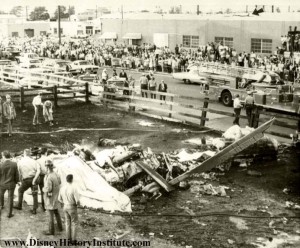 LA Airways Wreckage
According to a third witness, the helicopter burst into flames as it struck ground. It skidded over a street, with much of the wreckage ending up in land owned by the dairy.
It was the worst civilian helicopter crash in US history. A later study found that the probable cause was a single missing bolt, one that secured a pitch change rod for one of the five main rotor blades.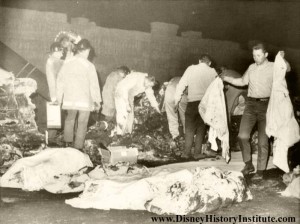 Clean-up of LA Airways Wreckage – 1968
Los Angeles Airways immediately suspended all air service. Though it briefly resumed flights to Disneyland, a subsequent union strike—coupled with civil suits stemming from the crash—forced the company's closure in 1969. After a three-year hiatus, in 1972, helicopter service to Disneyland resumed for a time, operated by Golden West Airlines. Golden West scheduled 28 flights per day, with a one-way passenger charge of $16. But Golden West's service only lasted five months, with the company ending all flights in mid-August.
From there, Anaheim officials proposed adding a helipad to the convention center, with an opening date in the 1980s. But essentially, after Golden West walked away from the Disneyland Helipad, the most reliable route to the Magic Kingdom became the "highway on the ground," with air service to the park just a memory of times past.
— Come back next Monday. I'll post up some new photos.–
(The banner photo today is taken from "Disneyland Canon 1957." The helipad shot is a new, never-before-published photo of helicopter service at Disneyland. The headline detail was taken from the LA Times.)