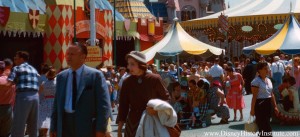 Disneyland 1955
Canon Style
by Todd J. Pierce
So what are the cultural differences between Disneyland in the 1950s and the park as it exists today? Based on the video, "Disneyland Canon 1957," I'd first point out the open spaces, also the absence of overcrowding. Environment is at least as important as the rides: throughout the video, park guests are captivated by the scenery. I might also point out the lack of vending carts. But, based on the comments on YouTube and other sites, viewers were most impressed with the clothes people once wore to the park.
Disneyland 1956
For today's post, I've uploaded four photos from the mid-1950s—all of them new, never-before-published. The banner photo (above) is from August 1955, when daily temperatures regularly spiked into the 80s and 90s. But even there, with that heat, some men are in suits and ties, women in dresses with hemlines falling below the knee. Part of this style, I'm sure, is cultural. People in the 1950s simply dressed more formally than do people now. In my opinion, the 1950s were more about appearance; whereas, our current decade is more focused on experience. But, for me, this alone doesn't fully explain the style of dress one used to see at Disneyland.
I've got a couple theories.
You see, from the start, Disneyland presented itself as a playground for celebrities. The live telecast of Disneyland's opening (in 1955) included dozens of high profile guests, all of them dressed as though they were attending a social event and not an amusement park: Sammy Davis Jr., Frank Sinatra, Fess Parker, and Danny Thomas.
Disneyland 1958
Beyond this, Disneyland was the first amusement park to consciously incorporate the art direction and stage design one would usually find on a Hollywood set into a physical setting. For most families, this was their first opportunity to explore an extended jungle set or a western village, something that previously they could only see at the movies or on TV. For us, this type of themed space is common. You can find it at most every mall. But in the mid-1950s, it was new: a blending of film and a real-world location. More so than now, Hollywood was touched with prestige. The park's association with that fabled city, I suspect, encouraged people to dress up a little.
Anyway, check out the photos. You can click to enlarge them. Post your own ideas below as to why people once dressed up to visit Disneyland. And if you want to help recreate the elegant style of the 1950s, Dapper Days hosts two events each year to bring back the era of Eisenhower. You can find their site
here
.
Come back next Monday. I'll post up a couple more photos.
Todd J.Pierce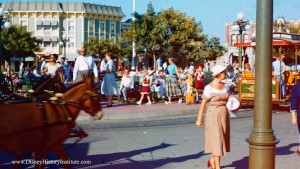 Disneyland 1956