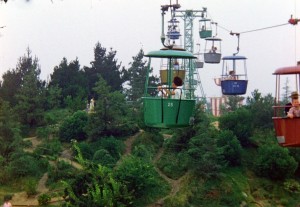 Holiday Hill – June, 1958
Here's a photo that I've been looking for for—well—years. What is it? This is a 20-foot hill that used to rest beside the castle (more-or-less where the Matterhorn is now positioned). It was known as Snow Mountain or Holiday Hill or Disney Peak. The hill had a lot of nicknames. In 1954, when the land development team first started work on the Disneyland site, they piled up all of the excavated dirt from the castle moat and the castle foundation into a large hill. Removing the dirt from the site would be expensive, so Walt had a fence placed around the hill, with the hill becoming part of the landscape of Disneyland. For a while, the hill was mostly dirt. But the loose dirt would be whipped up in windstorms. Then Bill Evan's grounds keeping team quickly landscaped the hill with some shrubs and a little sod, thereby keeping the dirt in place. There's a great story—for another day—about one of the gardeners secretly growing a crop of marijuana plants at the top of the hill—a crop that was then discovered by managers at Disneyland. Likewise, this hill, on weekend nights, was prime make-out property for teenage guests. Security used to regularly rout out local kids from beneath the trees. During the day, guests used to hop the fence and climb to the top of the hill to view the entire park. From there you could see the Mark Twain and the Moonliner rocket. For a brief period (probably just a year or so), the park developed a path to the top of the hill, with a rail and steps. I've seen pictures of the path before, but always the path was empty, usually with a chain or other barrier crossing the entrance. In this photo you can see the path, the steps and a couple guests (in dresses, no less) atop Holiday Hill. Holiday Hill was removed mid-1958 to make way for the Matterhorn.
I suspect some of you have seen other photos of Holiday Hill with guests hiking the trail. If so, send a link my way. I'd love to see them.
-Todd James Pierce