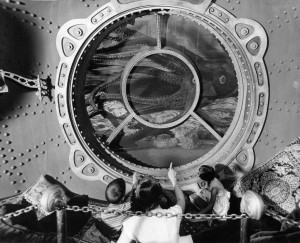 Walt Disney: The Night Before His Park Opened
Initially Walt planned to spend the evening of July 16, 1955, entertaining VIPs who had flown into attend Press Preview Day. These VIP guests would include company representatives from Swifts and Upjohn, companies who leased exhibition space and sponsored attractions at the park. But as opening day grew near—and as the demands of finishing Disneyland grew more complex—Walt decided to skip these social gatherings. Instead he stayed at the park. So what, exactly, did Walt do in those hours leading up to the grand opening of Disneyland?
(1) Press Preview Day would be televised on ABC as a program called "Dateline: Disneyland." Just before dinner on July 16th, Walt called all of the ABC segment directors to his office at Disneyland. The ABC segment directors had been battling with the show's producer, Sherman Marks—whom they all felt was incompetent to direct the massive live telecast—and were considering walking off the "Dateline" project unless they could each assume control of their own segments. The segment directors would each direct one portion of the live telecast (the Main Street parade, the Frontierland musical numbers, etc.), while in a central control booth Sherman Marks would oversee the production. The segment directors wanted to manage their segments while Sherman Marks wanted control of each shot. Word of these disputes finally reached Walt. "So I hear we have a little problem," he told the segment directors and the choreographer. "Anybody who wants to do the show, be in my office in a half-hour. If you don't want to do it, then leave."
(2) After dinner, dressed in work clothes, Walt ventured into Tomorrowland—the least finished section of the park—where he worked in the 20,000 Leagues exhibit. Despite the heat, he ventured into the squid room—a large tin annex that held the life-sized squid used in filming 20,000 Leagues Under The Sea. He put on a protective facemask and spray-painted the backdrop with fluorescent paints, as machinists calibrated the Hudson 8-cylinder engine and guide wires used to animate the animal's rubbery arms. An animator from the studio, Ken Anderson, also wearing a facemask, adjusted a motor that controlled the squid's beak, causing it to snap open and shut. Beside him, Walt worked on the backdrop mural—ominous colors, a murky seascape at dusk.
(3) Walt left the 20,000 Leagues exhibition hall at least once to check on other last-minute projects. Inside the Rocket to the Moon theater he found Disneyland art director, John Hench and a group of electricians still working on the projection system. "We had difficulty with the electricians," Hench later explained. Hench didn't estimate how long it would take to fix the projection system, but the message was clear: the attraction most likely would not be ready by morning. On the other side of the park, Walt visited the Jungle River to learn if the final 900-pound mechanical elephant was now functioning. Earlier that day, as a crew attempted to install it, it had begun to sink into a mound of fill dirt. Now, Walt learned, it was nearly in position. In Fantasyland, Walt saw that the three dark rides were now working—at least ride vehicles were cycling through each show building, as newly hired operators learned how to use the controls—but still individual show rooms were not fully assembled. Props were missing from some attractions, and on the Peter Pan ride even its centerpiece, Captain Hook's pirate ship was not fully painted. In the courtyard, by the castle, Walt watched workmen paint the deck, skirt and supports for the carousel—yet another job expected to take all night. He hurried them along by pointing out, "My insurance money is paying for painting that carousel."
Then Walt returned to Tomorrowland.
(4) Sometime after midnight, Walt and Ken Anderson decided to call it quits on the 20,000 Leagues exhibit, realizing that the attraction would not open the following day. Tired and frustrated, they walked up Main Street, finding that portions of it were still unpaved. The track system for the streetcar—the rails and railroad ties—were exposed, presenting themselves like a long scar rising from the bare earth. Around them, recently rehired plumbers moved from building to building and painters touched up the Main Street facades. After only a few moments of rest, Walt and Ken were greeted by a workman who told them, "There's no power on the Toad ride! Somebody cut the wires!"
Both Ken and Walt were aware of union problems on the worksite—skirmishes that had produced vandalism earlier in the month. They assumed that this was another wave of union issues.
Ken turned to Walt. "Don't worry. I'll take care of it."
(5) Walt stayed there a moment more, gathering his strength. Walt made one more tour of the park then returned to his firehouse apartment, now alone. Earlier in the week, he had asked his wife, Lillian and his two daughters to stay home. Specifically he'd said that he "didn't want any of you women out there. It's going to be a mess and I don't want to have to worry about you, too!" Upstairs, in his apartment, he likely looked out at the park one last time—the final time it would be his park before he gave it over to the world. Eventually he decided to get some sleep, knowing of course that the final truckloads of asphalt for Main Street would arrive just before dawn.
If you've enjoyed this look at Walt Disney's life on July 16, 1955, make sure to join the
DHI Facebook Group
, which is quickly becoming a gathering place for historians with a serious interest in Walt Disney and the history of the Walt Disney Company. Also come back to DHI tomorrow—on July 17—as Paul takes the helm. He will be posting some incredibly rare Disneyland-related photos of Walt Disney. The current plan is to post one photo per hour. These are photos of Walt at the studio and at Disneyland, some of which have never been previously published. What a way for the park to turn 56!