WALT DISNEY STUDIOS MODEL SHOP
At The Disney Family Museum Blog
I want to call attention to Kevin Kidney's magnificent article on the Walt Disney Studios' Model Shop over at the Walt Disney Family Museum's Storyboard blog (a fascinating blog under the very capable and brilliant direction of Jeff Kurtti). Check out the article here:

Models, Miniatures, and Movie Magic

.
In honor of this great essay, I present a couple of rare shots for your consideration before heading on over to learn more. In the article Bob Jones is discussed, as well as his work on the Stromboli's Wagon model. I scanned both photos at high resolution, so there is lots of detail to zoom in on and look at.
Enjoy.
UPDATE: It just occurred to me that it would be nice to identify those in the camera shot photo. The individual on the extreme right is Charlie Philippi who was head of layout at this time (and according to Bob Jones "one of the highest paid chaps at the Studio"). Bob Jones is to his left. I do not know the other two chaps (in keeping with the 1939 lingo), but I'm sure some DHI readers will (where is Michael Barrier when you need him!).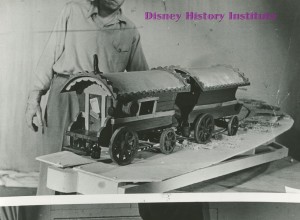 A view of Stromboli's Wagon being prepared for reference footage, as it traverses the rutted and rough street.
Bob Jones, who is lovingly discussed in the Storyboard article, is seen behind.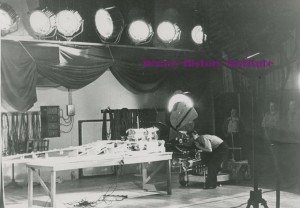 A long shot of Stromboli's Wagon being shot for reference footage. Pictured is the five camera crane and
also the legion of lights that were required for filming.