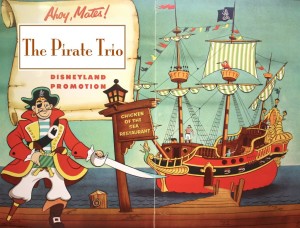 THE DISNEYLAND PIRATE TRIO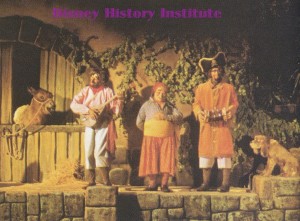 What is the first thing that comes to mind when one mentions a Disney Pirate Trio? What if I were to tell you that it is related to music at Disneyland? Does that help?
Most Disney enthusiasts would immediately conjure up an answer from Pirates of the Caribbean and the village scene, where three pirates (a trio!) serenade our boat ride. You know the trio, one with a lute, one with an concertina, and one with his voice. Of course the dog and donkey (thanks to a brilliant Marc Davis) are also joyfully singing along, which I guess officially makes it a Pirate Quintet.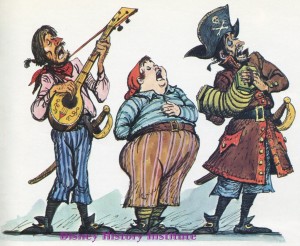 Marc Davis Pirate Trio Concept
One might think down the waterway a bit, and come up with two sets of trios that are vocalizing to a certain ruffian dog tightly holding a jail key in his mouth. But alas, those are not the threesomes I speak of. You are probably remembering a line of specialized Disneyland merchandise that featured Pirate Goofy, Pirate Donald Duck, and Pirate Mickey Mouse caroling away. But still, no! Yes, Disney history can be quite confusing, which is why Todd and I are here at the Institute (or at least we try think that is the reason we are here). Will the
real
Disneyland Pirate Trio please stand up? Or at least the first one?
Fantasyland's Disneyland Chicken of the Sea Pirate Ship, ca. 1961, featuring a sign for "The Pirate Trio."
(Photo Courtesy of Gorillas Don't Blog)
Should you have been lucky enough to find yourself at Disneyland during the summer season of 1961, 1962, or 1963, you would have been fortunate enough to enjoy the nightly entertainment of "three cute-lasses" (not my words, but those of Disneyland's marketing department). The trio (see where this is going?) was composed of a fiddle player, an accordion player (maybe this is where Marc got the idea), and a base player.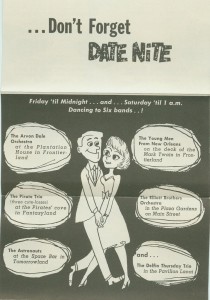 Disneyland "Happiest Show on Earth" Gate Flier, ca. 1963
Featuring a Date Nite mention of "The Pirate Trio (three cute lasses)
at the Pirates' cove in Fantasyland."
(Photo Courtesy of Vintage Disneyland Tickets)
They cheerfully amused and performed for Disneyland guests in front of the Chicken of the Sea Pirate Ship ("Bring Back The Pirate Ship!" … with spear firmly placed in hand!). The attractive, all-female Pirate Trio was part of the musical line up for Date Nite, a popular nighttime promotion that was designed especially for couples. It was scheduled every Friday and Saturday evening throughout the summer and a special "Starlite Ticket Book" was available after 7pm that featured two Main Gate Admissions and admission to a choice of 12 attractions. The band entertainment was open to Date Niters, as well as all regular Disneyland guests. The Trio was the only musical act in Fantasyland and according to a 1961 Disneyland press release performed at the "new Pirate's Cove." Much to the chagrin of many a male Date Niter, the striking threesome (who cared how they sounded?) did not return for the summer season of 1964 (perhaps too many female members of the Date Nite demographic complained).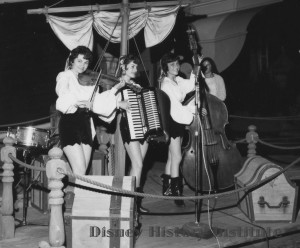 Three Cute Lasses. August 1961.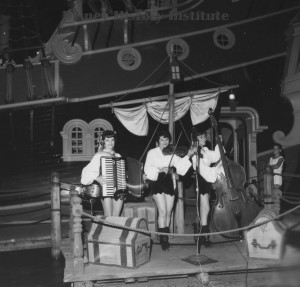 The Pirate Trio at Disneyland. August 1961.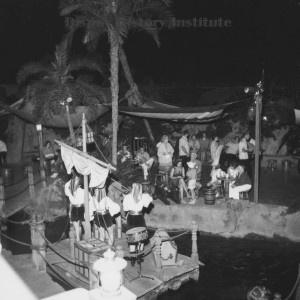 Disneyland late-night crowd enjoys the Pirate Trio. August 1961.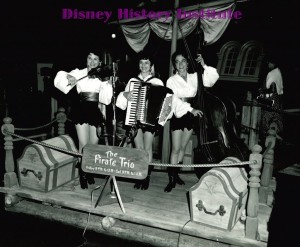 The Pirate Trio with new base player. August 1962.
ACKNOWLEDGEMENTS: I would like to offer up my thanks to several individuals who provided me with important assistance in rounding out this piece. First off, the magnificent Ed Ovalle from the Walt Disney Archives was absolutely invaluable in checking a few things for me and providing his able thoughts and historical acumen. He is a valuable asset to the Archives, and they are exceedingly lucky to have him. I am most appreciative of Tim of Vintage Disneyland Tickets and Major Pepperidge of Gorillas Don't Blog for allowing me to use an image from each of their respective blogs (which Todd and I highly recommend). The color photo came from

Gorillas Don't Blog

and the Gate Flier is from

Vintage Disneyland Tickets

. I suggest for a wonderful look at the history of Disneyland you visit their web sites.
(As with all our photos, click on them for a higher resolution image.)