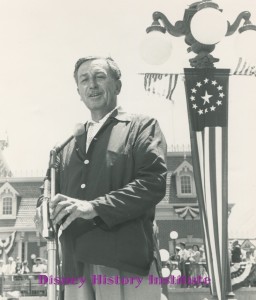 Walt Disney prepares to deliver the dedication speech, July 17, 1955.
THE DISNEY HISTORY INSTITUTE
DISNEYLAND BIRTHDAY CELEBRATION
Happy Birthday to Walt Disney's Disneyland! Join us for the day, at 56 minutes after each hour, to celebrate Walt Disney's Disneyland; a photo an hour, for the entire day of July 17th. Disneyland is Walt's park, and DHI will celebrate the day by showing you Walt in his park … his laughing place, if you will. Here you will find a host of rarely and never-before-seen images featuring Walt Disney in the place that he so loved (and yes, our goal is to give you historical material that celebrates Walt's creative legacy, that you literally can not get anywhere else!).
Be sure to check back every hour,
I think you will be pleasantly surprised … oh, and as always, Enjoy!