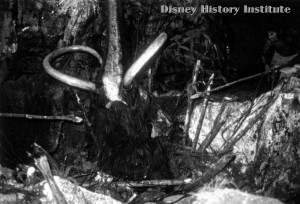 By Paul F. "Mammoth Expert" Anderson
In honor of the Mammoth Disney History Institute announcement coming this weekend (be sure to tune in), I decided to honor (and promote) the idea by reaching back into time (WAY back into time) to Walt Disney's involvement in the 1964 New York World's Fair … and his use of Mammoths in said event. Back in the 1990s I wrote a lengthy (124,000 words) "essay" on Disney and the 1964 New York World's Fair. Moreover, I have done a number of presentations on this subject (the last being at the D23 Disneyland Destination D last year). Many DHI readers recall Walt Disney's Magic Skyway Through the Ford Wonder Rotunda, which featured a segment on prehistoric times. First the dinosaurs as seen from the comforts of your own Ford Motor Car; then on to the dawn of man and the age of the woolly mammoth! So in keeping with the theme of the upcoming Disney History Institute mammoth announcement I present Disney mammoths from Disney history.
As always, click on images for greater detail. Enjoy!
Walt Disney Tries The Popular Sport of "Mammoth Tipping"
Before Sending the Mammoth off to the 1964 World's Fair.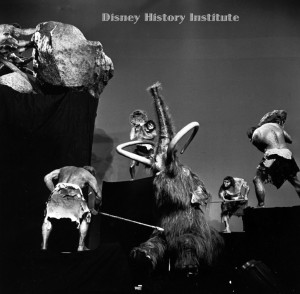 WED Full-Size Mock Up of Cavemen Trapping a Mammoth.

WED Concept Art.

WED Concept Art. Marc Davis. Living in Harmony With Mammoths.

WED Concept Art. Marc Davis.