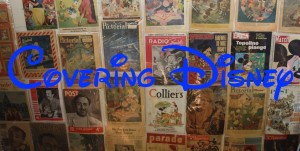 A regular feature at the Disney History Institute is "Covering Disney." The use of the magazine during Walt Disney's heyday for the purpose of promotion and exploitation. You can read my original essay on this
here
. To see all the essays and magazine covers at DHI, go to:
Covering Disney
.
In keeping with DHI's Disneyland Railroad week, here is a special Covering Disney on Walt Disney and his railroad. There are a handful of Railroad periodicals that did cover stories on Walt and his love of railroads, as well as Disneyland. I'll try to put a few more up this week. This one, however, is unique and quite rare; the latter because it hails from the United Kingdom.
Model Engineer
magazine, November 24, 1955, Volume 113 No. 2844–a weekly magazine ("published every Thursday"). Enjoy.