Original Cartoon Presented to Dad Land by Walt Disney
WALT DISNEY,
DEMOLAY,
AND MICKEY
by Paul F. Anderson
I wrote about Walt Disney's devotion and pride in DeMolay at DHI here.

Part of that essay was a plea to help find more of the rare Mickey Mouse comic strips done by Fred Spencer at the request of Walt Disney. Spencer was a loyal DeMolay member and he and Walt were proud to provide "Dad" Land and his organization with a strip titled "Mickey Mouse Chapter" for DeMolay's national newsletter, the International De Molay Cordon. Only a handful of these strips have been available, with the rest considered washed away in the tides of history. I am happy to announce that I have located a few of these "missing" Mickey Mouse Chapter comic strips. Watch the Institute this coming week as I post them. The comic strips have been through a few cycles of the Xerox machine, and so rather than post them all at once, I am attempting (in my very non-technical manner) to digitally clean each of them up for presentation here at DHI. Below, you will find the first strip from December 1932 in its varied forms: first, as it was found and second, after I spent two hours digitally working it over. I would appreciate your comments and suggestions about the clean up. Does it matter to you? Is it important? Or would you rather I just put them all up in the condition in which they were found?
This first strip I have already published here at DHI in the previous DeMolay essays. Since it is chronologically the first strip to appear in the Cordon, and the fact that it was in the worst condition of all that I have found, I did the "restoration" work on it first. I'll continue posting these in their chronological order. Enjoy!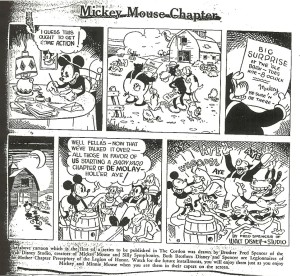 Mickey Mouse Chapter December 1932, As Found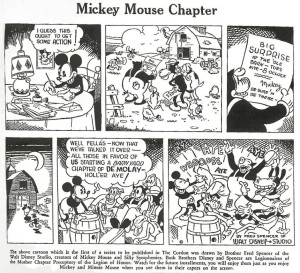 Mickey Mouse Chapter December 1932, Digitally Restored
SPECIAL DHI GUEST ESSAY ON DeMOLAY
To my young brothers in the Acacia Chapter, Order of DeMolay, in Stuart, Florida I am happy to extend my warm greetings to you all.




I am proud, indeed, still to retain my bond with DeMolay as an honorary legionnaire. I am deeply grateful for the association which materially influenced not alone my young years but my whole personal and professional life.




One of he most important events of my youth, and one of the happiest too, was my acceptance into the membership of DeMolay. And I realize now, even more than then, how deeply my whole life, personal and professional, has been influenced by that early association. I am proud, indeed, still to retain my bond with DeMolay as an honorary legionnaire.




I was among the first members of the order when it was conceived and established in Kansas City, Missouri, in 1919 by that grand humanitarian, Dad Land. At his invitation, a number of my young neighbors and I from the Benton School joined the first chapter in the city of its birth.




Through the years I have watched the growth and progress and prestige of this great organization. I have witnessed the inspiration it has been to many of our finest citizens and ablest leaders in all walks of life. The composite record of the 2,000,000-odd past and present DeMolays is most impressive for its many outstanding contributions in the private and public life of our nation.




I feel a great sense of obligation and gratitude toward the order for the part it has played in my endeavors. Its precepts have been beyond value in making decisions, in facing dilemmas and crises, in holding onto faiths and ideals and in meeting the tests which are best borne when shared with others in a bond of confidence and mutual respect.

The DeMolay creeds had become a definite guide by the time I started making motion pictures, first in Kansas City, then in Hollywood.

There is always some connection between a man's character and what he creates or perfects, so we are told. And it may well be that the same influences which shaped the thinking and behavior and preferences of my youth, had something to do with the early steps of my movie career and the direction it took.




It is gratifying to be assured that these same influences of DeMolay are still at work among so many young Americans today.
The essay by Walt was written in February of 1965, shortly after DeMolay's Acacia Chapter of Stuart, Florida requested a statement by him on his feelings towards DeMolay. The request explained to Walt that "an organization such as ours can't possibly survive unless it has the support of adults who can give it all of their years of learning. We need men who are willing to spend a little time to teach young boys how to grow up in to perfect gentlemen and citizens. There is no way at all in which we can get these men unless they know about us and what we stand for. Mr. Disney, we need support. Can we have yours?"
In typical loyal Walt fashion, he responded quickly, enthusiastically, and fraternally.