I was honored to give three historical presentations at the D23 Destination D event (if you missed it, shame on you … it was a splendid celebration of Disneyland as well as Walt Disney's legacy). My last presentation was on Walt Disney's involvement in the 1964 New York World's Fair: Its Impact on Disneyland … and Beyond! It was very well received, and I am thankful to all of you who sent me a nice note or made a comment.
One aspect that I really wanted to bring forth in the presentation was Walt's feelings about World's Fairs and how these evolved after the New York Fair had ended. Of the many interviews I have done with Imagineers in regards to the Fair, one is quite profound in illustrating Walt's change of heart. It is from Imagineer Rolly Crump; Walt summed up his feelings by telling Crump: "What a shame!" As a key WED Imagineer for the Fair (and creator of the inspirational Tower of the Four Winds), he had unique access to Walt during this time.
Walt became very mindful of the waste that was inherent with World's Fairs–and it genuinely bothered him. (Keep in mind, this was also a time Walt was consumed with EPCOT and digesting urban planning and design books.) Walt had mentioned to Rolly about the shame of it all and that it was sad there was not another use for all of the buildings. Walt also felt that that with the demolition of the Fair, the creative talents and dreams of which the Fair was made vanished too.
In my presentation, I really wanted to get this point across, as I feel it heavily influenced Walt in many aspects in regards to Project Florida and Epcot. Moreover, I feel that it is a justification for Epcot Center (this got cheers from the audience). Walt told Rolly that if they were ever to get involved with a World's Fair concept, they would do it themselves. My extensive research and numerous interviews (over 45 just for my work on the Fair), indicates that had Walt lived another ten to fifteen years, he would have put a World's Fair-like theme park at Walt Disney World. Therefore, my only "issue" with EPCOT is that it is a misnomer; but I also realize, without Walt Disney, there could be no Walt Experimental Prototype Community of Tomorrow.
In contemplating how to get such an important concept across, I kept hitting the proverbial brick wall. After all, I had only 50 minutes for the entire presentation (which is, frankly, not quite enough time to cram my entire 120,000 word thesis on Walt's involvement in the 1964 NYWF into). In talking with a good friend of mine, and a well-respected Disney (and Fair) historian, Bill Cotter … the answer came. Bill has done extensive research on the entire 1964 NYWF, having grown up with (and IN) the Fair. He had come across some very rare tear-down photos of the Fair, including a handful of the Disney pavilions. A perfect visual to indicate just exactly what Walt was feeling inside (they make me "ill" to look at them).
So I would like to kick off this long-belated thanks to those that helped me with my presentations, starting with Mr. Cotter. (There are many that I will be thanking in the coming weeks. Unfortunately, even though I asked, there was no way to properly thank everybody at the Destination D event.)
The following images are those that Bill so graciously allowed me to use in my presentation (and RARE they are! I am "supposedly" the World's Expert on Walt's Involvement in the Fair, and I had NEVER seen these — in fact, I have never seen ANY deconstruction photos of the Disney Pavilions). Furthermore, I do not believe these have ever been published, so I again thank Bill for giving me the first use of them. I encourage you to visit his website for more information on Disney History, his books, the 1964 New York World's Fair,
Zorro
, and so much more:
Bill Cotter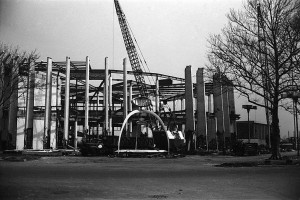 Tear Down: Walt Disney's Magic Skyway Through the Ford Wonder Rotunda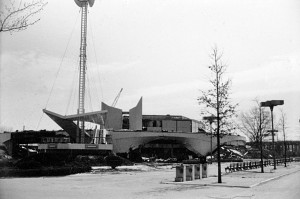 General Electric Carousel of Progress … no more!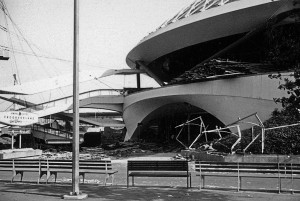 The GE light bulb has been turned off. Sniff!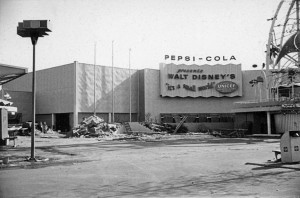 It's No Longer A Small World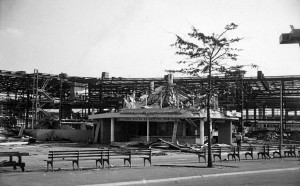 Where did the Tower of the Four Winds go? Rolly told me that Walt
truly wanted to bring it back to Disneyland, but it was too expensive.
The demolition was also cost prohibitive, so it was secretly cut up …
and "placed" in the East River!
In case you missed it, find more information on Destination D here (and make sure you GO to the one in WDW, where I will be presenting the World's Fair presentation again):
Destination D Report