THE TWELVE DAYS OF CHRISTMAS
DAY FOUR-by Paul F. Anderson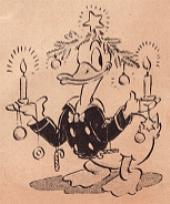 Donald Duck and I would like to present a Christmas memory about one of our favorite people here at the Institute–Carl Barks. When Barks' estate was sadly auctioned off (as compared to going to an institution or library), I was lucky enough to buy some items. I mostly focused on documents, as compared to the artwork (where a virtual feeding frenzy existed). The above Christmas story idea came from a Junior Woodchucks' "Story Ideas" file, dating mostly from the late 1960s.
So as we sit here here at the Institute drinking our egg nog by the fire and reading "Christmas for Shacktown" we present the Fourth Day of Christmas piece, an unpublished Carl Barks Christmas story idea.
Idea

Don gets a Christmas Card from a total stranger among the bales of cards he usually gets. He is curious about who the person is. He and kids snoop around the address of the sender. They get more curious all the time. Nobody appears at the doors or windows. Yet they know somebody is there. Who could it be? And why did the person send the card?
Endnotes and Citations can be seen at: endnotes.