DAY FIVE-by Paul F. Anderson
Nothing quite says "Merry Christmas" like dancing Christmas Trees in a Parade: "Seventy-Six Green Trees Lead The Big Parade" … or something like that (with apologies to Mr. Willson). I like the above photo, because the Christmas Trees rarely get any attention, as most images feature the marching soldiers from
Babes in Toyland.
The Trees are certainly the Rodney Dangerfield of the "Christmas In Many Lands" Parade at Disneyland (followed by the lovable, but somewhat frightening, silly reindeer–you have got to love those tongues!).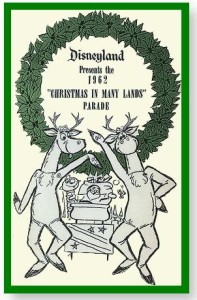 The two photographs with today's post are vintage press images to promote Walt Disney's Wonderful World of Color episode "Holiday Time at Disneyland" broadcast on N.B.C. TV on December 23, 1962 (Season 9, Episode 13 of the Disney Sunday Show). The episode featured a Holiday tour of Disneyland by the avuncular host of the show. Since the main facet of the Yuletide Season at Disneyland was the parade, it was featured heavily in the television show. The parade pictured in the two images is the "Christmas In Many Lands" parade. The parade premiered at Disneyland for the Holiday season of 1960 and lasted until 1964, when it then became the "Fantasy On Parade" (still with the marching "wooden" soldiers and silly reindeer, but sadly the trees had dried up). Unlike today where the Christmas parade will run for upwards of two months, in the early 1960s typically the parade would start about a week before Christmas day.
So here is to Christmas Past at Disneyland (with apologies to Mr. Dickens) and the beloved twirling and performing Christmas Trees. As for me, I wouldn't mind seeing them again … and especially bring back those Wacky Reindeer! Merry Christmas.