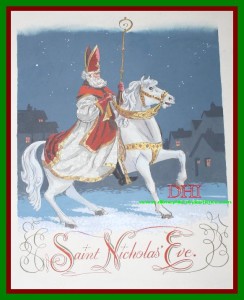 THE T
WELVE DAYS OF CHRISTMAS
DAY ELEVEN-by Paul F. Anderson
I have saved what I consider to be the two best items of the Twelve Days of Christmas, for last. (Make sure you don't miss tomorrow's post.) Those who know my fondness for the Christmas season, also know that my youngest son is named after Santa Claus, his name is Nicholas. The idea came from a prop book I purchased for the Institute some eight years ago.
The prop book was a familiar opening to quite a few Disney films and animated features, but seems to be a lost cinematic vehicle these days. The books in and of themselves were often artistic masterpieces. We recently were privileged to see this in firsthand, as the original prop book for Sleeping Beauty (1959) was displayed at the Treasures of the Archives Exhibit at the D23 Expo. Being a huge fan of books, it was only a natural extension of my Disney history mania to try and obtain a few of the book props used by the Disney Studios, which is the subject of the eleventh day of Christmas.
The above painting (yes, painting, including all the letters) is the prop book from Hans Brinker, or the Silver Skates (1962), a production done for Walt Disney's Wonderful World of Color. The story appeared in two parts on the Sunday show in January of 1962., and was the highest rated Disney program that season. So popular were the episodes, they were combined into a full-length film which was released theatrically in Europe. In the film, a visit from Saint Nicholas (aka Santa Claus) is featured in a key scene, and is often the case with these prop books, various images and pieces inside provide interstitials to the film. The story is based on a novel by American author Mary Mapes Dodge and paints a portrait of nineteenth-century Dutch life. The book therefore is full of various paintings of scenes from Holland (and not all used in the film).
Featured below are a few more pages from the book, as well as the book itself. You'll notice something a bit odd about the book … it is from the Great Locomotive Chase (1956). A quote Walt gave to the New York Times in 1961 best sums up why the prop book from the Fess Parker, Civil War Railroad drama was also used for Hans Brinker: "Once you are in television, it's like operating a slaughter house. Nothing must go to waste. You have to figure ways to make glue out of the hoofs." And so, the Disney Studios found another way to use a six-year old prop! Enjoy.