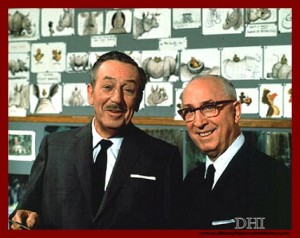 Walt and Roy and Rocky? Ca. 1964
There are probably few people in the world that truly understand the close bond between the two Disney brothers. It has been extensively written about and discussed, but their intimate nature was often expressed privately (or in keeping with men of their generation, not expressed at all). Several have claimed that it really was nothing more than just a wonderful business relationship, but it was so much more than that … oh, so much more! The two brothers genuinely loved and respected each other, and even when in a bitter disagreement with nothing nice to say about the other one, they would ardently defend each other should someone make a disparaging comment.
Walt rarely expressed his thoughts on his brother in public, but there was one instance when he conveyed how he truly felt about his brother. It was at 1957 awards banquet at the Beverly Hilton Hotel, where Walt proclaimed, "In my career, it helps to have some kind of genius. I've got it, but it happens to be in the person of my brother Roy who runs the company, the whole works, at home and abroad. He has a talent for self-effacement which isn't going to do him a bit of good right at this moment."

It was well known throughout the Studio that the two would regularly go at it, often loudly and in public. Dick Morrow, who served as general counsel for the company, remembered that despite the bitter arguments, "the love between the two brothers never diminished in the slightest, and I heard that from each of them individually. People who tried to take advantage of [the situation] and tried to play off one against the other faced trouble.
"It was a general conflict between who was running the company and who was going to prevail: Walt and the creative side or Roy and the administrative side. [Walt and Roy] just weren't on track together, although each of them recognized the genius of the other one and had great respect for it."
This on-again-off-again feud between the brothers turned disastrous in the early sixties when the two camps began negotiations regarding the sale of Walt's company WED and its holdings (Monorail, Train, Walt's name, et al.) to Walt Disney Productions. The tenor of the discussions went quickly downhill, with both sides adding more lawyers to the mix. The incident became so contentious that at one point Walt's counsel threatened to Roy that he would just have to take Walt to another studio (done so by suggesting the hiring of an agent for Walt). At that point, the situation had almost slipped into an irrecoverable position, and easily the lowest point ever in the lives of the two siblings.
This story is now oft told and retold in Disney history–the time the relationship had soured to where the two brothers would not even talk to each other, and only communicated via their representatives. Enter the famous peace pipe.

If you have not heard the legendary story, you are one of the few. Walt, feeling that the situation had gone too far, decided to visit Roy on his sixty-eighth Birthday, June 21, 1961. Walt went down one flight of stairs to his brother's office with peace pipe in hand (figuratively, not literally – Walt had an actual Native American peace pipe to give to his brother as a birthday present). Walt suggested a truce to be solemnized by both through the smoking of the pipe of peace. Roy obliged, and just as quickly as the fight had flared up, it ended, and the two were on speaking terms again. (It should also be noted, that during this contentious time, and prior to Walt's offering, Roy had also started to soften towards his brother. He even defended his brother to the Studio negotiators, stating: "You seem to forget how important Walt Disney has been to you and your lives. None of us would be here in these offices if it hadn't been for Walt. … He deserves better treatment than what's being shown here.")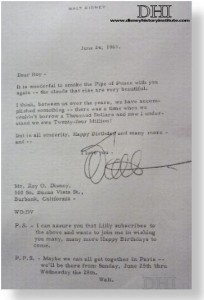 When Walt returned to his office, he sent off the following note to his brother: "June 24, 1961. Dear Roy – It is wonderful to smoke the Pipe of Peace with you again – the clouds that rise are very beautiful. I think, between us over the years, we have accomplished something – there was a time when we couldn't borrow a Thousand Dollars and now I understand we owe Twenty-four Million? But in all sincerity, Happy Birthday, and many more – and – I love you, [Signed] Walt Mr. Roy O. Disney, 500 So. Buena Vista St., Burbank, California WD:DV [Dolores Vought] P.S. I can assure you that Lilly subscribes to the above and wants to join me in wishing you many, many more Happy Birthdays to come. P.P. S. Maybe we can get together in Paris – we'll be there from Sunday, June 25th thru Wednesday the 28th. Walt."

The two brothers remained close, up to Walt's passing in December 1966, when Roy continued to carry on his brother's dream and build Walt Disney World.

(Postscript: By the way, did you notice the Jungle Book storyboard behind Walt and Roy? Most of it features the much loved, and never seen, character Rocky the Rhino. This character [as were most characters in Jungle Book] was visualized by Disney Legend Ken Anderson. And yes, a teaser, during my 34-hour Oral History with Ken, I have some wonderful Rocky stories … and art!)
Endnotes and Citations can be seen at: endnotes.