INTRODUCTION
I have decided to add this "Journal" feature to the Institute for several reasons. First, I would like it to be a regular update for the site just to let readers know what the status is, and also offer a look at to how the Institute works and what features can be found. Moreover, it will mention coming attractions, answer questions I get via email, and let you know what this particular Disney Historian is up to. Not that the latter is any big concern to most of you, but if you know I am out of town, hopefully you won't be disgruntled if it takes a while to answer your email or questions. Which brings me to this coming week. I will be in Los Angeles starting tomorrow and through to the following Sunday. I get to spend five glorious days at the Walt Disney Archives. And no, that does not mean that DHI goes down for a week. In fact, through the miracle of technology, I have already uploaded the full week of "Day Posts" for the time I am gone (each scheduled to be posted at 7:00 AM on the appropriate day).
NEXT WEEK AT THE INSTITUTE
Monday is Walt Quote Day and features "Man of Mystery". Tuesday is Walt's People and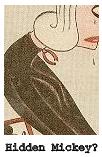 will showcase the always delightful Margaret Kerry (also known as the "Original Tinker Bell"). Wednesday is Fun Foto Day and is titled "A Thousand Words!" with a nice thought about who Walt Disney was, and what Disneyland meant to him. Thursday, well, you won't want to miss Thursday—it will be Anything Can Happen Day and the title of the essay is "The Last Word" (and trust me, the image that goes with this piece is …, well, you'll see–Don't Miss Thursday! Where else can a tombstone and Mickey Mouse be together, but here at the Institute). Friday is another Guest Historian Day with Didier Ghez's contribution titled "The Quest of a Disney Historian" and it features a wonderful caricature of Greta Garbo and Mickey Mouse by … well, you'll see on Friday.
WALT DISNEY AND WORLD WAR II
As many of you know, I am working for the Walt Disney Family Foundation on a book concerning Walt Disney's World War II work. This is the reason for my trip to the Archives this coming week. As a reminder, I am always looking for material regarding the Studio's effo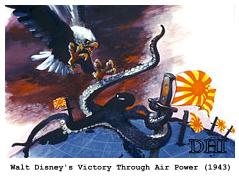 rt for World War II. I have been working on this particular subject–off and on–for over ten years, so I have collected quite a bit of information. However, I would say at least twice a month I find something new (this of course does not refer to the Archives where at least twice a minute I find something new). So I am always interested to learn anything that Institute patrons might find of use. If I have it, I will let you know. If I don't, I will forever be in your debt and certainly thank you in the book. I am always looking for artwork and images, but I am especially searching for any primary research material (documents, correspondence, journals, and so forth). Additionally, if you had a relative, or know someone, that worked at the Studio during the War years, I would be very interested to hear from you. So please consider this my own help wanted. (Also, keep in mind I will have limited access to the Internet, and will most likely not be able to answer emails until I return–hotel Wi-Fi is always sketchy at best.)
A MICKEY MOUSE FEATURE IN 1936?
J.B. Kaufman (buy his book!!) sent me an email regarding yesterday's Institute essay on Walt and DeMolay. The July 6, 1936 clipping from the Kansas City Star was intriguing in that the headline below the photographs stated "Creator Grooms Mickey Mouse for Full-Length Features on Screen". Of course, J.B. "Mickey Mouse" Kaufman, being the go-to historian on Mickey Mouse, was immediately intrigued and asked if I had the rest of the article. Sadly, I do not, but while we are in the Help Wanted mode, does anyone have a complete run of the Star from 1936? Okay, a bit far fetched, but perhaps some of our Kansas City readers can let us know if the Star has a morgue and what is needed for access. This also allows me to point out one of the Institute's "features". You will notice at the end of most essays is a link for "Endnotes and Citations"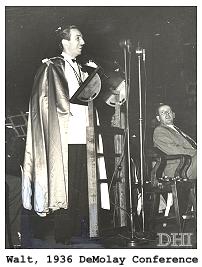 . This link takes you to any endnotes or citations for that particular essay. While this does include the boring information, like where the source is from, dates, notes, and so forth, it does have commentary. Sometimes these are additional facts or information that I don't want to use in the essay (as it might break the flow), or perhaps a comment or question on the essay. So on this particular piece on DeMolay and this clipping, I did mention the headline and requested any information on the location of a possible "complete" source. In the future, I will note the Endnotes in the articles with a letter after the sentence. (A) Thus, if you are so inclined to read further protestations on said essay, go to the endnotes and citations links. The citations will continue to be listed via number, but I won't add them to the actual essay itself. As always, ideas, suggestions, criticisms, are welcome (I like the former more than the latter).
FRIDAY THE 13th
Of interest is yesterday's essay on DeMolay was posted on Friday the 13th. If you read the post, you'll remember that DeMolay was named after the early Grand Master of the Knights Templar. Yesterday marked the 702nd anniversary of the fall of the Knights Templar, and thus began the myth surrounding Friday the 13th.
NEXT JOURNAL ENTRY
I am planning to post the next "Journal of a Disney Historian" entry on Saturday the 21st, when I will be in Los Angeles. My research at the Archives will be done, but I hopefully have three interviews scheduled that day, and will be spending the day at the Golden Oak Ranch. If the lovely Safari Inn in Burbank has a good Wi-Fi connection, I will post some of my findings. Thanks again for your patronage, and enjoy next week at the Institute.
Endnotes and Citations can be seen at: endnotes.