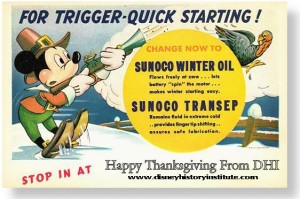 O. Henry said of Thanksgiving, "There is one day that is ours. Thanksgiving Day is the one day that is purely American." I have said that Walt Disney was purely American. Bob Thomas called him "An American Original." Thus, Walt and Thanksgiving should go together. As such, we here at the Institute wish you a Happy Thanksgiving filled with Disney Magic (the first time in my twenty-five plus years of Disney History I have used the word "Disney" and "Magic" in the same sentence).
The above item features Mickey as a Pilgrim, and very humanely missing his shot at the turkey. It is a reminder postcard from Sunoco Oil, which Disney had a promotional tie-in with in 1939 through about 1945. Just a hint of future things to come, as I have slowly been working on the 1930s and 1940s Disney tie-ins with Oil Companies. (So consider this Thursday's contribution for Help Wanted: I am researching promotional tie ups between Disney and the Oil Companies in my spare time. It can also be considered for Anything Can Happen Day. The DHI Double Whammy!)
Here is hoping you and yours have a Happy, and safe, Thanksgiving.