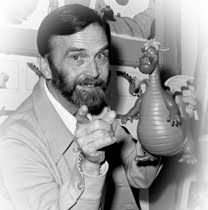 Trying to decide what my first Institute post would be, is kind of like asking me as a parent what is my favorite child. There is so much Disney history I have already set aside to share, and so much of it has never seen the light of day…anywhere.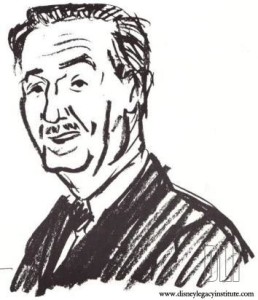 However, the more I thought about it, the easier the decision became. One person had a profound effect on my life as a Disney historian, as well as just my life in general. He shared his memories and stories with me; he opened numerous doors that otherwise would have been shut; he gave me a wealth of Disney historical memorabilia; and most important to me, he became like a second father. I am speaking of Ken Anderson, the Disney Legend that worked for Walt for over 50 years and in many capacities: inbetweener, animator, layout man, story man, art director, character creation, inspirational artist, and Imagineer. In fact, Ken showed a versatility at Disney that has long since gone unmatched and prompted Walt once to call him "my jack-of-all-trades."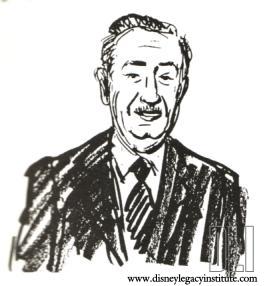 After meeting Ken in the late 1980s, when I was working for PBS on an animation documentary, I asked him if anyone had ever approached him about doing a book on his life. "No, are you interested?" he replied. I was so dumbfounded that I didn't even answer, I could not believe what this Disney Legend had just asked me, let alone that he even knew who I was! "Okay kid, you got the job," he laughed. Thus, after my work was finished with PBS (the show won an Emmy in 1991 for "Best Documentary", but no one remembers it because it premiered the week the first Gulf War started), I contacted Ken and started an Oral History with him. The tape recordings were done over a two-year period and now encompass over 34 hours of his memories, stories, and anecdotes. Many of you have read the Snow White segment of the interview in Didier Ghez's excellent Walt's People series. My hope for the future of the Institute is to bring readers a podcast of parts of this oral history (much like I used to do with the old Persistence of Vision audio cassettes).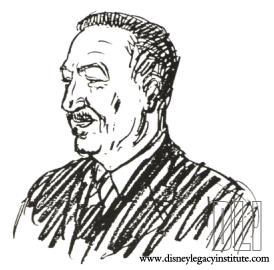 In the days I worked with Ken, I would go to Los Angeles about every four weeks. While there, I would stay at Ken's house and we would do our interviews in the morning, when he was the sharpest. In the afternoons, I might take a trip to the Disney Archives for research, or another Archives/Library in Southern California (U.C.L.A., U.S.C., Herrick, etc.). In the evenings, I would find my way to other old-timers homes to interview them (all graciously set up by Ken, who would call first and say "would you talk to my son").
To spark our morning interview sessions, Ken and I would often sit in his studio and go through the items from his life that filled the room (he had stacks and stacks of history, all the way back to the 1930s–it was a wonderland to me and a treasure trove of the past). One day, we happened across four drawings of Walt Disney that Ken had done in the 1950s, and these will be the inaugural historical post here in the Institute.
The sketches are done with charcoal on storyboard paper. Ken claimed that they were done quickly and in a story session on Sleeping Beauty (1959) that Walt was in attendance at. The reflective Walt (Walt with his eyes shut–to the left), has always been my favorite, so much so that I used it for my "Walt's World" column that I used to write for Persistence of Vision. In fact, so fond am I of this particular sketch, that it was also my choice for the Institute masthead–which to me represents a bit of Ken and Walt. Ken had a favorite sketch of the bunch as well, the one that has come to be known as "the raised eyebrow Walt" (the first one in the article, top right). Ken told me that this portrait was his favorite because it is the one that most reminded him of Walt and how he was. Ken remembered that Walt had "very expressive" eyebrows and that they were always moving. Moreover, Ken said Walt gave him this look a lot, and would often ask "What's on your mind, Ken?"
So with my first "real" Institute historical post, I would like to dedicate it to Ken Anderson and Walt Disney.
Endnotes and Citations can be seen at: endnotes.